Delaware Sports Betting
On June 5, 2018, Delaware became the first state outside Nevada to offer full-scale sports betting – just three weeks after the Supreme Court shot down PASPA, the federal ban on sports betting.
Although the First State is small in size and isn't home to any professional sports teams, the rollout of legal sports betting in Delaware has been a home run.
As long as you are 21 years of age or older, you can bet on sports in-person at one of the state's three racinos or online via offshore licensed sportsbooks such as those listed in the table below.
Bet on your favourite sports at the best online sportsbooks in Delaware: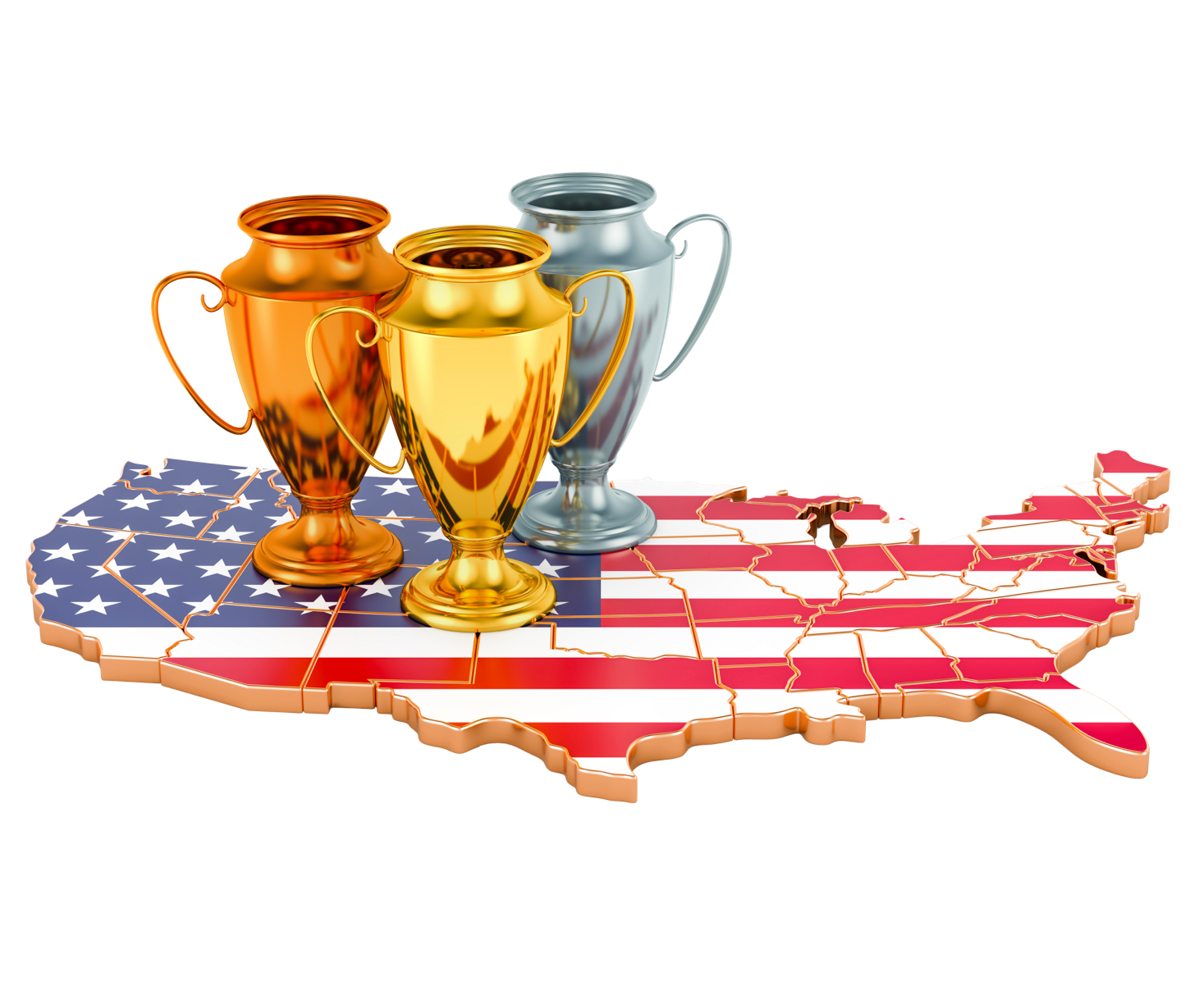 Best Delaware Sportsbooks – December 2023
Is Sports Betting Legal in Delaware?
Yes! Sports betting, horse racing betting, daily fantasy sports and online gambling are legal in Delaware.
Although New Jersey fought the Supreme Court case (Murphy v. NCAA) that ended the Professional and Amateur Sports Protection Act (PASPA), Delaware upstaged its neighbors by becoming the first state other than Nevada to legalize single game sports betting in the US since PASPA took effect in 1993.
In May 2018, Delaware Governor John Carney announced the state's three licensed casinos (Delaware Park, Dover Downs, and Harrington Raceway) would begin legal sports betting on 5 June.
This meant Delawareans could place single-game wagers on college (except in-state teams like the Division I University of Delaware Blue Hens and the Delaware State University Hornets) and professional sports such as baseball, football, hockey, basketball, soccer, golf, and auto racing. William Hill supplies sports betting to Delaware's three casinos through an agreement with the Delaware Lottery.
Gov. John Carney placed the first legal wager on a single game outside of Nevada on June 5, 2018. He bet $10 on the Philadelphia Phillies against the Chicago Cubs at odds of +200. Delaware's first legal sports bet was a winner, with the Phillies defeating the Cubs by a score of 6-1 to net Carey a $20 profit.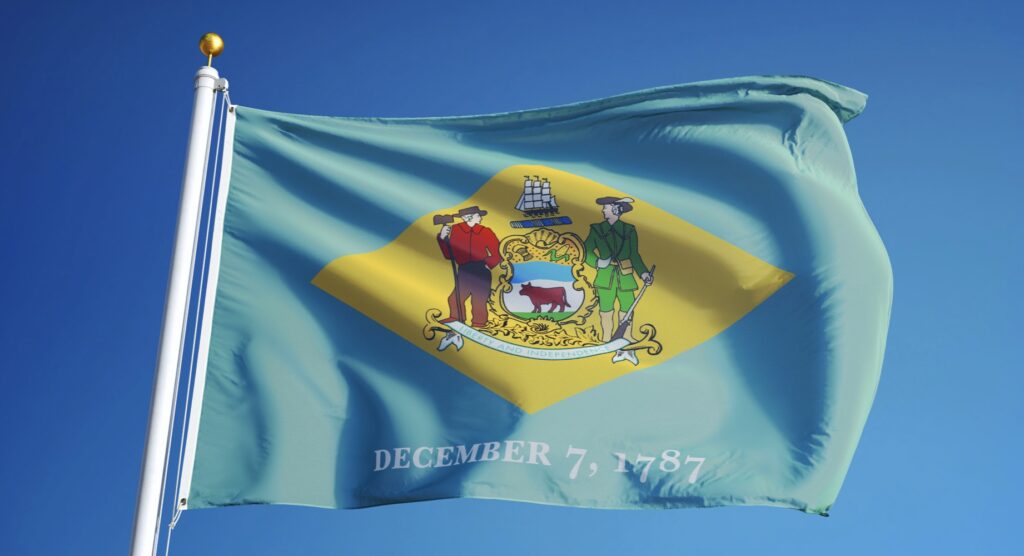 Delaware Sports Betting Timeline
Here's a brief timeline of Delaware sports betting to illustrate how the state's gaming industry has evolved since the Delaware Racing Commission was formed in 1933.
1933
1933
Legislation is passed to create the Delaware Racing Commission.
1935
1935
Delaware grants a license for selling pools through pari-mutuel machines and wagering is allowed within the enclosure of licensed horse racing meets.
1936
1936
Five local businessmen form the Delaware Steeplechase and Race Association (DSRA). The DSRA and Delaware Racing Commission join forces to push for legalized racing, which results in the House and Senate passing a bill allowing 30 horse racing days and a 26% tax "on any free tickets issued for any race held in the state."
1937
1937
Delaware Park opens for racing on June 26, 1937, with over 18,000 racing enthusiasts in attendance.
1946
1946
Harrington Raceway, America's oldest continuously operating harness racing facility, opens on August 15.
1969
1969
Dover Downs, designed to accommodate horse and auto racing, opens for business.
1974
1974
The Delaware Lottery is established on May 31, 1974. It is given the power to regulate various forms of lottery gaming, video lotteries, and keno. The formation of the Delaware Lottery also means the state has a way to offer regulated sports betting should laws allow.
1976
1976
The Delaware Lottery introduces a parlay system for betting on the results of multiple sporting events.
1992
1992
The Professional and Amateur Sports Protection Act (PASPA) comes into force, outlawing sports betting across the US. Delaware, Nevada, Oregon, and Montana are given exemptions, meaning DE could offer a limited number of parlay-style betting options.
2009
2009
The MLB, NBA, NFL, NHL, and NCAA sue to prevent Delaware from authorizing sports betting. A federal court limits Delaware to NFL parlay betting, but the law is not repealed.
2018
2018
PASPA is deemed unconstitutional by the Supreme Court. The Delaware Lottery expands its provisions beyond parlays, with Gov. John Carney placing the first legal wager on a single game outside of Nevada on June 5, 2018.
Is Mobile Sports Betting Available in Delaware?
According to lottery officials, mobile sports betting is legal in Delaware, but currently is not offered.
In January 2020, Delaware Lottery Director Vernon Kirk outlined why the First State has been reluctant to embrace mobile sports betting. Reasons include the difficulty and cost associated with setting up the lottery for ID verification, payment processing, geolocation, fraud monitoring, customer support, and more. Additionally, the lottery believes it makes a larger profit margin off sports betting parlay cards in Delaware than it would with single game online betting.
If you live in DE and want to bet on sports online, you will be pleased to learn that the coronavirus pandemic has changed the thinking of those in charge of sports betting in Delaware. Officials now believe the costs associated with launching online sports betting in Delaware are small compared to the amount of money that was lost when retail locations were forced to temporarily shut down.
With no online option available, the state lost out on millions of dollars in revenue. Many Delaware residents joined offshore licensed sportsbooks to bet on the few sports that were continuing to take place around the world during the pandemic. Even before coronavirus swept across the globe, many locals travelled to nearby Pennsylvania and New Jersey to legally bet on sports online.
Football Betting in Delaware
Although the state doesn't have an NFL team, football betting in Delaware is an extremely popular activity. Since 2009, the Delaware Lottery has offered parlay cards that allow those 21 years and older to bet on NFL and college football games.
The Delaware Lottery offers five different types of football parlay cards: 1/2 point, teaser, super teaser, reverse teaser, and a $100,000 parlay card. These cards are available at over 100 stores and bars throughout the state, as well as Delaware's three retail sportsbooks.
If you're new to betting on football in Delaware, these parlay cards have a $2 minimum bet and you must make at least three selections. If you win $600 or less, you can cash in your winning ticket at any of the locations offering parlay cards in Delaware. If you win over $600, you must mail the ticket to Delaware State Lottery or visit one of Delaware's retail sports betting locations.
Fans of NFL betting in Delaware used offshore licensed sportsbooks to bet on weekly games and the annual Super Bowl until sports betting became legal in 2018. Delaware's proximity to Philadelphia means the Philadelphia Eagles are one of the most-bet teams in the state.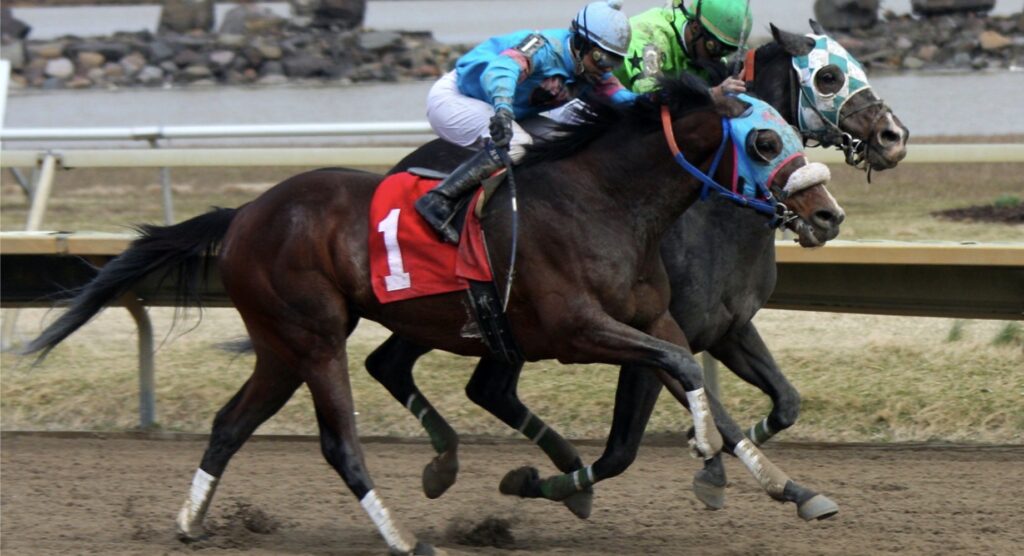 Horse Racing Betting in Delaware
Horse racing betting plays an important role in Delaware's gaming industry. The First State allows horse racing betting in-person at tracks, online and via off-track betting facilities (OTBs).
State residents who are 18 or older may register with any US-based horse racing betting sites that accept customers from Delaware. Popular advance deposit wagering (ADW) sites include TVG, Twinspires, and AmWager.
Although Delaware hasn't formally legalized advance deposit wagering, they have never taken action against horse racing betting sites that welcome customers from Delaware. Lawmakers introduced HB 251 in 2017 to legalize, regulate and tax ADW providers, but the bill never made it out of the committee.
Therefore, you can access ADWs that are regulated in other states and receive the same odds as if you placed your wager in-person at the track.
There are currently three racinos in the First State, which are:
Delaware Park
Dover Downs
Harrington Raceway
Delaware Park operates as the only thoroughbred racetrack in Delaware, while Dover Downs and Harrington Raceway operate as harness racetracks. Thoroughbred and purebred racing takes place at Delaware Park May through October. If you want to bet on harness racing, you can visit Dover Downs November through April or Harrington Raceway April through October.
The Thoroughbred Racing Commission oversees thoroughbred racing in the state, while the Harness Racing Commission oversees harness racing.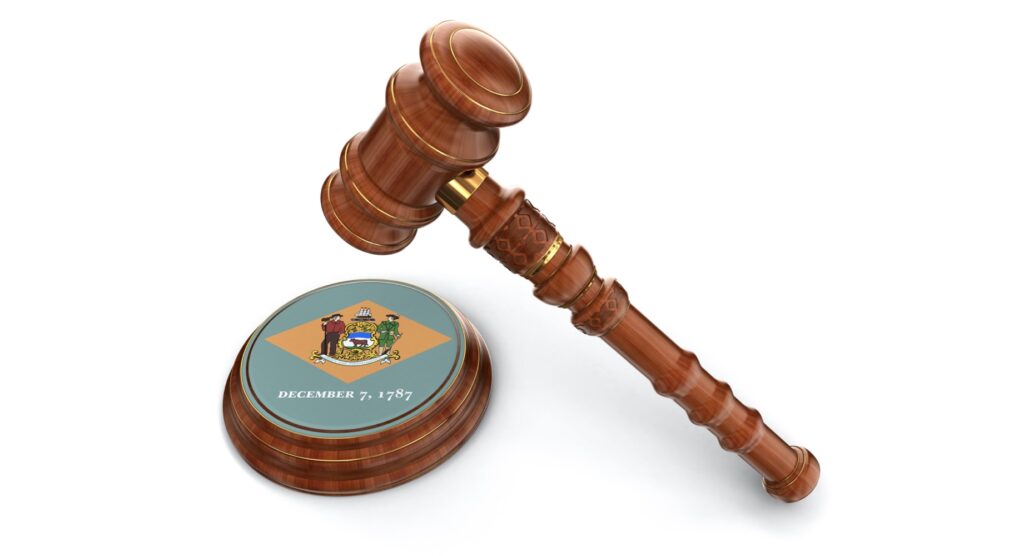 Daily Fantasy Sports in Delaware
Delaware is one of a few US states that legalized and regulates daily fantasy sports betting.
Although the Delaware Department of Justice stated in March 2016 that it believed DFS sites were operating contrary to state gambling laws, the DOJ agreed not to take action because of a pro-legalization bill that would have made it legal for FanDuel and DraftKings to operate in Delaware.
As efforts to pass fantasy sports legislation fell through later that year, the Delaware Department of Justice sent cease-and-desist letters to FanDuel and DraftKings, forcing them out of Delaware.
On July 26, 2017, Gov. John Carney signed DE HB 249 into law to legalize daily fantasy sports in Delaware. Although FanDuel and DraftKings welcomed the news, smaller operators were forced out of the market because the Delaware DFS bill requires operators to pay a $50,000 licensing fee and submit to a tax rate of either 15.5% or the highest rate established anywhere else in the country.
The responsibility of overseeing daily fantasy sports contests falls on the fantasy division of the Delaware Division of Gaming Enforcement. They must decide which DFS sites can operate in Delaware, ensure approved sites follow state laws, and respond to customer complaints.
FAQs
Where can you bet on sports in Delaware?
In Delaware, sports betting is available at three locations: Delaware Park, Dover Downs, and Harrington Raceway. There is currently no legal mobile or
online sports betting in Delaware
, but many offshore licensed sportsbooks happily accept wagers from residents of the First State with no issues.
Is there online betting in Delaware?
Although online sports betting is legal in Delaware, it is currently offered as a legal option. However, there are many safe offshore licensed sportsbooks that happily accept bets from Delaware residents. Choose one of the sportsbooks listed at the top of this page to bet on events across the globe online.
Who can bet on sports in Delaware?
Delaware law prohibits anyone under the age of 21 from wagering, collecting winning wagers, or loitering about the sportsbook area of a licensed facility. You must be 21 years of age or older to bet.
Q.
Who makes the rules for sports betting in Delaware?
A.
The Delaware State Lottery Office handles sports betting regulations in Delaware through the powers delegated to the Director of the Lottery under Title 29 of the Delaware Code.