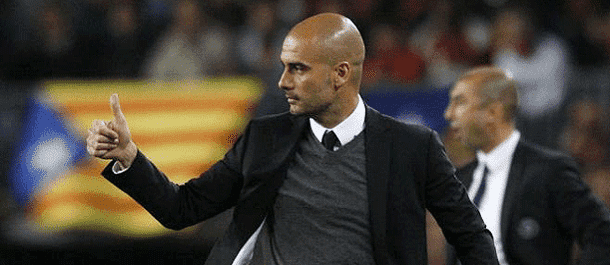 Over the past decade there has been no shortage of plaudits for the revered tiki-taka style purportedly employed by FC Barcelona and the Spanish national team. Both have enjoyed unrivalled success. Spain became the first team ever to retain the European Championship in 2008 and then 2012, with the small matter of a 2010 World Cup win in between. Barcelona's achievements in recent years have been numerous, winning La Liga six times between 2005 and 2013 along with the Copa del Rey twice and no fewer than three Champions League trophies. With a significant crossover between the two teams, these accomplishments were largely attributed to a style known as tiki-taka – but former Barcelona manager Pep Guardiola has rubbished such claims, stating that there is no such thing as tiki-taka, and revealing his "secret" to beat any team.
There is some debate over where the term tiki-taka first originated from, but there is little doubt about its meaning. Essentially, it is an onomatopoeic term with the words representing the noise of consistent passing between players. Tiki-taka involves teams retaining a large proportion of possession in an effort to completely control the game, playing at a slow tempo that is suddenly ramped up when in attack. Short, accurate passes, quick movement, and aggressive closing down are all common components of the aesthetically appeasing style of play. Pundits around the world have lauded over the possession game for many years, declaring the likes of Barcelona and Spain to be leagues above their opponents.
Ironically, it is the man supposedly behind the epitome of tiki-taka that has spoken out strongly against what he perceives to a style with "no purpose".
In a revealing book titled 'Pep Confidential' that explores the successful young manager's first year at Bayern Munich, he tells author Marti Perarnau "I loathe all that passing for the sake of it, all that tiki-taka. It's so much rubbish and has no purpose.
"You have to pass the ball with a clear intention, with the aim of making it into the opposition's goal. It's not about passing for the sake of it. Don't believe what people say. Barca didn't do tiki-taka! It's completely made up! Don't believe a word of it!"
He then goes on to reveal a seemingly simplistic trick to dismantle the opposition's defence.
"In all team sports, the secret is to overload one side of the pitch so that the opponent must tilt its own defence to cope.
"You overload on one side and draw them in so that they leave the other side weak. And when we've done all that, we attack and score from the other side.
"That's why you have to pass the ball, but only if you're doing it with a clear intention. It's only to overload the opponent, to draw them in and then to hit them with the sucker punch. That's what our game needs to be. Nothing to do with tiki-taka."
The words will come as a shock revelation to the world of football, having spent so many years drooling at the sight of his perceived tiki-taka style. Indeed, his continued success at Bayern Munich having dramatically altered his previous style of play does suggest that tiki-taka is a creation of the media more than a winning formula.
Guardiola is known for loving to tinker with his formations, styles and players. Philipp Lahm, rated by many as the best right back in the world, is a prime example. Guardiola stepped in and moved the established star out of his favoured position and into a number of different roles. As the Mirror's Ross Dunbar reported, Lahm has been utilised "From a right-back-midfield hybrid at the beginning of the season, in a system that didn't last more than a month, an outright holding-midfielder and increasingly cogent central-playmaker". Picture a new manager stepping into your favoured club and redeploying your captain to a new position and it will be clear just how bold this move was.
Despite running away with the Bundesliga title, Guardiola was still subjecting to criticism in the 2013/14 campaign. The Bavarians lost only two games in the league – both coming after the team had already secured first place – scoring an incredible 94 goals in 34 games. Using an old favourite of 3-4-3 revamped for the modern era, Bayern Munich destroyed everyone in their path to become the first team to clinch the league in March. They also saw off Borussia Dortmund in the DFB-Pokal final to complete a domestic double in his debut season.
It was in Europe that Bayern would face their greatest test. After narrowly overcoming Manchester United they were drawn against Real Madrid in the semi-finals. The Galacticos won the first leg 1-0 at the Bernabeu, taking their slender league to the fortress that is the Allianz Arena. It was expected to be another tight game, but what transpired was a rout. Los Blancos hit four – two from Ramos and two from Cristiano Ronaldo – to make it a confounding 5-0 on aggregate. Guardiola was furious with himself.
"I got it wrong, man. I got it totally wrong" admitted Guardiola in his book.
"A total mess. The biggest mistake of my life as a coach. I spend the whole season refusing to use 4-2-4. The whole season. And I decide to do it tonight, the most important night of the year."
It is refreshing to hear a coach admit to his mistakes openly and not sugarcoat them, particularly given that he is still currently in the role. It takes a brave man to do as much, and via his bold tactical decisions Pep has proven that he certainly isn't one to shy away from what he believes in. His constant tinkering has been widely criticised but, with such unprecedented success in such a short space of time, he has earned the right to say and do as he pleases for the time being. Just don't mention tiki-taka to him.
Barcelona
Bayern Munich
Guardiola
Marti Perarnau
Tiki-taka