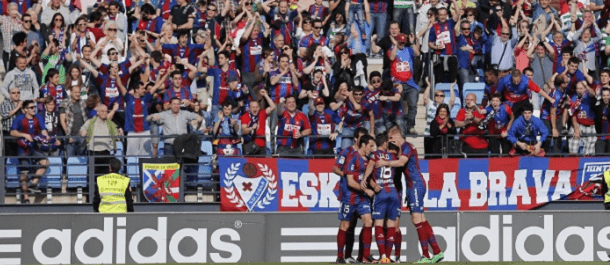 SD Eibar's players must have been pinching themselves as the team made their way to the Camp Nou for the first time in the club's history. In just a few years the tiny Basque club has transformed itself from an ordinary team in Spain's third tier to a fully-fledged squad in La Liga. The differences between Eibar and Barcelona could not have been made any clearer than in the comparison of their summer signings, when both clubs broke their existing transfer records. For Barca this came in the form of Luis Suarez, one of the most prolific strikers in the game, commanding the unbelievable fee of £75 million. Over in Gipuzkoa, Eibar were thrashing out terms for the ground-breaking signing of Dani Nieto from – tellingly – Barcelona's B team. He cost just €75,000.
It took a full hour for Barcelona to break down Eibar's stubborn defence when the two sides clashed on Saturday, and it is worth noting that Eibar's Ander Capa missed a sitter just before the break. Organisation and teamwork ensured that the visitors put up a good fight, and the eventual 3-0 scoreline was nothing to be ashamed of. They were, after all, taking on the current league leaders who are yet to concede a single goal in La Liga. All in all, it was a promising sign of good things to come.
But it could have all been so different for the little engine that could.
The foundations of Eibar's meteoric rise to La Liga began as recently as five years ago. Gaizka Garitano was a hard-hitting defensive midfielder who spent most of his career competing in Spain's second tier, the Segunda Division. After hanging up his boots in 2009 he immediately moved into management, taking the assistant role at former club Eibar for his first season. For the next couple of years he managed the now-dissolved Eibar B, then in 2012 Garitano got his shot at the first team after taking over from Manix Mandiola.
From there, it was smooth sailing. Almost.
Garitano was able to secure promotion from Segunda Division B at the first attempt, moving straight into the league where he had the most experience as a player. Eibar were the team with the lowest funding in the division and as such expectations were low. Remarkably, Garitano guided the side to a second straight promotion as Eibar ended the season on 71 pts to lift the trophy. But that is where things took an unusual twist.
An unfamiliar Spanish footballing law dictates that clubs require a certain amount of funding to participate. Real Decreto 1251/1999 states that clubs moving from the third to the second division need capital that equates to 25% of the average expenses in said league. In the modern era this is approximately €2.1 million. With less than half a million, Eibar were in quite the predicament. Having let their football do the talking over an amazing two years, the club suddenly had the danger of a double relegation threatening to ruin all their hard work. Unsurprisingly, club president and lifelong fan Alex Aranzabal was distinctly unimpressed – particularly given that Eibar is a rare example of a completely debt-free club.
"We always had it clear that a football club has to be managed like a business, with economic rigor and seriousness," said Aranzabal. "For the sporting project to function, there first has to be a serious economic project.
"The law is absurd. There are clubs that owe more than €100 million. Many. And nothing happens. And they make us raise capital.
"The stock value is not what shows the strength a business has. It's debt, it's if it can pay its payroll and bills. This club is super clean and healthy."
One of the more obvious solutions would be to sell the club to a foreign investor. There would be no shortage of potential buyers licking their lips at the thought of a ready-made, all-inclusive La Liga package ready to go to the highest bidder. All involved would pocket a healthy pay cheque and the fresh investment would allow for a larger stadium, new players and better facilities. But the quick fix just isn't in Eibar's DNA.
"We didn't want to do it any old way," continued Aranzabal. "You know, with rich Arabs or Russian millionaires. What we wanted to do, inside the Eibar model, was continue to be a club of the people.
"We want to demonstrate that in soccer, the small club, when it handles things well, can beat the powerful. This year, it will be a lot more difficult. Because the differences are gigantic."
With the Sword of Damocles dangling ominously over the 5,250 capacity Ipurua Municipal Stadium, Aranzabal got to work. The dogged president issued shares at €50 a pop. The whole town mucked in, the 27,000 inhabitants of the small Basque town fiercely defending what they had built. The club had help from a couple of old friends, too. Ex-Real Madrid star Xabi Alonso and Manchester City's David Silva both spent time at the club earlier in their careers and pitched in to help promote the humble club's noble venture. And to anybody wondering why they didn't just cough up themselves, club rules permit a maximum of a 2% holding. Be they brave or stupid, Eibar are clearly determined to do things their way.
Thankfully for all involved, Eibar managed to raise the money and, two months after winning the league, were able to breath a collective sigh of relief when they realised it wasn't all in vain. Both on the pitch and in the books, Armeros had earned their right to lock horns with some of the biggest clubs in the world. They had come across Real Madrid in past cup competitions, but FC Barcelona had avoided them to date.
Garitano's Eibar will already be feeling the pressure of life in the top flight. The financial struggles to cement a privilege they had already earned was their first major hurdle. Favourable refereeing may be another; the manager remarked that, in their game against Levante, "at one point [Eibar] had a player bleeding on the ground but the referee didn't stop play and Levante scored." And then, of course, there is the logistical obstacle of the 15,000 mandatory capacity that they'll have to accommodate should they remain in the top flight for another year. But recent history has shown that Eibar shine brighter than ever in the face of adversity, and it would take a brave man to bet against their La Liga survival.
Aranzabal
Barcelona
Debt Free
Garitano
La Liga
Nieto
SD Eibar