The battle over the possible introduction of sports betting in New Jersey, which could (but is unlikely to) occur as early as this Sunday, continues to draw global interest. In the latest struggle between state- and federal-level interests, a US district judge — part of the country's federal court system — is considering requests to issue a temporary restraining order and a preliminary injunction to prevent New Jersey sports betting from starting up.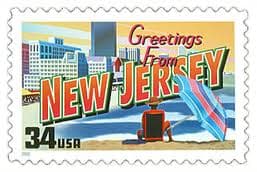 It's no understatement to declare that this battle will have global impact, rather than just at the state or federal level within the US. New Jersey is one of only three US states to fully embrace online gambling by formally regulating it in the past couple of years, and one of only two to construct a framework authorizing all forms of online gambling (Nevada, one of the other states, is poker only.)
Giants of the international industry such as Betfair, bwin.party, 888 Holdings and Amaya are already licensed to do business with casino partners in the state, and if sports betting somehow does move forward at New Jersey's Monmouth Park Racetrack, William Hill is set to be a software partner in that operation. Over time, other international giants may follow, whether in New Jersey or in other states that could follow the lead.
The battle, however, remains pitched, with the US Department of Justice backing the efforts of five major US-based sports associations to block legalized sports betting from popping up in jurisdictions where it's already taking place — Nevada for all forms of sports wagering, and three other smallish US states for a limited form of parlay betting.
The five sports associations who have continually sued to stop New Jersey's plans are the National Football League (NFL), Major League Baseball (MLB), the National Basketball Association (NBA), the National Hockey Association (NHL), and at the collegiate level, the National Collegiate Athletic Association (NCAA).
The five sports groups have plied a formidable defense of the status quo using powerful political connections, claims (largely bogus) of "protecting the integrity of the games," and most importantly, a decades-old law called PASPA that usurped the traditional rights of US states to govern their own gambling. Passed in 1992 as a purported deterrent to organized crime, PASPA (the Professional and Amateur Sports Protection Act) declared all sports betting illegal nationwide, except where it already existed, such as Nevada.
PASPA also included a one-year window designed to allow other states to legalize sports betting on their own, which was something of a fool's offer: Even in pro-gaming states and countries, such legislation seldom builds up enough popular interest in a year's time to be passed. It takes several years and decades… in New Jersey's case, two decades.
In 2011, New Jersey approved a referendum calling for sports betting to be legalized in the state, and the following year, the state's legislators enacted a law to accomplish just that. And that's where the legal fight began, which continues to this very day. The five sports associations quickly sued the state to stop the authorized sports betting from occurring, and eventually won a surprising decision in federal court upholding the constitutionality of PASPA. That decision was rendered by US District Judge Michael J. Shipp, the very same federal judge who will rule tomorrow on the league's latest attempt to allow New Jersey sports betting to take place.
And yes, that's a problem. Despite the fact that Shipp's initial decision declared that the federal PASPA law did not make state-by-state sports betting illegal, he declined to specify exactly the conditions under which it would occur, except to declare that individual states could not actively regulate the activity. Since then, New Jersey has attempted to find a way to allow a limited legality of sports betting — specifically only on properties, such as casinos and racetracks that have been cleared for other forms of gambling by state regulators.
The sports leagues claim that such a limited exemption is a de facto authorization of sports wagering in New Jersey, and that it's a blatant end-around of PASPA. The latest motions by the leagues, filed on Monday, attempt to bar the state and the Monmouth Park horseracing facility from offering any such betting.
The betting line, such as it is among industry watchers, is that Judge Shipp will again prove to be a homer, a federal judge taking the side of the federal law (PASPA), and finding any excuse to issue the TRO or preliminary injunction. While there is clear evidence that the latest New Jersey law (S2460) is indeed a PASPA workaround, that really shouldn't matter. The latest bill even says that its exemptions and limited repeal of existing sportsbetting bans in New Jersey is exactly to the extent proscribed by Judge Shipp in his earlier ruling.
That bill's language is an open invitation to Judge Shipp to clarify the language in his earlier ruling against the state. New Jersey, in fact, sought that clarification, only to see the leagues mount a militant legal counter-offensive declaring that the judge didn't even have to explain the supposed loopholes that the state could explore. So New Jersey did just that, via the new law, and again the leagues have joined the battle.
Among the leagues' claims in search of the restraining order and temporary junction is the "irreparable harm" that allowing the New Jersey / Monmouth Park sports betting to begin would cause. The claim is nonsensical on its face, since similar sportsbetting has been available in New Jersey for over half a century, not to mention the billions in international wagering action placed on the games and leagues in question.
Exactly what happens after Shipp again issues another TRO, as expected, remains to be seen. Will the pro-sportsbettning movement in New Jersey crumble? Will the state find a way to force the feds to define a channel through which betting that does not violate PASPA, but which does not turn New Jersey into an underground, organized-crime playground ever occur? PASPA is a bad, protectionist law, and it needs to go away. The sooner the better.
888
Amaya
Betfair
bwin.party
New Jersey
New Jersey sports betting
Online gambling
PASPA
S2460
sports wagering