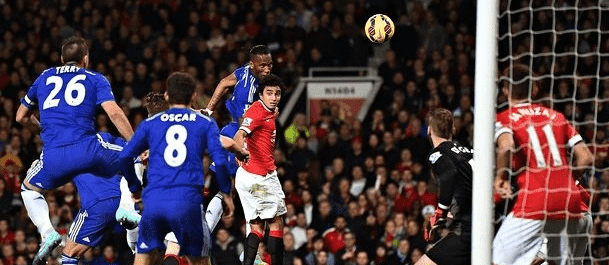 In one of the most anticipated games of the season, runaway league leaders Chelsea travelled to Old Trafford to take on Louis van Gaal's Manchester United this past Sunday. Many expected a rout with United's young and inexperienced defence, coupled with an extensive injury list, leading to the belief that they would be dissected by Chelsea's diverse attacking force. What unfolded was something quite different, and whilst the match answered some questions it also raised many new ones.
Chelsea went into the match as the bookies' favourites despite being away from home, which speaks volumes about the recent capitulation of the twenty-time champions. Since van Gaal has taken over from the much-maligned David Moyes, United have experienced an inconsistent start to the season. The Reds took just two points from their first three games against Swansea, Sunderland and Burnley and managed to squeeze in a humiliating 4-0 loss to MK Dons in the process. As such, their title chances were widely written off before the campaign had really begun, with a top-4 finish predicted to prove a struggle.
Conversely, pundits are waxing lyrical about Chelsea as if they already have one hand on the trophy. Jose Mourinho is well known and revered in England from his first tenure at the club. The Special One – or should we now say The Happy One – seems to have picked up where he left off at Stamford Bridge, leading Chelsea to within four points of the title in spite of a distinct lack of competent strikers. This year, with a number of shrewd additions including ex-Arsenal man Cesc Fabregas and in-form Diego Costa, Chelsea look to have resumed their dominance and currently sit top of the table, four points clear of surprise package Southampton and six above current champions Manchester City.
It is understandable why the Blues went into the game as favourites but the loss of their talismanic striker to injury proved a huge setback. Stamford Bridge legend Didier Drogba was left to fill in for Costa but, at 36 years of age, the Ivorian had a big task ahead. Similarly United suffered a loss when Radamel Falcao suffered an injury on Friday and was subsequently omitted from the squad, whilst Wayne Rooney was serving the final match of his three-game suspension for his red card against West Ham. Neither team therefore had a full squad with some key individuals missing, yet the sides were relatively balanced.
It was United who got off to a better start, exposing the space Chelsea were uncharacteristically giving them and playing plenty of positive, attacking football. Robin van Persie had a great opportunity to open the scoring or square the ball to Juan Mata who would've had an open goal in front of him. He opted to go for goal directly but Thibaut Courtois, who was in excellent form all afternoon, smothered the shot to leave van Persie ruing a missed opportunity.
After the interval it was different story. Marrouane Fellaini had capitalised on a good 45 minutes against West Brom and continued that form into this match, tracking back to break up Chelsea's attacks frequently. In the 52nd minute Chelsea finally managed to evade Fellaini and Drogba's quick pass found Hazard bursting into a one-on-one situation. De Gea, who is quickly emerging as one of the brightest goalkeeping talents in world football, did incredibly to turn his low and powerful shot around the post for a corner, but it was only seconds later that his team would concede. Fabregas delivered his corner to the near post and the commanding Drogba, inexplicably being marked by 5'8" Rafael, nodded home as van Persie failed to clear from the line.
Once they'd taken the lead Chelsea looked much stronger defensively. The space that United had enjoyed in the first half was closed up and it looked set to be a textbook clean sheet and narrow victory from Mourinho's very organised squad. Angel di Maria, by far United's best player this season, was ineffective throughout and, despite bringing 18-year-old striker James Wilson on in place of ex-Chelsea Player of the Year Mata, United looked uninspired. It would not be until the dying seconds that United would find a lifeline.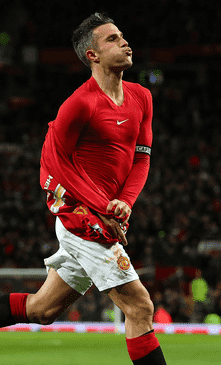 Branislav Ivanovic found himself chasing Di Maria down the flank and appeared to catch the back of his heel, bringing the Argentine to a grinding halt. The Old Trafford crowd leapt to its feet to pour pressure on referee Phil Dowd who paused for a few moments before brandishing the red card and reducing Chelsea to ten men for the closing minute of added time. Ivanovic would have felt hard done by, especially as his earlier yellow card was also debatable, but Chelsea's lost was most certainly United's gain as the extra man advantage led to Fellaini finding space from the ensuing set piece. His shot from close range was brilliantly parried by Courtois but it fell to van Persie who smashed home and wheeled off in celebration having salvaged a much-needed point.
Both managers were left fairly satisfied, each justifiably feeling they could have won the tie yet happy to come away with a point. For Chelsea this was more of the same; a professional display, particularly without the influence of Diego Costa, and as with Manchester City they led before ending 1-1. Mourinho will be confident of taking six points from the reverse fixtures and so a draw is a more than acceptable result.
For Manchester United this was a huge test, and one they came through with in decent but not excellent shape. Having dominated sections of the first half van Gaal may be wondering how they didn't take advantage early on, instead being left to chase the game. Whilst Chelsea only scored one goal the defence again looked shambolic at times. Marcos Rojo made some abysmal passes that could easily have led to conceding a goal and the passes between De Gea and Blind, simply going back and forth with seemingly no ambition, were labelled "stupid" by pundit and ex-United defender Gary Neville. Despite this United certainly showed a marked improvement in their team performance against a top side. If they want this result to matter, however, they'll have to maintain and even improve this level as they take on noisy neighbours Manchester City next weekend.
Chelsea
Didier Drogba
Manchester United
Mourinho
Premier League
Robin Van Persie
Van Gaal