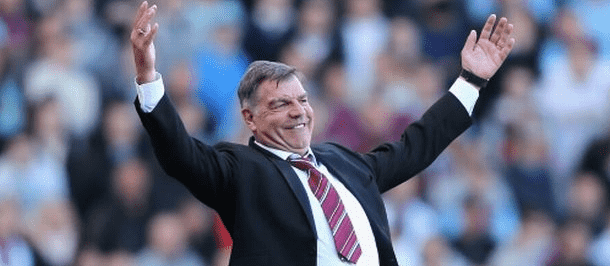 When Manchester City made their way to Upton Park this past Saturday there was a renewed sense of expectation in the air. Not for the champions, fresh off the back of a disappointing 2-2 draw against Champions League opponents CSKA Moscow, but for West Ham United. After a troubled couple of years the Irons are finally hitting consistent (and impressive) form and, although it is still early in the season, the fans are happy with the new brand of attacking football they're witnessing. Much of the credit for this progress belongs with the manager, Sam Allardyce, who has proven that he is far from a one-trick pony.
West Ham silenced Manchester City for large segments of the match and made the most of their chances as they grabbed all three points in a 2-1 victory, but Allardyce does not deserve plaudits for this performance alone. The 60-year-old, who celebrated his birthday with a 3-1 win over Burnley a week earlier, has endured a torrid time with the fans and his superiors and emerged a changed man. It was not so long ago that the majority of the West Ham faithful were calling for Big Sam to get the sack. Unusually the vitriol from supporters wasn't primarily based on poor results, but on the fact that West Ham were playing what many would call ugly football; a method Allardyce had built his career on.
Fans are often so emotionally attached to their teams that it becomes difficult to look at their current situation objectively. It's evident throughout the Premier League. Just listen to any Liverpool fan wax lyrical about the dominant era of Ian Rush or Geordies' ardent belief that they're a massive club, in spite of consistently poor finishing positions and even relegation five years ago, and it's easy to see how fans romanticise their clubs' history. Similarly, West Ham have a sense of entitlement that is perhaps misguided in the modern era. Fans want to see attractive, attacking football and the fact that Allardyce has never really delivered this upset the majority of supporters. They wanted to see their beloved West Ham return to the glory days of iconic West Ham legend and World Cup winner Bobby Moore – ironically a centre-back himself – playing "the West Ham way".
Big Sam did not sign up for this. The former Bolton manager is well known for getting results at all costs, frequently utilising long ball tactics, wing play and deploying players with a strong physical presence. It may not be pretty but it certainly gets results; Allardyce has never had a team relegated from the Premier League. His one relegation came when he took charge of struggling Division Two club Notts County in January 1997, but he bounced back the following season by coasting to the title, topping the table by 17 points. His sustained period of success with Bolton Wanderers from 1999-2007 saw him transform a team in the bottom half of the second division to a squad that managed a top six finish in England's top tier before leaving on his own terms. From his honest post-match analysis to his largely route one style, Allardyce has perfected the art of keeping teams afloat in one of the world's most competitive leagues.
This wasn't enough for West Ham fans. Allardyce took charge in 2011 and guided the team to promotion from the Championship back to the Premier League, where he followed up with a very respectable tenth place finish. But the picky East Londoners weren't content with simply winning; they wanted to win playing beautiful football. The pressure was mounting as Allardyce refused to alter his effective tactics, much to the fans' discontent.
Allaradyce's much maligned statement about managing Real Madrid didn't help his reputation. Whilst in charge of Blackburn Rovers in 2010, Big Sam made a big statement.
"I'm not suited to Bolton or Blackburn, I would be more suited to Internazionale or Real Madrid," he said. "It wouldn't be a problem to me to go and manage those clubs because I would win the Double or the league every time.
"Give me Manchester United or Chelsea and I would do the same, it wouldn't be a problem. It's not where I'm suited to, it's just where I've been for most of the time. It's not a problem to take me into the higher reaches of the Champions League or Premier League and would make my job a lot easier in winning it."
This outlandish claim only fed ammunition to his critics, and in February 2014 Jose Mourinho – a man who had actually managed Real Madrid with a fair degree of success – heaped further pressure on the under-fire Hammers boss when he accused his team of playing "football from the 19th century". By now the fans were unanimous in their cries for a new manager. "Fat Sam Out" read the banners at Upton Park. In an unprecedented development his players were even booed off of the pitch after winning a vital three points against Hull City.
"I've never been in a place where I've won and got booed," said Allardyce after the Hull City game. "I started playing at 16, got in a first team at 18 and am 59 now, but I've never been in place where I won and got booed."
Over the summer speculation was rife that Big Sam would face the sack, but he stayed in the job after promising to play more attacking, positive football. Teddy Sheringham was drafted in as a striking coach and has thus far enjoyed impressive results; West Ham are averaging nearly two goals per game having scored 17 in 9 league fixtures, and having beaten defending champions Manchester City they now sit comfortably in fourth. The new signings have hit the ground running; Daifar Sakho has scored in his last six games, Enner Valencia looks an impressive capture and Barcelona's Alex Song has won critical acclaim for his dominant performances in the misled of the park. The fans have refrained from calling for Sam's head, switching aggressive chants for sweet-smiled autograph requests, and the pressure appears to have been lifted.
Whilst it is always enjoyable to watch free-flowing attacking football, it is important not to look a gift horse in the mouth. In the modern era of managerial carrousels there are countless chairmen who would do anything for a manager with Allardyce's proven track record. Nine games is too soon to declare a new footballing philosophy a success or failure, but if things continue as they are then West Ham will only continue to get stronger. But if West Ham begin to slip down the table and need to revert back to long-ball football the manager deserves the backing of his fans and the board. If they overlook his contribution to the club he will move on to a club that appreciates him, and it will be West Ham's loss.
Big Sam
manchester city
Premier League
Sam Allardyce
Upton Park
West Ham United