Manchester City Topple 10-Man Manchester United but Doubts Remain over Title Credentials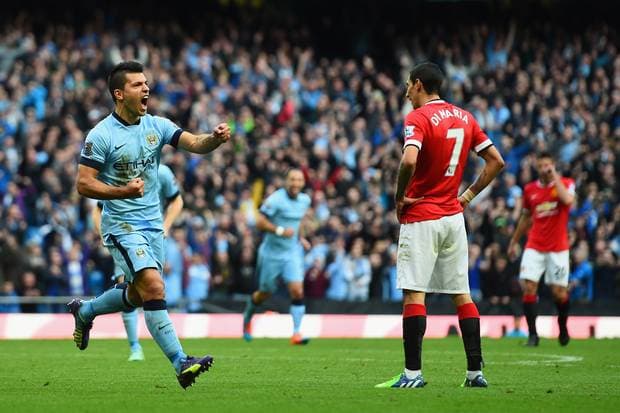 This past Sunday current champions Manchester City welcomed local rivals Manchester United to the Etihad Stadium in a highly anticipated derby. After the Reds went down to ten men the home side took advantage and walked away with all three points, but the manner of their 1-0 victory has led many to question whether they have the ability to retain their title for a second consecutive year.
Always an exciting fixture, the game came at a time interestingly poised for both teams. Several weeks previously it would have been a whitewash for the Blues, but recent results had not been going their way. A draw in the Champions League against lowly CSKA Moscow was followed by defeat to Alan Pardew's struggling Newcastle United in the League Cup and, more worryingly, West Ham United in the Premier League. Allardyce's Irons are on a fantastic run of form but there is no doubt that a team looking to end the season as champions must be looking to do better from such matches. Manchester United, meanwhile, had begun to find their feet after a shaky start to the campaign and went into the match buoyed by a last gasp equaliser against league leaders Chelsea. The stakes were high, and the match a lot more balanced than it could have been.
That balance didn't last long. The visitors found themselves without the services of injured summer signing Radamel Falcao but welcomed back Wayne Rooney fresh from his three-game suspension, partnered alongside Robin van Persie. Manchester City played a familiar starting XI minus the Spanish wizard David Silva who has found himself sidelined for three weeks with a hamstring injury. It was probably United who began the better team, showing little fear as they came out and attacked City's defence from the off. Adnan Januzaj and Robin van Perise both failed to capitalise on early chances alongside several close offside shouts, whilst the prolific Argentine Sergio Aguero was causing problems for the inexperienced United back four at the other end of the field. Ironically, it was the most experienced of those four that would tilt the game on its axis.
Chris Smalling picked up a booking in the 30th minute for blocking Joe Hart's dropkick, an issue highlighted last season when Samuel Eto'o did the same for Chelsea. With the 24-year-old on thin ice for the remaining hour it was inevitable that he would have to time his tackles to perfection, but just eight minutes later he lunged into James Milner unnecessarily to leave referee Michael Oliver no choice but to dismiss the England international.
Before kickoff Manchester United manager Louis van Gaal had made clear just how important it would be to finish the match with eleven men on the field, and the Dutchman couldn't contain his anger in a post-match interview. "As a player if you know you have a yellow card you have to deal with that problem," he began. "I don't think he dealt with it very smartly."
From here it would be an uphill struggle for the 20-time champions, but surprisingly Manchester City failed to take full advantage of what many would call easy-pickings. Januzaj was brought off for Michael Carrick to shore up the defence, and in the 55th minute Marcus Rojo was hauled off through injury leaving 19-year-old Patrick McNair to enter the game. With two 19-year-olds and two midfielders now comprising the entire defence for Manchester United, many would have predicted a one-way goal fest. In the 62nd minute United succumbed, a smart and incisive move spearheaded by the impressive Yaya Toure eventually falling to Aguero who was typically clinical in front of goal.
Leading by a goal, playing at home against ten men and pitching the now-lead Premier League scorer against a makeshift and inexperienced defence, Manchester City should truly have dominated the rest of the game. Manchester United, quite predictably, began to throw everything at the hosts in an attempt to salvage a draw, and with some degree of success. Wayne Rooney's burst of pace before nutmegging Vincent Kompany and passing to van Persie was reminiscent of the Wayne Rooney once heralded among the best in the world. A swift turn by van Persie to impeach the City back line could easily have resulted in a goal, and the big Belgian Marouane Fellaini had only himself to blame when he found himself in space right in front of goal but knocked it wide after a clever set piece from di Maria.
By contrast, City looked a shell of the dominant team fans have come to expect. Commentator Martin Tyler said they looked "a bag of nerves", an opinion seconded by fellow pundit Gary Neville, and this was compounded when manager Manuel Pellegrini felt it necessary to take off Aguero in place of Fernandinho, much to the anger of the 9-goal frontman. There is nothing wrong with this tactic, of course; it would be foolish to throw away points simply to play positive football, and the tactic known as "parking the bus" has achieved plenty of success with Jose Mourinho a notorious employer of it. Under the circumstances, however, it felt like Manchester City were just waiting to concede and ultimately it was more down to United's shortcomings than a solid defensive showing that their goalline was never breached.
There is no doubt that Manchester City will be happy to have walked away with all three points from a tight encounter and the win will likely mark a turning point in what has been a very poor run of results. The bigger question is whether a team that lacks killer instinct will be able to retain the Premier League for a second consecutive term – something they've failed to do to date – or if their inability to bury the top teams will cost them come May. In terms of next EPL manager to be sacked, how comfortable is Pellegrini sitting?
Man City
Man Utd
manager
sacked