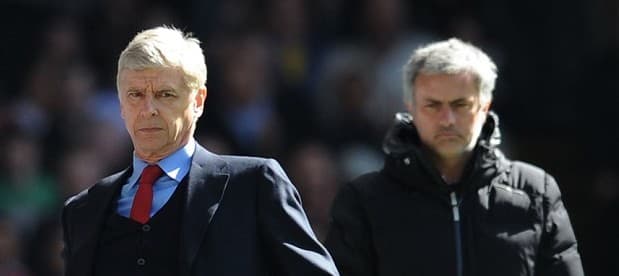 Saturday's lunch time kick off saw champions elect Chelsea extend their lead by a further three points courtesy of hosts Liverpool. In an enticing Anfield fixture Jose Mourinho's men fell behind to an early deflected shot but were able to overturn the deficit and finished the weekend four points clear of second place Southampton and eight points ahead of current champions Manchester City.
Pundits and journalists are largely unanimous in their agreement that the league is now Chelsea's to lose, despite being just a quarter of the way into the 2014/15 campaign. When Chelsea and Liverpool last met it was the Reds who were on top of things, five points ahead of the pack with just three games to go. Following an 11-match winning streak spearheaded by the equally prolific and controversial Uruguayan talisman Luis Suarez, many believed this would be the day that Liverpool moved into an unbeatable position. Steven Gerrard infamously slipped and gifted then-Chelsea striker Demba Ba with a clear run on goal to put the West London outfit ahead, leading to an eventual 2-0 loss that saw Manchester City capitalise and emerge as champions.
When the two teams met on Saturday the situation was a far cry from last time. With Luis Suarez now at FC Barcelona and Steven Gerrard a shell of the player he was last year – perhaps irreparably damaged by the psychological wound of throwing the title away, as suggested by Suarez – Liverpool have struggled in the league, racking up notable losses against the likes of Aston Villa, West Ham and Newcastle. By contrast, several big-name signings for Chelsea including the Spanish maestro Cesc Fabregas and his international teammate Diego Costa – who has already notched up ten goals this term – have helped the Blues to storm to the top of the league, going ten games without defeat including away days at both of the major Manchester teams.
It was no surprise, then, that Chelsea went into the game as hot favourites, yet it was Liverpool that drew first blood. Twenty-year-old Emre Can, a summer signing from German outfit Bayer Leverkusen, tried his long with a long-range shot in the ninth minute. A wicked deflection off of England international Gary Cahill left Chelsea stopper Thibaut Courtois with no chance and the German's first goal for his new club sent the home fans into a state of delirium. It would not last very long, though. Just five minutes later Cahill was again decisive in his involvement of the goal, bundling the ball just over the line after Costa had flicked on Fabregas' corner. Goal line technology has enjoyed a successful debut season and it again proved effective. Simon Mignolet managed to get solid contact on the ball but it had already trickled over the line and this was instantly spotted using the cutting-edge equipment.
Diego Costa had been a doubt before the match – a consistent theme this season – but he again proved that even a Costa that isn't fully fit is still a force to be reckoned with. With Chelsea gradually mounting more and more pressure on the hosts it was the ex-Atletico Madrid star that would eventually turn the tide with his 67th minute strike. Chelsea full back Cesar Azpilicueta, who is quickly emerging as one of the best defenders in the Premier League, found himself in space. When Mignolet could only get a touch on his astute cross it fell to Costa who made no mistake with a powerful finish from close range to put the visitors ahead. Mourinho's teams are always difficult to catch once they go ahead even by a single goal and the well-oiled outfit, who enjoyed fifteen shots despite conceding the majority of possession to the home side, were able to hold their lead until the final whistle.
With Manchester City failing to beat lowly Queens Park Rangers in the early evening kick off and nobody viewing Southampton as realistic title contenders, Chelsea's win has truly cemented their position as red hot favourites to run away with the league. Arsenal manager Arsene Wenger has admitted as much. A man who knows what is required to go a season unbeaten, Wenger has predicted that Chelsea could break the 100-point barrier and sees no realistic rivals for them this year.
"Look at the season and Chelsea are on course for 105 point," said the Frenchman after his own side shipped two goals in the last twenty minutes to squander a 1-0 lead against Swansea. "Look at the number of points they have today and if they keep that up nobody will touch them, that's for sure.
"It doesn't look like anybody is capable of challenging them at the moment. There's no obvious reason, but they have had a good start and as long as you don't lose you don't question yourself. Maybe a little bit more extra spirit in the team helps them when it gets tight."
As an experienced manager that has won three Premier League titles, gone an entire season unbeaten in the league and who on a personal note is not too fond of Chelsea's Portuguese manager, Wenger's comments hold much sway. Chelsea have now won eight games and drawn two, with both of the draws coming after Manchester City and then Manchester United clawed back 1-1 draws after Chelsea – away on both occasions – had taken the lead. Most assuredly, Chelsea look like an unstoppable force so far this season, though with only Loic Remy and an aging Didier Drogba as back up to injury-prone Costa, it would be interesting to see how they would handle any prolonged absence for their star striker.
It is still early days and there is plenty of time remaining for the usual twists and turns that occur over the course of a season, but the early predictions are all pointing in one direction. Whether Chelsea can maintain their terrific start to the campaign, only time will tell.
Arsenal
Chelsea
Mourinho
Premier League
Wenger