With the United States at long last beginning to open its doors on a state-by-state basis to legalized and regulated, there's a question in the air: Who's going to be responsible for monitoring the entirety of North America's very prominent professional sports leagues, which draw billions of dollars in betting action from around the globe? After all, one of the arguments tossed out there by those very same leagues as a reason to not allow such legal wagering across the US is the supposed shadow of corruption, meaning attempts to fix games and matches and in general, violate the purity of the games.
As it turns out, a lot of the sportsbooks planning to do big future business in the States are well ahead of the game. A lot of those would-be US books are major operators in Europe already, and the foundation has already been laid for a US-based anti-fraud monitoring organization that's modeled on and will work in partnership with Europe's prominent anti-fraud group, ESSA (Sports Betting Integrity), which has played a prominent role in identifying fraud throughout the realm of European sports since its creation roughly 15 years ago.
The United States' version of ESSA is called SWIMA, the Sports Wagering Integrity Monitoring Association. It was created last November and finally made its first public steps a few days ago. Like ESSA, SWIMA will be a not-for-profit group funded and supported by major sportsbooks that works in concert with law enforcement agencies, typically analyzing wagering data and turning over suspect wagers to those authorities for further investigation.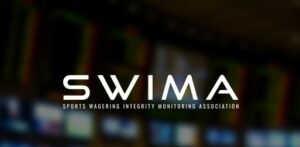 SWIMA came together through the work of two major US gambling corporations, MGM and Caesars, who plan to capture major market shares as the US market grows, both live and online. Still, as the ESSA success story has shown, such an anti-fraud effort is strongest when many competing books join forces and share data. ESSA has 23 prominent books as members, and SWIMA comes out of the starting gate with an even larger number of operators and support services (26) already on board. As one can see from the following list, several well-known European brands that have begun making inroads in the US are also a part of this new SWIMA effort:
888
bet365 Group
bwin
Caesars Entertainment Corporation
Churchill Downs/BetAmerica
DraftKings
FanDuel Group
Gaming Innovation Group
Golden Nugget Inc.
Hard Rock International
IGT
Kambi
MGM Resorts International
Monmouth Park/Darby Development
New Meadowlands Racetrack
Ocean Casino Resort
Penn National Gaming
PointsBet USA, Inc.
Resorts Casino Hotel
Rush Street Interactive
SBTech
Scientific Games
The Stars Group
Tropicana Atlantic City
Unibet
William Hill
SWIMA has already named as its day-to-day leader and Chief Operating Officer George Rover. Rover brings strong credentials to his new job, being a former Assistant Attorney General (in New Jersey, one of the US's foremost gambling-friendly states) and the Deputy Director of New Jersey's Division of Gaming Enforcement.
"We are eager and ready to assist all stakeholders involved in the sports betting market to ensure a safe and secure betting environment for consumers across the country," said Rover. "In partnership with gaming regulators and law enforcement officials, we are determined to help prevent fraudulent and manipulative behavior that could negatively affect the integrity of sporting event – something that does not occur with the widespread illegal sports betting market."
SWIMA has set the bar high, and it will receive ongoing assistance from ESSA as the two groups form a partnership of sorts to continue identifying fraud in sports betting on a global basis. In its official launch announcement about a week ago, SWIMA has declared that it is "designed as a collaborative entity to partner with state and tribal gaming regulators; federal, state and tribal law enforcement; its member sports betting operators and other various stakeholders to detect and discourage fraud and other illegal or unethical activity related to betting on sporting events."
Obviously, corruption and cheating and fraud aren't just going to disappear; policing sports is a forever task, and yet it has to be done. Just last weekend, international cricket was in the news for all the wrong reasons, as one of the latest examples, and sports such as tennis have proven to be an eternal breeding ground for corruption. More widespread monitoring is demanded, and, due to the international nature of modern sports, it's the books themselves that have to be up to the task.
betting
corruption
ESSA
Europe
fraud
integrity
monitoring
sports
SWIMA
United States
wagering