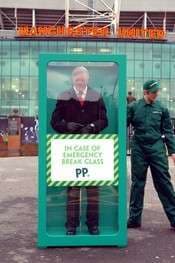 Paddy Power has been known as the betting king of publicity stunts since security staff evicted one of its executives from St Peter's Square in the Vatican City for displaying its odds on the 2005 papal conclave. And the Ireland-based bookmaker showed that it had not lost its touch following Manchester United's English Premier League loss at Chelsea.
As Manchester United fans were waking up the day after their team lost 1-3 to Chelsea at Stamford Bridge, Paddy Power was placing a life-size waxwork of former Red Devils boss Alex Ferguson encased in a box outside Old Trafford, with the invitation to break the glass in case of an emergency.
The sullen-looking Ferguson was pointing to his watch, an activity that became known as Fergie time during his long spell in charge of Manchester United because the Red Devils scored so many vital goals during added-on minutes. It did not take long for Manchester United officials to get Paddy Power's prop off their Old Trafford premises but not before the bookmaker could flog its odds about Moyes time being up.
Paddy Power is offering odds of 2.87 that Moyes is not the boss of Manchester United when the final round of English Premier League matches kicks off and odds of 8.00 that Ferguson takes charge of the Red Devils in a competitive game before this season ends. Moyes is 11.00 with Paddy Power to stay in the Old Trafford for more than ten years.
With Manchester United 14 points behind English Premier League leader Arsenal and six points adrift of Liverpool, which occupies England's fourth and final UEFA Champions League spot, it is an emergency for the Red Devils.
—
English League Two frontrunner Scunthorpe blew thousands of football coupons last weekend when it extended its unbeaten run to 10 matches but could only draw at home to Wimbledon.
Scunthorpe stayed on top of England's fourth division but punters who had done their dough because the Iron did not put away any of their chances against Wimbledon took to Twitter to vent their spleen at the Glanford Park side.
One can only imagine that some of the tweets and direct messages posted to Scunthorpe's official Twitter account crossed the line because the club's communications team fired back the day after the game, tweeting that it had received a staggering amount of abusive messages from English Premier League fans who live in Devon – there is no top-flight side in the south-west county, with the nearest team being Southampton 220 kilometres away – because Scunthorpe had drawn and they had lost their bets.
—
Finally, with Denver reaching Super Bowl XLVIII, ticket holders to the big game at the MetLife Stadium in New Jersey are waiting with baited breath to see what Broncos fan Steve Broman will do to get his hands on seats for the match.
That is because Broman offered to perform a free vasectomy in return for tickets to last week's AFC Championship game between Denver and New England. Broman, a surgeon whose specialty is family medicine, had his own ticket to the Broncos-Patriots clash but he was keen to get seats for colleagues who were unable to get into Sports Authority Field at Mile High for the Super Bowl XLVIII qualifier.
Broman said that the only person who would not have had to pay him in tickets would have been New England quarterback Tom Brady provided that the Patriots star agreed to undergo the uncomfortable procedure just before the match began.
One AFC Championship ticket holder tried to take up Broman's offer but the doctor wanted more than one extra seat. Broman offered to do just one side but, according to the medic, the potential ticket trader did not see the funny side of that.