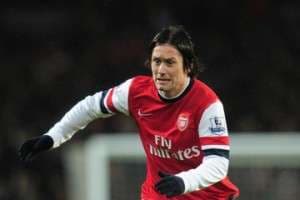 Tomas Rosicky could have become the best no.10 in Europe – and his performance against Sunderland showed exactly why.
Most football experts and pundits refuse to consider Arsenal as a genuine title threat, but there is one definitive feature of the team that cannot be argued with – the quality of the Gunners' midfield.
Arsene Wenger is spoilt for choice in the creative areas; Jack Wilshere, Santi Cazorla, Aaron Ramsey and summer signing Mesut Özil are arguably the best attacking midfield quartet in England when fit.
Czech midfielder Rosicky is another one who fits into that category. An experienced 33-year-old who has spent 8 years at the club and is undeniably one of the most loyal, hard-working players around the Premier League.
After countless days, weeks and months out through injury, Rosicky is gradually repaying Wenger for the faith he initially showed in him when he paid the former Borussia Dortmund man's rumoured £8.8million fee in 2006.
Tactically astute
Rosicky is a criminally underrated player. He glides across the pitch with ease and his ball distribution is second to none. This season he has an average pass accuracy rate of 85% and creates at least one goal scoring chance per game -not bad for a midfielder who spends more time coming off the bench than starting.
The significance in Rosicky's recent rise to form is his position. Wenger himself admitted last season that he hadn't utilised the Czech's strengths as a creative no.10 behind the striker.
"He's such an important player who turns the game forward, brings movement into the game, makes a game look simple and you feel when he has the ball that something can always happen. Not many players have that in their locker.
"Before he played too far away from the box. I always played him wide but I put him in a position where he is more central now. He's more dangerous to score."
Labelled 'almost technically perfect' by club captain Thomas Vermaelen, it's no surprise to see Rosicky breach Premier League defences with his incisive passing and clever runs.
He epitomises Arsenal's playing style and ethos of attractive, free-flowing football. Rosicky's directness, urgency and energy is what you'd expect from a player 10 years younger but the Prague-born star has the hunger and work ethic that many players struggle to find.
Against Sunderland he was part of a three-man midfield. Jack Wilshere played in a deep central role, Santi Cazorla was on the right hand-side and Rosicky deputised for a fatigued Mesut Özil. He notched his first goal at the Emirates Stadium for almost two years – a magnificent pass and move combination that Barcelona would have been proud of.
Wenger's midfield headache
His recent form has seen him linked with a final 'big money' move away from north London before he retires. The Arsenal manager responded to the rumours by handing Rosicky a contract extension (his previous deal would have ran out this summer).
That deal means Rosicky will almost certainly finish his career at the club. A future coaching role wouldn't be out the question either.
Rosicky brings more than his technical qualities to the fray. He regularly takes young players aside, giving them advice and helping them develop into level-headed professional footballers. He has all the makings of a future manager or youth coach.
The Czech midfielder can only be compared to a fine wine – he gets better and better with age.
And having already won three Czech championships and the Bundesliga, there is one trophy that Rosicky remains hungrier than ever for.
"It's very simple, my target is a trophy – I want to win the league," Rosicky said. "This is my eighth year here and that's what I came here for, so now it's time to achieve it.