Newly-merged sports betting entity Paddy Power Betfair has posted strong financial results for the first half of 2016, according to recently released corporate financials. The sharp gains for the combined company, following the merger of Paddy and Betfair earlier this year, show the combined company's operations to be on track, or even ahead of, market expectations.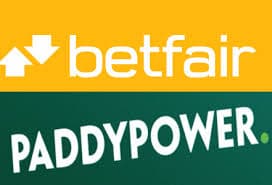 According to those recent numbers, Paddy Power Betfair posted year-over-year gains of about 18% for the combined company as a whole, chalking up £759 million in revenue over 2016's first six months. The company's recent disclosure also cited double-digit growths in all four major operational divisions, including the fledgling US (New Jersey) market, where the company has stabilized with a small double-digit market share.
The company's growth by segment for the first half of the year is as follows:
Online revenue up 20% to £440 million, with sportsbook stakes up 20%;
Australia revenue up 17%2 to £129 million, with sportsbook stakes up 30%;
Retail revenue up 12% to £147 million, with sportsbook stakes up 10%; and
US revenue up 16%2 to £43 million.
Despite the strong overall performance, the newly-merged company still posted a £49.3 million ($65.18 million) loss during 2016 H1 due to costs of the merger between the two companies. While that appears poor on its face, compared to 2015's H1, when Paddy alone posted a £106 million ($140.14 million) profit, the latest report shows the new company well ahead of schedule in achieving "operational synergies" to recoup that loss.
The post-merger Paddy Power Betfair claimed £9 million in such synergistic savings during 2016's H1, expects that to increase to £30 million by year's end, and to be worth at least £65 million per year in 2017 and beyond.
According to Paddy Power Betfair's CEO, Breon Corcoran, "Paddy Power Betfair has sustained good momentum through a period of considerable change. The restructuring is now largely complete and the merger synergies are being delivered ahead of schedule.
"We are creating a world-class operation by exploiting the unique assets and capabilities of each legacy
business, particularly in the key functions of technology, marketing and trading.
"While our industry remains highly competitive and is exposed to the prevailing economic and regulatory
environments, our strong market positions, increased scale and enhanced capabilities position us well for
sustainable, profitable growth."
Paddy Power and Betfair are also believed to serve two distinct market segments — Betfair being more of a serious bettor's site while Paddy continues to cater to a more leisure-driven, recreational sort of punter. The company issued a brief statement stating plans are to continue keeping the company's two brands as distinct as possible:
Paddy Power and Betfair are two of the leading brands in the UK and Irish markets. To maximise growth we have the opportunity to optimise the positioning of both brands. We segment the sports betting market on consumers' level of spend, attitude to gambling and sports preference. The market consists of clearly differentiated customer groups with distinct reasons for choosing a brand.

Our two brands currently over-index in distinct market segments. For example, Betfair attracts customers whose gambling motivations are primarily money-centric whilst Paddy Power attracts customers who say that social interaction and entertainment is their primary motivation. Accordingly, the customer overlap of the brands is limited. In 2015, only 9% of our combinedUK online customers were active on both brands.

We are continuing to review how best to use our two brands, but we have identified opportunities to improve efficiency by adopting a more targeted approach to the customer proposition and messaging for each brand. Betfair will primarily target customers whose motivations to bet are money-centric with a brand approach that emphasises a strong value proposition on both the exchange and sportsbook. Paddy Power will target customers whose primary motivations are social interaction and entertainment.

We believe this focused approach will both strengthen our positions in the segments where the brands are already performing well, as well as allowing us to better target segments where both brands are currently under-indexing.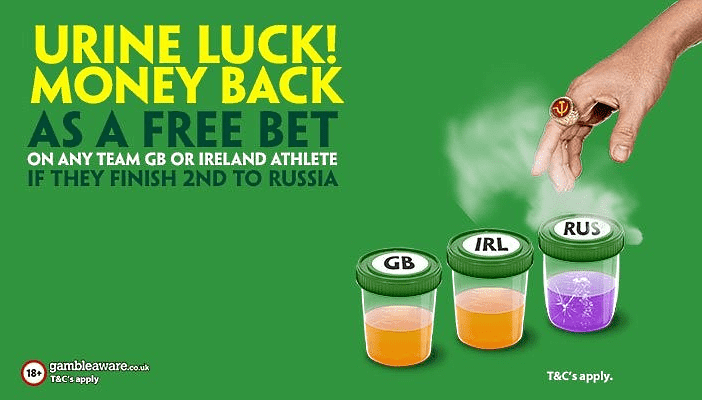 That's a fancy way of stating that Paddy Power's globally recognized cheekiness isn't going away any time soon. The company made a lot of headlines this summer with its Olympics-themed "Urine Luck!" wager-back guarantee, a slap at the dozens of members of Team Russia who were banned from participating in Rio due to failed drug tests.
Paddy actually ended up going one better than its guarantee, when it paid out a gold-medal win's worth of bets when Irish amateur champion boxer Michael Conlan lost a controversial quarterfinal bantamweight bout against Russia's Vladimir Nikitin. The bizarre decision was just the latest of numerous strange Olympic results over the years that have prompted global charges of match-fixing and/or judge bribing on behalf of Russian competitors. (One alleged Russian mobster, Alimzhan "Taiwanchik" Tokhtakhunov, remains a fugitive from United States judges on charges of fixing the ice-skating competition in favor of Russian and French skaters at the 2002 Salt Lake City Winter Olympics.)
Paddy's goodwill gesture on the many Conlan wagers placed by Irish bettors is the type of long-view move that many companies can't seem to make, and, along with the rosy financials, shows a newly merged company already emerging from choppy waters and sailing in the right direction.
Betfair
financials
loss
merger
Paddy Power
report
synergies