The Malta Gaming Authority [MGA] has yanked the regulatory license of several sports-betting sites operating there after the sites were linked to a major Mafia-controlled structure that was the target of a series of raids and arrests in Italy on Friday. The Italian raids resulted in 23 arrests, including an alleged Mafia figure widely known as the "betting king" in Sicily, Benedetto Bacchi. The Maltese regulatory action strips licensing from any and all sites operated by Phoenix International Ltd., a central ownership entity in the targeted operation.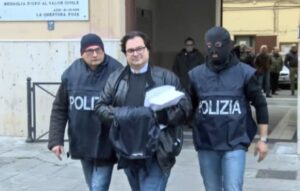 Bacchi, 46, reportedly controlled over 700 betting shops in Sicily and across the Italian mainland, with a focus on the traditional Mafia-controlled locale of Palermo, in Sicily. The shops were unlicensed by Italian authorities and operated in a legal grey area, but the investigation was able to link the chain of shops and its business practices to several different alleged crimes, including money laundering, fraud, mafia association and other offences.
Friday's raids resulted in the immediate closure of at least 40 of the 700 betting shops allegedly cntrolled by Bacchi. Each of the shops featured "data transmission centres," or CRTs, video terminals that linked directly to online sites operated by Phoenix International. Those sites included online domains such as B2875.com, Bsport24.com and B28sport.com; the sites, now offline, appear to have offered a combination of English- and Italian-language online wagering.
Those sites are highly unlikely to return. A brief message posted at one of the English-language sites, B2875.com, read as follows:
Due to unforeseen circumstances Phoenix International Limited has ceased all gaming operations with immediate effect , No new registrations and new deposits will be accepted as the licence MGA/CL2/1163/2016 has been temporarily suspended, We kindly ask the players that have registered accounts and funds in their account to proceed in requesting for a withdrawal accordingly. Only limited accessibility to the website is allowed with player balance visualisation and the necessary steps in order for a withdrawal to be requested . We thank you in advance for your support and understanding.
"Unforeseen circumstances" indeed, though it's far from the first time Mafia-controlled betting sites have been taken down by Italian authorities or Maltese regulators. A similar major bust occurred back in 2015 involving BetuniQ and several other sites, and there's even a connection between that crackdown and this one, involving prominent Maltese lawyer David Gonzi.
Gonzi, the son of former Malta Prime Minister Lawrence Gonzi, had business ties to both the 2015 BetuniQ busts and Friday's Phoenix International-related raids via his GVM Holdings company, which has provided fiduciary services to connected business entities in both instances. Gonzi and his company were cleared of criminal wrongdoing in the BetuniQ matter, and Gonzi already issued a statement asserting that his company's association with the Bacchi-controlled operation ended in October of 2016.
"The shares in the company have since that date been held directly by the shareholder," declared Gonzi. "GVM Holdings is a licensed fiduciary company providing fiduciary services in terms of the Trusts and Trustees Act. I hold a one third-shareholding in GVM Holdings and was appointed as the third director of GVM Holdings on the 2nd December 2014. As from December 2015, GVM has been winding down its activities and has since sent termination letters to all its clients."
The MGA announced its termination of regulatory approval for the Phoenix International sites later on Friday, just hours after news broke about the arrest of Bacchi and the raids on the betting-shop chain. According to the MGA:
The Malta Gaming Authority (hereinafter the 'Authority') is hereby notifying that Phoenix International Limited, remote gaming licence MGA/CL2/1163/2016, has been suspended as of 2nd of February, 2018.

Phoenix International Limited has thus been directed to indefinitely suspend all gaming operations, cease to register new players or accept any deposits on the Licence and to submit all data and documentation requested by the Authority.

Furthermore the Authority hereby notifies that any websites operated by Phoenix International Limited, or associated with Phoenix International Limited, and which make reference to the Authority or the above-quoted licence is not approved to be operational by the Authority. Due to the suspension of the licence, Phoenix International Limited is therefore not authorised to continue conducting gaming by means of distance communications under an Authority licence.
Bacchi
Game Over
Italy
mafia
Malta
Malta Gaming Authority
MGA
money laundering
Phoenix International
raid
shops
Sicily
sports betting