Among the most interesting online sports-betting developments in recent days was the announcement last week by The Mohawk Council of Kahnawà:ke that it would take the last step in becoming a complete, vertically integrated provider of online betting services, by entering into an operational partnership with long-time business partner Sports Interaction as co-operators of Sports Interaction's long-running, Kahnawake hosted site.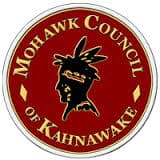 The move is interesting in that it completely integrates the Kahnawake Mohawk nation as a multi-level provider of online sports betting services. The Kahnawake also host large numbers of online gambling domains on a server-farm operation, Mohawk Internet Technologies (MIT), located in a converted mattress factory on the Kahnawake land. MIT houses hundreds of such domains, and is believed to be one of the very largest of such providers on the global scene.
Then there's the Kahnawake Gaming Commission (KGC), which is something of a grey-market, rubber-stamp regulatory authority. (Sites need not be housed at MIT to receive KGC approval, but there's a high correlation.) The KGC isn't quite as cheesy as, say, the Curacao Gaming Commission, but they're not considered as highly in consumer-protection terms as regulatory agencies such as Alderney's AGCC or France's ARJEL.
It hasn't helped the Kahnawake's image much that a large number of the sites they host are pure grey, such as Sports Interaction itself, which bills itself as Canada's leading online sports book while concealing their actual ownership and noting that they've been "licensed and regulated in North America" since 1999 — noting the exclusion of "Canada" from that phrase.
There's a reason for all of this, but first let's squeeze in the announcement itself. Here's the release that the Mohawk Council of Kahnawà:ke offered on June 2nd.
MCK announces intention to enter E-Gaming business

(Kahnawake – Hune 2, 2015) The Mohawk Council of Kahnawà:ke (MCK) announced today that it has agreed in principle to enter into the business of e-gaming. While the MCK codified Kahnawà:ke's jurisdiction over gaming and gaming-related activities with the 1996 Kahnawà:ke Gaming Law it has not, until today's announcement, engaged in the actual operation of an e-gaming site. Over the past 19 years Kahnawà:ke has earned a stellar reputation worldwide for its expertise in the hosting and regulation aspects of egaming.

Licensing, outsourcing and related agreements are expected be signed shortly for the purpose of operating the online gaming site known as Sports Interaction. The agreements come after many months of negotiations and were formalized at yesterday's duly-convened Council meeting. A Mohawk Council Executive Directive was passed with nine chiefs supporting and three chiefs (Lloyd Phillips, Carl Horn and Clinton Phillips) objecting.

"Chief & Council deliberated long and hard on this matter," said Grand Chief Michael Ahríhron Delisle, Jr. "At the end of the day, this agreement gives us the unprecedented opportunity to partner with a successful company that has been a good corporate citizen in Kahnawà:ke. Sports Interaction has been a Kahnawake Gaming Commission licensee since 1999 and continues to operate on the Territory."

"The agreements that were approved today will further strengthen Kahnawà:ke's jurisdiction over gaming and contains provisions that will create employment and substantial revenues for the community," he added. "We've conducted lengthy and comprehensive research that gives the clear majority of Council the confidence to move forward in this major project. As the agreements are signed we will continue to update the community directly and on a timely basis."
The KGC, et cetera, dates from 1997 when it was created as noted in the above. And it has always operated as a thorn in the side to Canada's federal and Quebecois authorities, who have always viewed the KGC's online-gaming ventures as being illegal. Yet, in a political battle somewhat related to that in the United States regarding tribal rights, the Kahnawake Mohawks have always asserted tribal sovereignty in the matter, essentially giving the Canadian feds a giant middle finger on the topic.
That the Kahnawake Mohawks were able to launch such a massive and successful online hosting operation was itself an accident of fate, since one of the largest North American data pipelines, connecting Montreal to Toronto and to major hubs across the US border, was installed through Kahnawake lands. That made the development of the Kahnawake's online businesses relatively convenient and inexpensive in comparative terms.
Even more to the point, Quebecois authorities and Loto Quebec officials have in recent months renewed the political rhetoric about shutting down the Kahnawake's online gambling operations. Given that the online-gambling operations are by far the largest single source of revenue for the tribe's operations, the ongoing Loto Quebec rhetoric is viewed as direct threat.
The Kahnawake aren't likely to stop offering online gambling as a part of the tribal nation's overall business model. And the operational partnership announcement with Sports Interaction is intended to be read by Canadian officials as an exclamation point on the topic.
Canada
Kahnawake
KGC
MIT
Mohawk
operator
Quebec
sports betting
Sports Interaction