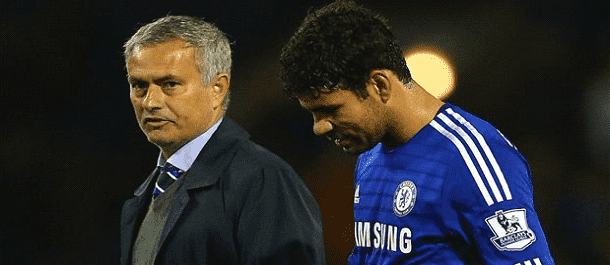 Given the way the 2014/15 season has begun it is difficult to envision any team except Chelsea winning the Premier League. Following a swift and sensible summer of spending, Jose Mourinho's men have come flying out the blocks winning all of their games but one – a draw against fellow title contenders Manchester City, with Stamford Bridge legend Frank Lampard ironically equalising for the Sky Blues. Apart from that it has been smooth sailing for Chelsea. They sit atop both their domestic and Champions League tables, and have progressed in the Capital One Cup. One of the keys to their success is the capture of Diego Costa. But by overplaying the injury-prone forward, Mourinho is running the risk of treating a marathon like a sprint.
Diego Costa is in red-hot form. He has buried an impressive eight goals in six matches and done his best to disprove the theory that foreign players require time to adjust to the Premier League. His conversion rate stands at 44.4% – higher than Cristiano Ronaldo's 41.7% – and he seems to be perfectly suited to England's top tier with strength, intelligence and the striker's instinct that has seen him hit the ground running.
So what's the issue?
The problem is that Chelsea are already proving to be overreliant on their star striker. Last season Mourinho drafted in an ageing Samuel Eto'o after failing to coax Wayne Rooney away from Manchester United, but made no secret of his frustration at having no forwards he could rely on week-in week-out.
"I have a team but no striker," Mourinho said. "It is not possible for us to win the Premier League. We have Samuel Eto'o. Yes, Eto'o. but he is 32, maybe even 35, I don't know."
It is therefore understandable that Jose jumped at the chance to sign Costa and is reluctant to drop a man who is already looking like a Golden Boot winner. However, if the Blues continue to start Costa without accounting for his previous injuries and general adjustment to a more physical league, they risk bringing his terrific start to the campaign to a halt.
"He is doing almost nothing,' said Mourinho before Tuesday's encounter against Sporting Lisbon.
"He's just resting and recovering from the tight muscle he has every time he accumulates fatigue. I hope he goes home after this game and sleeps until tomorrow morning.
"He cannot be at the top of his game but even so, scoring a goal is good for his confidence, especially for a player who isn't training as he should because we are protecting him."
Whilst Mourinho may claim to be protecting Costa by allowing him to train less, this may work against him and actually increase the chances of him being injured. The right thing to do in order to protect him would be to ensure he does not become burnt out with an excessive amount of games. It was only as recently as May that Costa was prematurely brought back from a thigh injury for previous club Atletico Madrid, limping off after nine minutes of the Champions League final against Real Madrid. This and a number of niggling injuries came after a cruciate ligament rapture that sidelined the Brazilian for eight months.
So what are Mourinho's options? Unfortunately for the Stamford Bridge chief, not many. Club legend Didier Drogba was brought back to the club on a free transfer and there is little doubt he will chip in with a few goals by the end of the season. However, the 36-year-old striker is not the rampant force he once was and it appears he was signed to lend experience to the team before seamlessly moving into a coaching or management role, akin to Manchester United's Ryan Giggs in his final year as a player.
Loic Remy has proven himself as a talented striker during his spells with Queens Park Rangers and Newcastle United, but it remains to be seen whether he will be able to carry this across to a title-challenging team like Chelsea. There is every chance he will be up to the task, but he would stand a much better chance if he was gradually integrated throughout the season rather than shoehorned in whenever Costa gets crocked. As it stands Remy has played just 29 minutes of football this season whilst Drogba has already picked up an injury. If Costa is indeed to find himself ruled out for any significant period of time, it would be highly questionable whether Remy would be in a position to quickly attain match fitness and fill in immediately if he is continually benched as he has been so far.
The third option is to play no striker at all. Chelsea do of course have an embarrassment of riches in midfield with the likes of Hazard, Fabregas, Shurrle, Oscar, Willian, Ramires, Matic and Mikel competing for places. As last season proved, however, this could lead to a distinct lack of goals despite the attacking talent on show. Spain have previously played with no strikers and received a mixed reception. It is an extremely risky tactic and one which would surely worry the Chelsea faithful should it be deemed necessary.
The best thing that Mourinho can do in this situation is to try to use Remy in matches where he feels the opposition can be successfully exploited by his impressive midfield and leave Costa benched for emergencies. This will ensure Costa less is 100% fit for the majority of games he plays and less likely to get injured. Squad rotation is an essential component of success to any major club competing in multiple competitions, and Mourinho will be fully aware of this – so why is he gambling on Costa so much so soon?
Essentially, Mourinho is putting all of his eggs in one basket. Right now, things are going swimmingly. Chelsea are impressing in all competitions and all of the major signings are proving effective. Football is a game of fine margins, however, and if Chelsea aren't careful with Costa they'll be left rueing their overreliance on the talismanic striker.
Chelsea
Diego Costa
Injury
Jose Mourinho