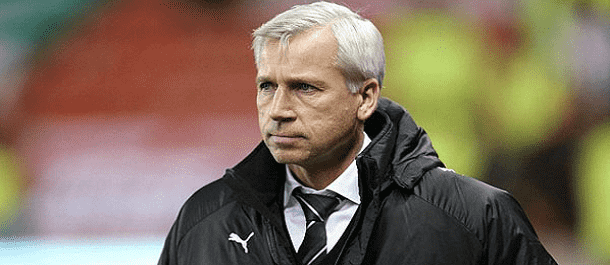 As Stoke took a 1-0 lead over Newcastle United on Monday it was a familiar site for the Toon Army. So familiar, in fact, that chants of "you're nothing special, we lose every week" had rung out at points during the match. It was no laughing matter at full time though, as manager Alan Pardew gave a brief clap to the travelling fans and quickly disappeared down the tunnel. It's unlikely he was clapping a significant section of match-goers who readily displayed their banners championing the website sackpardew.com in a desperate bid for change at the struggling Northern club.
Nobody can deny that Newcastle United are in a state of crisis. Since a 5th place finish in the 2011/12 season the club have been in decline. Several foolish individual incidents from Pardew have done nothing to help the situation. Pardew has clashed with Martin O'Neil and Arsene Wenger in the past with the latter refusing to shake his hand, and the 53-year-old narrowly avoided punishment after microphones caught him hurling a string of expletives at Manchester City manager Manuel Pellegrini. More seriously, he was fined £20,000 for shoving a linesman during a match against Spurs and in the most high profile incident of all, he headbutted Hull midfielder David Meyler. He got away with a 7-match ban and £60,000 fine but admitted it could have been much worse. These are hardly actions befitting of a man that was trusted with an eight-year contract in 2020.
Some individuals in the Premier League have managed to push the limits of the clubs' owners granted that their team delivers on the pitch. The likes of Mario Balotelli, Carlos Tevez and particularly Luis Suarez spring to mind. Suarez was a nightmare for Liverpool's owners as he repeatedly made headlines for all the wrong reasons. His racism towards Manchester United's Patrice Evra and his inexplicable decision to bite Chelsea's Branislav Ivanovic cannot be justified, but his performances catapulted him to being considered among the world's top few players. Essentially, Liverpool absorbed the negative press and trusted that Suarez would repay them on the pitch.
The same cannot be said of Pardew.
To date in 2014, the club have managed just five league wins. To be more precise, in 26 games they have won five, drawn four and lost seventeen. As The Times' Oliver Kay tweeted, "that's not just relegation form. That's pitiful." So how does a club go from finishing fifth to collapsing and finding themselves joint bottom with Burnley, only avoiding rock bottom on goal difference? Obviously, there are deep-rooted problems at the heart of Newcastle United.
Mike Ashley received a rather welcoming reception when he first took over at Newcastle in 2007. His hands-on approach of sitting in the stands and donning the team shirt proved popular at first, but it was after being caught downing beer in the stands that Ashley's relationship with the fans began to falter. Ashley received a warning from the League Manager's Association and would receive another after the controversial resignation of then-manager and club legend Kevin Keegan. Like Kenny Dalglish at Liverpool Keegan had an untouchable status among the fans and, when he expressed anger at the manner of his sacking, the fans blamed Ashley and Director of Football Dennis Wise. The pair were dubbed the "cockney mafia" and as time went by the sour feelings amongst the fans became more and more widespread.
In September 2008 Ashley announced that the club was for sale before backtracking in December, with Joe Kinnear taking charge of the club in the meantime. Kinnear's reign was a farce, the 67-year-old coming across like a grandpa that had wandered out of his care home and stumbled into somebody's office. Claims that he struggled with his mobile, mixed up his own players' names and made bold claims about signing Mohamad Salah after he had already agreed a deal with Chelsea – alongside blasting Newcastle fans as being less intelligent than him – played second fiddle to the fact that he became the first Director of Football in the history of the Premier League to make no permanent signings over two transfer windows. Ashley's plan to exert money from the club without providing the necessary funds for success and improvement were becoming all too clear. He was disrespecting the integrity of the club.
Whilst Mike Ashley is undoubtedly the biggest problem at St James' Park (or the Sports Direct Arena, as it was briefly renamed) Alan Pardew cannot escape the blame. Ashley has been a constant hindrance to the advancement of the club but Pardew should have achieved better results with the group of players at his disposal. In the top four tiers of English football, only Blackpool have scored fewer goals than Newcastle, whilst the Magpies have also conceded a worrying 127 goals in the league over just two seasons. Since December 2010, he has lost 20 Premier League games by three or more goals, and one just once in seven games against local rivals Sunderland – a pivotally important match to fans. No team suffered more home defeats in the 2012/13 season, and that was in a year that saw both Demba Ba and Papiss Cisse notch 13 goals each. Even the acquisition of the aforementioned strikers is down to the scouting system more than Pardew himself, and his inability to coax the best out of Cisse following his excellent first six months again points to a fundamental incompetence.
The ideal outcome for fans would, of course, see Mike Ashley sell the club to somebody who has a real desire to see the club return to its former glories. Realistically, this is not going to happen any time soon. Ashley has weathered the fans' anger and will continue to do so. The only option that offers an immediate improvement is to sack Alan Pardew and accept the fact that he will claim a sizeable cheque given the six years remaining on his contract. Ashley doesn't have to pretend to love the club as he once did, but he must at least show that he is taking steps to avoid their current relegation form.
Alan Pardew
Joe Kinnear
Newcastle
Premier League
sackpardew.com