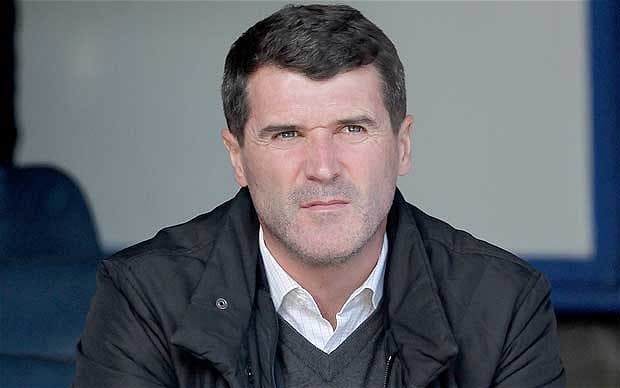 Ex-Manchester United skipper has been all over the news recently with a swarm of controversial statements emerging from his updated autobiography. The book, titled 'Roy Keane: The Second Half' outdoes his original volume for outlandish revelations, with Keane attacking the usual suspects including former teammates and Sir Alex Ferguson. However, in a much more vulnerable segment that may even help explain the aforementioned criticism, Keane revealed that he has been undergoing a mid-life crisis for some time and even turned to alcohol to escape his problems.
"My mid-life crisis has been going on for years" Keane states, going on to explain that he feels he exists as living parallel with a "self-destruct button". It is an unusual revelation for a man that many will regard as the stiff upper lip type, and not one to exploit any weaknesses he may have.
He goes on "Anger is a useful trait. But when I'm backed into a corner, when I get into situations, professional or personal, I know deep down that when I lose my rag, and I might be in the right – it doesn't matter – I know I'm going to be the loser.
"I will lose out. Saipan and the World Cup – ultimately I lost. Or when I left United, when I could have stayed a bit longer if it had been handled differently. I was the one who lost; I know that. That's the madness of me. When I'm going off on one, even when I might be right, there's a voice in my head going: 'You'll pay for this.'
"That's the self-destruct button. I don't know if it's low self-esteem. Things might be going really well, and I don't trust it: 'It's not going to last,' or 'Why am I getting this? Why are things going so well? I'll f**k things up a little bit, then feel better myself.' I might be buying a car: 'Who do you think you are buying a new car?' And I'll f**k it up. I'll drag things down around me.
For a man that is still an ever-present on our screens dabbling between his budding punditry career on ITV and flanking Paul Lambert in the dugout at Villa Park, it may come as a surprise for the former Republic of Ireland international to be drawing so much attention to himself – and in such an uncompromisingly honest manner. These kind of memoirs are often reserved for the autumn years of ex-footballers, looking for one last cash cow or a brief dance with fame again. For Roy Keane, there must be a burning desire to speak to the world, and this is reflected in his unbalanced monologues which give the impression of a man on the edge.
Keane also reveals that he would go on benders for days at a time to avoid dealing with his issues. "With my drinking, I used to go missing for a few days. I think it was my way of switching off, never mind the consequences. It was my time. It was self-destructive, I can see that, but I'm still drawn to it. Not the drink – but the madness, the irresponsibility. I can be sitting at home, the most contented man on the planet. An hour later I go: 'Jesus – it's hard work, this.'
"My midlife crisis has been going for years. Someone once said to me – an ex-player and it's going back to my drinking days – that going out with me was like going out with a time-bomb."
In reference to a specific incident, Keane reveals that he had a bust-up with legendary keeper Peter Schemichel on a pre-season tour of Asia – but forgot all about it due to the amount of drink he'd consumed.
"Peter had grabbed me, I'd headbutted him – we'd been fighting for ages. I had a bust-up with Peter when we were on a pre-season tour of Asia. There was drink involved. The manager had a go at us as we were getting on the bus, and people were going on about a fight in the hotel the night before. It started coming back to me – the fight between me and Peter."
Such segments are almost reminiscent of Paul Gascoigne. The brilliant former Tottenham and England star's alcoholism led him to a series of harrowing and sorrowful incidents, including showing up at the police face-off with gunman Raoul Moat carrying a fishing rod. This tell-all book seems, at times, like a cry for help.
The fiery Irishman proves that time isn't always a healer as he lambasts former boss Sir Alex Ferguson – who in his own book labelled Keane "Peter Pan" for refusing to acknowledge his age – and even goes on to reiterate that he has no regrets about the malicious challenge on Manchester City's Alf-Inge Haaland.
In an insight into his cynical mindset, Keane reveals his "evil thought" that he was glad when Clive Clark suffered a heart-attack during his time as Sunderland manager, using this as an excuse to deflect attention away from the Black Cat's miserable 3-0 loss. The fact that this was more than a fleeting thought and commanded enough staying power to make it into the book indicates just how twisted some of United's famous number 16 thoughts are.
Anybody who has come across so much as an interview with Roy Keane would have expected a no-holds-barred book – you need only to revisit his time as Ipswich boss to see how easily he can lose his temper at the slightest nuisance. What's different about these latest outbursts is the reasoning behind them. Never before has Keane so openly expressed the faults he sees within his own character.
Many of the greatest footballers have a hint of madness about them; see Zidane's World Cup headbutt or Suarez's multiple biting incidents. But when the individual is so tentatively poised between greatness and madness, a failure to contain the temperament can have worrying repercussions. With admissions to turning to alcohol, being consumed by an uncontrollable rage and even being pleased that his own player had a heart attack, perhaps it is time Keane sought professional help.