The reported collapse of acquisition talks regarding major online gambling site bwin.party has caused a rough stretch in share values for the company's London Stock Exchange-traded stock.
Bwin.party's share price tumbled sharply on Friday following widespread business reports that one or more suitors had abandoned possible plans to purchase the ailing company. Share prices collapsed about 20% on Friday, from 102.5 to 83.55 British pence.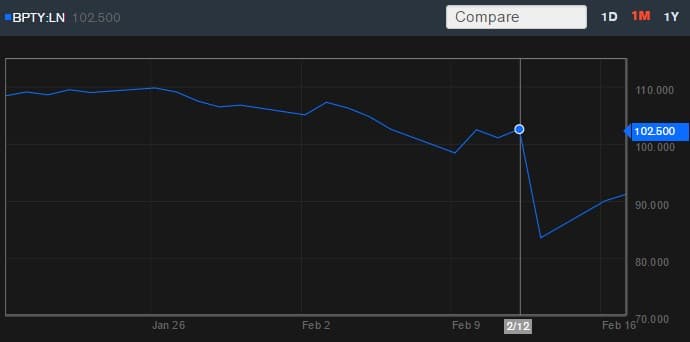 However, following a statement from bwin.party company officials that some sales talks were still ongoing, BPTY shares enjoyed at least a partial rebound, jumping about 5% on Monday and another 1-2% today. A Bloomberg Business stock tracker image (at right) offers a visual representation of the BPTY share's struggling performance in recent days.
Given that bwin.party's long-term outlook appears dependent upon either a total or partial sale of the company's units, given several years of sharp money-losing performance, the company's share price has become totally pegged to the perceived likelihood of a sale.
Several reports in the immediate wake of Friday's share-price collapse quoted an identified bwin.party spokesman as protesting the rumors that sales talks had ended. An eGamimg Review update quoted one such bwin.party rep as saying the company would be "obliged to update the market" if such talks had indeed concluded, but such was not the case. The company had not, as of today's financial close, issued any sort of statement relative to recent share price fluctuations.
Also unstated by the company is exactly which other firms might be interested. Various industry reports cite Amaya Gaming and Playtech as the likeliest suitors, with a Wall Street Journal feature from yesterday naming Amaya as the likely primary suitor.
Amaya, based in Canada, has been one of the industry's most active players in recent years. No deal in the the online-gambling sphere was bigger than Amaya's $4.9B acquisition last summer of Oldford Group, the parent company of PokerStars and Full Tilt Gaming. Amaya also has prior acquisition experience with bwin.party, having acquired the antiquated Ongame Network platform from bwin.party for a fire-sale $25 million back in 2012.
The complexities of the current situation, however, have made it difficult for bwin.party to close the deal with any suitor, well-heeled or not. Amaya might covet bwin.party's robust online sports-betting unit, which is the most profitable — or least non-profitable, depending on how one views it — of all the bwin.party divisions. Amaya has no major market presence in the sports-betting area, making an acquisition of bwin.party's sports betting offerings a potentially valuable acqusition.
However, bwin.party's online-poker offerings have relatively little value to Amaya. Though bwin also has an online poker presence, the company's primary offering remains top-ten site PartyPoker. However, PartyPoker was once a top-three site, and has lost both money and market share in recent years. Given that Amaya already owns two big winners — PokerStars and Full Tilt — they have little need to pay top dollar for a loser that occupies yet another portion of the same market niche.
The same argument applies to the other possible suitor for bwin.party, Playtech. Playtech operates the rival iPoker network, which has gained market share (much at PartyPoker's expense) and has a much smaller overall footprint than the Amaya-owned brands. However, Playtech's primary business is a software provider to other online companies; acquiring bwin.party would bring the company more directly into conflict with its own customers, and increase the risk that those clients would move elsewhere or develop their own proprietary platforms.
All of the above means that bwin.party continues to be a difficult sell. Between the company's money-hemorrhaging divisions and its no better than partial fits with possible purchasers, bwin.party continues to struggle. The recent news can be taken as an indication that the company hasn't quite lost enough of its value, though the vultures are circling. It's only a matter of time, it appears, until these ongoing sales talk result in a real deal.
acquisition
Amaya
Amaya Gaming
business
bwin.party
Online gambling
Online Poker
PartyPoker
Playtech
sale
sports betting