An unprecedented string of upsets on last Sunday's UFC Fight Night 61 card led to bookmakers losing millions of pounds on the action, according to reports offered by several of the books involved.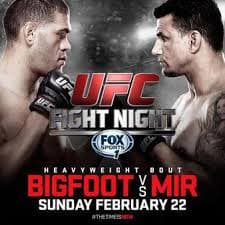 The UFC 61 card, featuring 11 Ultimate Fighting Championship bouts, saw 10 of 11 underdogs emerge victorious, some at betting odds as high as 10:1. Given some heavy parlay action on the card's matchups, several huge individual payouts on small parlay wagers were commonplace.
Here's a rundown of the UFC Fight Night 61 card, which took place in Brazil. (Note: final odds varied per book; these are representative numbers):
Frank Mir over Antonio Silva via KO, first round, 1:40; Mir was the underdog in this "Mir v. Bigfoot" headliner, offering a healthy +200;
Michael Johnson over Edson Barboza via unanimous decision; Johnson was the dog here, though not a severe one, at +135;
Sam Alvey over Cezar Ferrieira via KO, first round, 3:34; Alvey was at +185;
Adriano Martins over Rustam Khabilov via split decision; Martins was a big dog at -200 but prevailed in the night's closest decision;
Frankie Saenz over Irui Alcantara via unanimous decision; Saenz won despite being the card's biggest underdog, at +235;
Santiago Ponzinibbio over Sean Strickland via unanimous decision; Ponzinibbio, at +160, continued the run of upsets;
Marion Reneau over Jessica Andrade via submission (triangle choke), first round, 1:54; Reneau went off at +175.
Matt Dwyer over William Macario via KO, first round, 3:14; Dwyer was at +180 at several books;
Mike de la Torre over Tiago Trator via TKO, first round, 2:59; de la Torre brought +150;
Douglas Silva de Andrade over Cody Gibson, via unanimous decision; Silva was the dog at +160;
Ivan Jorge over Josh Shockley, via unanimous decision. Jorge was the only favorite to win, being listed at -260 to Shockley, at +180.
Some of the odds above jumped even higher in post weigh-in betting at many books, but it didn't matter: The run of the 'dogs on Friday night set a record for most against-the-odds wins by fighters on a single card.
When it was all over, on the FOXSports-televised card, the long-shot bettors had the night of their dreams. The US-facing arm of Bodog, Bovada, lost roughly USD $1 million on its own. Other major books took similar hits.
In an ESPN feature on the night's betting action, Bovada sportsbook manager Kevin Bradley reported that one $4 "all dog" parlay paid out $85,000, while four lesser $1 parlays each paid out $25,000 or more. Lesser parlays, but many with larger base bets, accounted for the majority of Bovada's total loss on the night.
"We're not getting this money back from the people that won," Bradley told ESPN. "The type of bettor that wins these bets throws a small amount of money on all the favorites or all the underdogs to try to get rich. Well, I guess it worked."
Bradley also noted that the much smaller handle on UFC events, when compared to major sports such as football or basketball, would make the hit much harder to recover from for the book, when considered as an isolated market segment. "We take in so much more money on the NFL or the NBA that when you have these types of parlay winners, it's hard to hurt [our business]," Bradley said, in the ESPN feature. "With UFC, this will be hard to come back from."
Major books were quick to honor their bettors' night of huge parlay wins, as they rightly should, though a couple of less-than-scrupulous tales did emerge. One small, still-in-business online site, long named as a dubious offering by online watchdog CasinoMeister, restricted a winning bettor to a $150,000 payout on a winning parlay resulting from the upset-laden UFC card.
While that number was indeed listed as a single-parlay cap payout in the site's TOC, the software itself allowed the bettor to add extra games to his longshot parlay, thus effectively freerolling the bettor on an unnecessary match. The bettor (who chose to remain anonymous) thought he was in line for a payday of over $500,000, which turned out not to be the case. That's why wagering through reputable sportsbooks is always recommended, and don't forget to check our consumer reviews here at SBO.
Antonio Silva
Bovada
Fight Night 61
Frank Mir
parlay
UFC
UFC Fight Night
underdogs