Ladbrokes, these days a brand entity within the sprawling GVC Holdings group, has come under fire in recent days over the publication of internal documents affirming that the company has indeed profiled sports bettors in an effort to limit losses to so-called sharps, the most experienced and skillful bettors.
A feature in last weekend's Sunday Mail offered a glimpse at internal documents likely obtained from a former Ladbrokes inside source that show an excerpt from Laddies' internal operations showing a table used by the company's Client Risk team as an assist in rating punters, in some cases trimming the betting limits for the sharpest of the sharps to as little as a penny on the pound.
The Sunday Mail piece has reignited the fierce debate over such practices, which operators are loath to confirm exist. In this case it's a double whammy for Ladbrokes, as the table (inset below) also shows a range for so-called "MVP" or "HVC" (the latter supposedly meaning "high value customer", or well-to-do mug) who have been rated at multiples of their desired bets. The Mail feature ties such over-ratings to incentives and promotional offers made to these less-skilled bettors in an effort to keep them wagering at Ladbrokes as compared to other sites… or, as the case may be, not at all.
Given the UK's ongoing public furor over problem- and addictive-gambling stories, a couple of dozen of which in recent years have exposed some of the worst practices undertaken by UK-facing operators, ol' Laddies (and parent GVC Holdings) could be in for another Gambling Commission hand-slapping. In tabloid fashion, the Mail asserts that such an investigation is already ongoing, but if so, the results won't come in for another while.
Yet it's the whole "bettor rating" thing that's the interesting part of this story for the experienced gamblers. Here's the table the Mail published, showing the practice: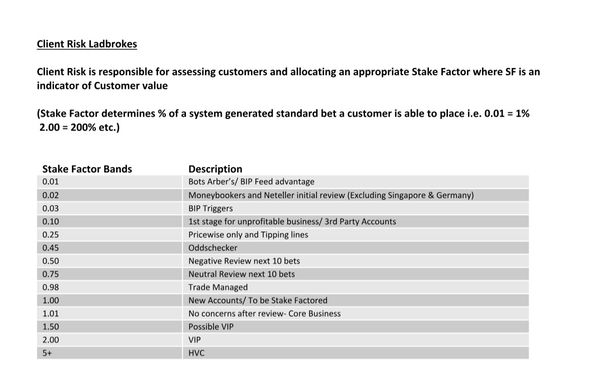 That's clearly a rating system, and those categories at 1.5 and up are going to be headache-causers for the company to explain.
The Mail also obtained a statement from Ladbrokes that we have to reprise here in its entirety, because it also merits further examination. That statement reads as follows:
The document you have been given is five years old and was a business spec for a third party that Ladbrokes was in conversation with at the time.

It does not have any relevance to our current trading platform.

By way of background, over a million people bet regularly with Ladbrokes in our betting shops, online or via mobile and over 99 per cent of bets are laid as requested.

A minority of customers experience restrictions on certain bets for risk management purposes.

Stake factoring is a standard risk management approach used by the majority of betting operators.
That omits as much as it says. "Risk management" is a polite term for what putting the clamps on sharps has always been, a secret insurance policy to protect the bottom line. Sportsbooks love the publicity when a mug hits a parlay (at lousy odds) for a life-changing score, but they detest having their own soft lines exposed. There are two sides to this, of course. On one hand, sports books probably do need some form of protection against massive computerized schemes, though generalized limits on in-play wagering seem like a much more equitable solution than rating systems such as the above; there's really no way to translate the above other than as "If you win too much, you aren't welcome here."
There's also considerable sleight-of-word in Laddies' statement. Whether five years old or not and whether it's a business spec or not, it matters not a bit if something similar remains in place today, and the above statement utterly ignores that part of the situation. Also ignore is the rationalization for those "mug" categories, greater than 1.0. That "Possible VIP" category really stands out as something very problematic, if it or a equivalent exists in today's Ladbrokes.
"Stake factoring" is almost certainly going to receive increased public outcry and quite a bit of regulatory scrutiny. Stay tuned: This one could get interesting for one of the UK's most venerated gambling brands.
bettor
brand
Commission
customer
GVC Holdings
incentive
Ladbrokes
marketing
mug
promotion
rating
risk management
Sunday Mail
UKGC
United Kingdom
VIP HVC