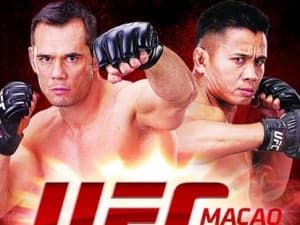 This Fuel TV card marks the UFC's first trip to China. As would be expected, the card has strong Asian representation. Asian countries featured in eight of the nine fights. Despite the fact that this main event features two former middleweight champions, this is very much a fun main event. No matter the outcome, It's not going to effect the standings at 185.
Main Card
Rich Franklin vs Cung Le
Rich Franklin was once UFC's top dog at 185. Middleweight champion with wins over some big names, until Anderson Silva came along. He'll never be champion again, but he's shown he still has some fight in him. He looked good verses, Chuck, Wandy, Forrest and Vitor, despite not always winning. Cung Le is a former strikeforce middleweight champ who finally made the transition to the UFC last year. With a unique kickboxing style, spinning fists, hook kicks, scissor kicks, he is exciting to watch. Clearly a true martial artiest, however by the third round, his age starts to show and pace falls off. Franklin will use his experience to weather the storm early on, and dominate a tired Le in the final two rounds. Franklin by decision. I'd like the price to improve past 3/10 before I invest though.
Thiago Silva vs. Stanislav Nedkov
Thiago Silva was once 13-0 and a huge prospect at 205. A BJJ blackbelt who prefers to bang. His form in his recent fights however, lets him down. Technically winning only one in his last 5. His recent record lets down his potential and this fight is his chance to get it back. He's now training with the blackzillians and should hopefully arrive fully prepared. Nedkov is an undefeated 12-0. But as we've seen many times before, a record built outside the UFC isn't worth much inside the octagon. This fight is his first verses top level opposition, and in my opinion he's about to be dealt his first loss, which should ultimately help him improve. Silva by TKO
Dong Hyun Kim vs. Paulo Thiago
I'm not really looking forward to this one. Kim is a very capable fighter, but I find him very boring to watch to be honest. It's like grinding out a win his his goal. Thiago is another world class BJJ player, but never seems to have in head in the fight. I'm expecting Kim to come out and stifle Thiagos BJJ game and win by a very boring decision. I'll be backing the decision outcome that will hopefully make the fight more bearable to watch. Dong Hyun Kim by decision.
Takanori Gomi vs. Mac Danzig
Gomi was the Shooto and Pride lightweight king. At one stage he was 29-3 with more than his share of impressive wins. However in recent years, he has struggle to replicate that form in the UFC. Maybe the years, and fights are catching up with The Fireball Kid. Danzig's has always been hit and miss in the UFC. At the moment, he's in a similar place to a lot of fighters. Not enough consistent wins to progress in the division, but not losing enough to be cut. I think this fight is close and can go to who ever wants it the most. Even though it's not Japan, the crowds should be on Gomi's side. Hopefully he can recapture the Shooto/Pride days. Danzig is the rightful favourite, but I think Gomi has enough of a chance at winning to take the 2/1 odds.
Tiequan Zhang vs. Jon Tuck
Zhang is one of the only chinese fighters signed by the UFC. I was at UFC 127 when he made his featherweight debut. He look good for the brief minute he was in the octagon. Since then he has had back to back losses. Being the only chinese fighter, he'll want to win in front of his home crowd. Tuck is making his debut. Undefeated so far, he's has mostly fought on regional shows. He's completely unknown to me, but I can't help feel that his first time on the big stage will overwhelm him. Odds aren't available for this one yet. But I'm leaning towards Zhang. I'll be making that bet as long as he isn't too short.
The undercard.
I'm expecting Takeya Mizugaki, Alex Caceres, Yasuhiro Urushitani and Riki Fukuda to all win comfortably here.
I was looking forward to seeing Hyun Gyu Lim make his debut. But unfortunately he was pulled from the card on medical grounds Thursday night. He'll be rescheduled soon. He's 6'2" and has a reach of 82", only two inches shorter than Jon jones – except Hyun Gyu Lim is a welterweight – one to watch for the future.