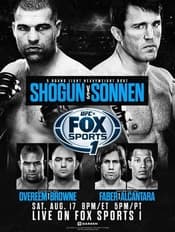 What a card we have on offer this weekend. From the main event, right down to the undercard, UFC on Fox Sports 1 is stacked with fighters I love to watch and features some excellent match ups. This is probably the best card in history to not have a title fight. Rua, Sonnen, Overeem, Faber, Lauzon – these are all big big UFC names. Uriah Hall generated massive hype coming out of TUF, but that train crashed in the finale.
But the fighter that every website and every publication is talking about is Conor McGregor from Dublin. For a fighter who has only spent 60 seconds in the Octagon, the interest he has generated is insane. Once again, its the people's main event. It's dragged up a lot of interest in the betting public and as such, I think the moving betting lines will open up some value.
Officially there's a 6 fight main card and 4 fights on the Preliminary card, but they'll all air as part of a televised broadcast. So let's take a look at those 10 fights.
Light Heavyweight Mauricio 'Shogun' Rua vs. Chael Sonnen
I'm not sure how I feel about this match up. I like both Chael and Rua, but they both embody the biggest problem with the 205 division. Stagnation. Both are coming off losses, both don't really have anywhere to progress to with this fight. Maybe I'm looking too far ahead.
This is a close fight, Rua is the more "decorated" fighter, has the more impressive wins, he has the better BJJ and the better kickboxing. On the other hand, Chael has the better wrestling, the better ground and pound and critically, the better gas tank. Cardio will be the deciding factor here in my opinion. If this is stopped in the first or second round, it will be Rua's hand raised, but once it drifts past the third round, Chael will dominate as Shogun fades. And Sonnen knows this, his initial wrestling won't be about setting up attack but rather causing Shogun to use as much energy as possible. This will be a hold down fight, Rua will enter the third with barely a mark on him, but he'll be gassed. Come the championship rounds, he'll edge this fight.
Chael Sonnen by decision

Bet on all these fights at www.bovada.lv. For our visitors outside the USA, we recommend www.bet365.com
Heavyweight Alistair Overeem vs. Travis Browne
What a fall from grace for Overeem. It wasn't long ago that he was the best HW outside the UFC brought in as a serious threat to Cain and JDS. One not so shocking PED scandal and a deserving KO against a lesser fighter and it's almost slipped into obscurity. As a potential HW contender fight, this one gets co-main event billing, but it's worth noting that at the pre-event presser, it was almost 30 minutes for anybody even asked Overeem a question, which was "have you noticed nobody is asking you any questions?".
Right now, Overeem is borderline forgotten, which in my opinion, is a great time to bet on guys. Everyone remembers that Overeem lost to Bigfoot, but they forget that Overeem was easily winning the fight. We would have never gotten 1/2 on in the past. Hopefully he has learnt a little humility and he won't let his cockiness throw away another fight. He needs to finish here to get his career back on track.
Overeem by TKO
Bantamweight Urijah Faber vs. Yuri Alcantara
I feel bad for Uriah Faber. He was the WEC golden boy, which at the time represented the elite of the 135 and 145 divisions. But ever since losing his title to Brown, and failing to reclaim it from Brown and later Aldo, he's apparently been destined for second best. History repeated itself at 135 where he twice genuinely earned title shots against Cruz and Barao, and twice came up short.
But throw him in with anybody else in the 135 division, and he'll likely dominate. If he comes away with his 3rd straight win on Saturday, realistically he's the division's number one contender after current champions Cruz and Barao (interim). To be honest, I can't see anything other than a dominating win from Faber. Incredibly, Uriah Faber has never lost in a non-title fight. Alcantara is dangerous, he's got a lot of finishes. But Faber is going to dictate where all the action takes place. A submission win is always on the card with Faber, his ground and pound repeatedly opening up a RNCs or similar, but Yuri is an accomplished grappler and I think he'll protect himself enough to take this one to the 30-27 decision.
Uriah Faber by Decision
Welterweight Matt Brown vs. Mike Pyle
This should be a great fight. Both are riding significant win streaks, both are are enjoying a resurgence in their careers and more importantly, both like to put on a show.
Stylistically, these guys are very similar. They both have decent, but not excellent grappling, which they use to position for ground strikes. Standing up their striking could be described as unorthodox and slightly wild. Even down to fight IQ, I think they often decide for the exciting option over the smart option, great for the fans – not so much for their record. I can see them both treating this as a "fun" fight, they'll come out in the second and third, hi-five in the centre and swing for the fences. Great to watch, but not smart. Brown has a famously granite chin, Pyle won't finish, and eventually, Brown will connect with a punch to stumble Pyle and finish it on the ground.
Brown by TKO

Middleweight Uriah Hall vs. John Howard
The hype that was. Uriah Hall. I wonder how badly Kevin Gastelum pissed of Dana and the UFC brass by derailing the hype train that was Uriah Hall. I think this fight is exactly what it appears at face value. A fight for Uriah to get back on (train)track His previous opponent was Josh Samman, who was sure to have a breakdown at the thought of a more focused Uriah, after he dropped out due to "injury", Boston native John Howard was brought in.
This is Howard's second UFC run, in his first, he racked up 4 straight wins against low ranked fighters, then 3 straight losses against named fighters (Ellenberger, Alves, Brown). His record is just busy enough to appear like he has the caliber for the main card. He doesn't. That, combined with the short-ish notice of the fight means I'm picking Hall all day here. That said, his confidence on the big stage is not yet established, and he is very short, so I won't be having a bet. Hall by TKO
Lightweight Joe Lauzon vs. Michael Johnson
Closing out the pseudo main card is Joe Lauzon and Michael Johnson. Boston hero, and fan favourite Joe Lauzon was always a shoe in for this card. Win or lose, he is somebody that never fails to deliver a impressive performance. Even if he received a 14 minute sustained beating, I'd still fancy him to pull out a submission of the night in the closing minute. And submission of the night is something very much associated with Joe. Winner of the award a UFC record 6 times. He also shares the record for total bonus with Anderson Silva with 12. To be honest, I think he is going to be the sole holder of the record after tonight. Michael Johnson is a decorated top level wrestler, but he is struggling to fully transition into top level MMA fighter. He hasn't got the hand speed or the footwork to compete with Joe, and 15 minutes is a long time top try and wrestle with such a good MMA grappler.
Joe Lauzon by submission
Bantamweight Brad Pickett vs. Michael McDonald
In his previous fight, Mike McDonald headlined a numbered card, fighting for the 135 title against Renan Barao, a few months later he finds himself on the undercard. Rather than indicating a fall from grace this is simply indicative of the quality on offer for this card. Brad Pickett is a good fighter, deserving to be listed in the top 10. But McDonald is another one of those guys who'll consistently win against all but the top 2 or 3 in the division.
McDonald by TKO
Featherweight Conor McGregor vs. Max Holloway
The people's main event. I genuinely think this fight deserves that title. I don't think a lone undercard fight has every generated as much interest as Conor McGregors debut in the UFC. He dismantled Marcus Brimage in 63 seconds. Which resulted in the message boards going into meltdown. His pristine striking, exciting style, dominating control of the octagon and his charisma in front of a camera on on a mic lead to this Dublin brogue becoming an over night hero. He was already a hero at home in Ireland, but just like pints of Guinness on St.Patricks Day he has evoked many americans memory of their lost irish Granny or Uncle.
It's obvious the UFC are investing in Conor. His one media day, Vlog videos in Vegas with Dana White, poster competitions in Irish bars around Boston and New York. A loss here isn't what they want. But Max Holoway is by no means being fed to Conor. A walkover would prove nothing and achieve nothing. Max is a dangerous fighter, know for his impressive striking. Conor has already proved he can out strike a wrestling brawler. The big question for saturday is whether or not he can dance around a outright striker. I think he can. I've dissected he last 63 seconds in the Octagon more than any other minute of fight footage. And the key to Conor success is not his strikes but in his footwork. He positions himself to face not where his opponent is, but where he will be. This true boxing skill results in not only evading his opponents attack, but leaving them in a very compromised position to counter.
Very early, Max will rush Conor. The irish southpaw will evade and counter for another knockout win. A number of bookes have an interesting special on McGregor by TKO in the first.
Conor McGregor by TKO
Featherweight Mike Brown vs. Steven Siler
The first of three Browns on the card. I'm expecting Mike to dominate here. Siler is a good quality TUF cast member. He isn't a long term UFC roster member here.
I like Brown in a small accumulator.
Featherweight Diego Brandao vs. Daniel Pineda
I like TUF winner Diego Brandao to win here also. I'm including him in that accumulator with Mike Brown.

Remember you can get the best odds at www.bovada.lv in the US, and www.bet365.com for those in Canada, Europe and further afield.