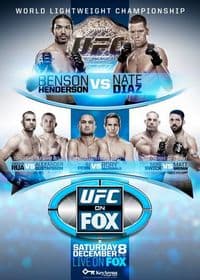 The UFC returns to network television, with one of the best main cards of the year! This time the lightweight title is on the line. The 155lb division has to be the most exciting and competitive in MMA. The last two and a half years provided exciting matches, most of which were incredibly close fights, many of which came with their fair share of controversy. Personally I think Edgar was robbed of the title, that doesn't take anything away from Henderson, or this match up. I'm expecting this one to be every bit as exciting as we've grown used to in the 155 division. And what's more, it should be another good advertisement for the sport on Fox.
While most betting sites release the lines for these fights extremely late, www.betonline.ag has early lines out for all the fights. We recommend getting on now before the lines move too much.
Main Card
Lightweight Championship Benson Henderson vs. Nate Diaz
Henderson enters this fight as the champion and the favorite. He has shown again and again that he is a top class fighter, with a savage arsenal of kicks at his disposal. The former WEC champ, his record of wins comes against a list of the who's who at 155. His only recent loss being to Anthony Pettis for the WEC title on the promotions final event – a fight that many consider to be fight of the year. Since then he's had 5 straight wins and never looked better.
Nate Diaz's record is deceiving on paper, a string of wins at lightweight, a loss, move to welterweight, another series of wins, and a loss. A familiar pattern. But finally it appears he has realized he belongs in the 155 division, and since returning he's never looked better, and has emerged from brother Nick's shadow. Also a south paw, Nate prefers to lets his fists do the talking, his main offence being his volume of strikes.
Henderson is no stranger to grappling, with almost 50% of his wins coming from submission, but this is one fight where he will want to keep it standing. Nate is a top level black belt that should worry any 155 fighter on the ground. I don't think cardio will be a factor for either, Henderson has shown he can keep going hard into the 5th round and Diaz runs triathlons for fun. The key to this fight will be whether or not Henderson can use his kicks to keep Diaz (and his reach advantage) far enough away.
A close fight, but I think Henderson takes some early rounds and Diaz leaves it too late to catch up.
Henderson on points

Maurício 'Shogun' Rua vs. Alexander Gustafsson
A veteran and legend, verses an up and coming prospect and star.
Shogun needs little introduction, he was a legend of Pride, 2005 Grand Prix winner, and the former LHW champion. Unfortunately, all those accolades are past tense. Shogun has been in a lot of wars, some he won some he lost, but they all left their mark. In my opinion this fight is a test to decide if he can keep going. Gustafsson has 14 wins and a single loss at the hands of Davis. Far more consistent than his opponent, but Shogun is by far his biggest test. This is his chance to stake a claim at a top 5 LHW spot.
I think this fight is a lot closer than the bookies suggest. They've made Shogun a +200 (2/1) underdog. This is too short in my opinion. Shogun takes the first round, Gustafsson takes the third over a tired Shogun. This fight will be decided in the second round. I think Shogun can do enough damage early to show a profit betting on him at +200 (2/1).
Shogun on points
B.J. Penn vs. Rory MacDonald
A veteran and legend, verses an up and coming … ever get that feeling of déjà vu?
Joking aside, this fight is very similar to the co-main event. Even down to the fact that the more experienced fighter is the bookie's underdog. BJ is a legend of the sport. He's done it all. And people are questioning if he can still do it. MacDonald has been touted as a future champion for a long time. A lot of people talk about a fight verses his mentor GSP in terms of "when" and not "if".
In terms of experience, it's BJ hands down – obviously. Skill and capability, again for me, it's BJ – at the top of his game he's one of the best. On the other hand, Rory gets the nod in terms of athleticism, as he's been in shape more consistently than BJ. BJ has been guilty of showing up soft to a lot of fights. He's yo-yod between 155 & 170 a lot because it was easier to fight up a weight. However, having seen recent training videos, I know he's currently in good shape coming into this one. This brings us nicely to my final point. A week or two out from the fight BJ is walking around at 175lbs. He's probably the smallest welterweight. He'll be giving up a lot in size to Rory.
BJ has stacked the odds against himself again by insisting he's a welterweight, but given his extended training camp (due to Rory getting sidelined due to a cut), and how seriously he appears to be taking his training, I think he has at least a fighting chance here.
Rory should win, but if I can get +250 (5/2) on BJ I'll take that bet.

Mike Swick vs. Matt Brown
Swick, a cast member of TUF season 1, entered the UFC with all guns blazing. Back to back wins of only 20 seconds each earned him the name 'Quick'. At one stage 9-1 in the UFC, one fight away from a title shot, losing it to Dan Hardy. Another loss and a misdiagnosed illness seen Swick sidelined for almost two years. When he finally returned earlier this year, he showed rustiness wasn't an issue for him when finishing DaMarquez Jonson. He'll enter this one looking to finish early.
Brown's career has been a steady flow of ups and downs, he'll rack up 3 straight wins, then losses when he moves up a level, and repeats the process. Known for his iron chin, he'll make it very difficult for Swick to live up to his nickname. But I won't be surprised if Swick deals him his first KO loss. Brown is currently riding a 3 fight streak – I don't believe he'll catch that elusive 4th win this time.
The betting opened at 5/6 ($-115) each, I took a piece of Swick at that early price, and I'm expecting it to be 4/6 by Saturday. There should be potential to hedge if interested.
I like Swick by TKO
Preliminary Card (FX)
Yves Edwards vs. Jeremy Stephens
Stevens could be described as king of the second level. He's comfortably defeated many of the prospective lightweights, from TUF or other promotions, but has been unable to break into the top ranks losing to the likes of Cerrone and Pettis. It's not wrong to say the same of Edwards, a permanent fixture on the undercard, at times he has struggled and lost against mid level fighters. This is one of those times. Stephens will over whelm him with strikes and should win this one due strikes.
Stephens by TKO
Dennis Siver vs. Nam Phan
Dennis Siver made a rather sudden drop to featherweight after losing to Cerrone. But it was probably the right move. There was talk of a potential title shot if his run continued, but he was always going to draw the short straw in terms of height and reach verses the likes of Cerrone, Diaz, and Bendo. Moving to feather weight keeps in the title picture and a win here puts him in the top 5.
Nam Phan isn't an easy fight. A former LW also made the drop to FW after being eliminated from the ultimate fighter. He's shown he earned his place in the UFC with memorable fights in the Octagon, but he has never looked like a title challenger. Nobody has ever said he's a guy who could earn a shot at Aldo. The FW divisions has finally filled out, and Phan, while he is a household name, he isn't a top 10 fighter. If not a spinning back kick KO to the midsection, I'm expecting Siver to punish Phan for three rounds.
Siver by decision
The rest of the card – (FX)
With such a stacked main card for the network broadcast, the undercard is always going to suffer a little. I guess the UFC are hoping to maximise casual viewers on fox, knowing the true fans will watch on FX anyway. The remaining fights are all a bit one sided. I'm expecting wins from:
Raphael Assunção
Ramsey Nijem
Daron Cruickshank
Tim Means
Scott Jorgensen
All the US books haven't released prices yet, but from the few available. I like bets on Cruickshank and Jorgensen.
Remember to bet on any or all of these fights, head on over to www.betonline.ag to back your favorites now!