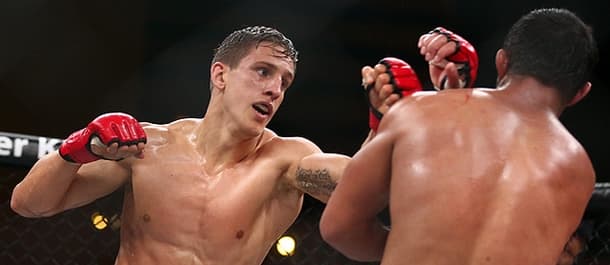 What a weekend of fighting! UFC 206 packed together a Fight of the Year contender between Doo Ho Choi vs. Cub Swanson and a potential Knockout of the Year in Lando Vannata's spinning heel kick. This weekend, the UFC returns to Sacramento in what's being coined as Faber's farewell. To the surprise of many, Urijah Faber's final fight in his hometown of Sacramento isn't the main event of UFC on Fox 22. Instead, the UFC have opted to showcase the young and talented Paige VanZant vs. Michelle Waterson as the featured bout of the night.
While the main card packs together a number of exciting fights, don't ignore the value that exists in the preliminary bouts especially in the two fights discussed below!
---
Bojan Velickovic vs. Sultan Aliev
The first of five scheduled welterweight bouts begin when the talented Bojan Velickovic meets Sultan Aliev in the octagon this weekend.
Bojan 'Serbian Steel' Velickovic sports the largest reach across the entire card (76″) and will look to use that to his advantage against his smaller opponent in Aliev. Velickovic enters the cage for the first time since a fight that ended in a majority draw against Michael Graves in July 2016, a decision in which many believed to be a good outcome for Bojan considering he was down on most cards 29-28.
'Serbian Steel' is one of my favourite up-and-coming fighters in the UFC. It feels strange to say that about a 27-year-old with 18 professional fights, but he only entered the UFC this year and still looks very 'raw'. Don't let that turn you away from Velickovic though because he possesses some nasty stand-up skills and high-level grappling as well. He strikes with pinpoint accuracy and slows the stand-up game down to a pace in which he can analyse and outwork his opponent the longer a fight goes on. Velickovic's patience will prove to be a determining factor against the dangerous Sultan Aliev.
Sultan Aliev, Bojan's opponent, is unfortunately best known for being on the receiving end of one of 2015's greatest knockouts. His debut fight saw him square up against Kenny Robertson and after missing with a spinning kick to the body, Aliev ate a huge counter right hand to the chin and went down instantly. We didn't get to see much of Aliev in his debut, but he showed enough for me to believe his style won't matchup well against Velickovic. Aliev likes to load up on his right hand and will keep it cocked back ready to unload on an unsuspecting opponent as they try and move in on him, however, Bojan has extremely good distance-management skills and will work the fight from the outside.
I'm expecting Velickovic to pick Aliev apart with crisp leg kicks and long strikes for the entire three rounds, eventually going on to win by decision.
Tip
Bojan Velickovic to Win
Odds: -137 – Ladbrokes
---
Fredy Serrano vs. Hector Sandoval
Never heard of these guys and don't know what to expect? You're about to watch an absolute street fight! These guys are both relentless and extremely careless with their striking, meaning that this fight could end at any given second.
Hector Sandoval has had just the one fight in the UFC, at UFC 201, in which he replaced DeMetrious Johnson (!!!) against Wilson Reis when Johnson suffered an injury at the time. Sandoval had an obviously tough time against the talented Reis who eventually flattened him out and submitted him with a rear-naked choke. Sandoval put up a fight though and came out swinging, literally. Punches were flying in from all directions, and this could easily cause trouble for any unsuspecting fighter. He also showed some excellent scrambling and desire to urgently get back to his feet.
Speaking of unsuspecting fighters, Fredy Serrano is a true novice in the MMA world, entering the game of mixed martial arts last year at the age of 36. Serrano represented Colombia in the 2008 Summer Olympics and was once ranked seventh in World Olympic Wrestling. I'm a firm believer that wrestling is the best 'base' to enter mixed martial arts with considering the rest can be developed along the way while you control fights with your wrestling, something we've seen with Henry Cejudo's development through time. However, now at the age of 37, Serrano doesn't have much time to improve and the skills that he possesses right now probably aren't enough to continue in the UFC.
While Serrano's slams and takedowns are elite, he doesn't offer up much else. His striking is unorthodox, to put it politely, occasionally attempting wild axe kicks and crazy spinning back fists. He is flat-footed and will sometimes enter combat with a random strike with no prior intention of setting it up. When he does take down his opponent, he struggles to keep them down and doesn't possess the jiu-jitsu techniques required to threaten somebody with submissions or dangerous striking.
https://twitter.com/JakeNicholsMMA/status/808612058610569220
I can't pick a fighter in this one because it can go either of three ways:
Sandoval connects early with one of his powerful strikes and knocks Serrano flat (likely)
Serrano stalls and drags this fight on with wrestling before either an R2 stoppage or decision (also likely)
Serrano drops Sandoval early with one of his huge axe kicks or spinning back fists (a little less likely)
When a fight has the potential to end at any given time considering the unusual techniques, questionable defense and powerful striking that both of these fighters have, I believe you always have to take the under 2.5 line when it's above even odds, like it is in this one.
Tip
Under 2.5 Rounds
Odds: +137 – Bet365
---
Tips Summary
Bojan Velickovic vs. Sultan Aliev
Bojan Velickovic to Win
Saturday 17th December, 21:00 GMT
Odds: -137 – Ladbrokes
Fredy Serrano vs. Hector Sandoval
Under 2.5 Rounds
Saturday 17th December, 21:30 GMT
Odds: +137 – Bet365