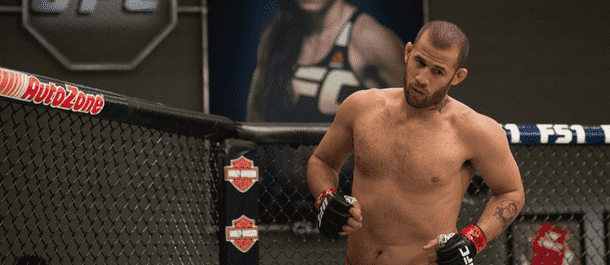 The odds aren't out as yet, but that doesn't stop us from breaking down the early prelim bouts of the upcoming UFC on Fox 23 card in Phoenix.
Alessio Di Chirico vs. Eric Spicely
Alessio Di Chirico is an up-and-coming talent in the UFC and has strung together a 10-1 MMA record with one win and one loss in the UFC so far. The 27-year-old Italian came up against 'Serbian Steel' Bojan Velickovic in his debut and lost a unanimous decision in what some viewed as a controversial decision. Di Chirico then went on to win a split decision against Garreth McLellan in August, beating him in the later stages of the fight as McLellan fatigued.
Di Chirico has looked impressive through his first two fights in the UFC and excels at the 'in-between' game. Di Chirico is opportunistic and will attempt to strike when his opponents are least expecting them, particularly when an opponent is entering/leaving the cinch or in the short window that exists in the distance between the fighters.
Eric Spicely is becoming a familiar face to those who regularly watch the UFC. It all began with The Ultimate Fighter Season 23 in which he was widely recognised as a jiu-jitsu expert and his ground game terrified the competition. He competed at Light Heavyweight in the Ultimate Fighter before moving down to Middleweight in his UFC debut against Sam Alvey.
Spicely lost to the powerful Sam Alvey after struggling to get him to the mat and eventually giving up a front choke out of sheer recklessness. Next up, was contender Thiago Santos, in what was supposed to be a tune-up fight for Santos. Instead, Spicely controlled him easily and found the rear naked choke after just 3 minutes.
The Breakdown
I think Di Chirico has what it takes to be a contender in the UFC one day, but he's not ready for the heavy task in Eric Spicely that stands in front of him this weekend. Spicely is a big middleweight and will use his size to close the distance on Di Chirico and make this a scrappy event in which Spicely will then control him on the ground.
Update: Spicely to win looks like the bet!
---
Marcos Rogerio de Lima vs. Jeremy Kimball
Jeremy Kimball steps in on late notice to take on Marcos Rogerio de Lima, replacing John Phillips. Kimball is currently enjoying a four-win streak across a number of promotions including RFA and Final Fight Championship and now has his chance to compete in the UFC. He has won three of these four fights by way of KO/TKO, and two of these were in the first 22 seconds.
Kimball is a frenetic starter and will look to get active early and often against De Lima to test his chin. While Kimball throws hands mostly, he likes to mix it up with unusual striking techniques as well.
Marcos Rogerio de Lima has a 3-2 record in the UFC dating back to 2014 when he scored two KO/TKO wins over Igor Pokrajac and Richardson Moreira. He went on to lose to the insanely skilled Nikita Krylov before bouncing back with a first round submission of Clint Hester.
De Lima looked in good form in his fifth fight in the UFC before getting trapped in a usually difficult choke by Gadzhimurad Antigulov. De Lima opted to attack his opponent from the top position rather than merely defending the choke and he ended up paying the ultimate price, having to tap early in Round 1.
The Breakdown
I'll wait for the odds on this one because Kimball can throw punches with power and I'm expecting him to be a moderate underdog in this one. If we can get some good value on Kimball via KO/TKO, that looks good. Else, we'll take De Lima to win comfortably.
Update: I was hoping for a little more value on Kimball by KO. Instead, let's take Marcos Rogerio de Lima to win by stoppage.
---
Eric Shelton vs. Alexandre Pantoja
Anyone who watched The Ultimate Fighter Season 24 will be extremely excited for this fight between two of the hottest prospects on the show. Eric Shelton came into the season as the Caged Aggression Flyweight champion and put together an impressive run in 'The Tournament of Champions', defeating No.2 seed Yoni Sherbatov by submission in the second round. Shelton eventually lost to Tim Elliot in the semi-finals and now has his chance to stick around in the UFC if he can defeat Alexandre Pantoja.
Alexandre Pantoja entered 'The Tournament of Champions' as the No.1 seed and was touted as the guy who will win it all. Pantoja was nearly eliminated in the very first fight of the season against the rising star in the flyweight division, Brandon Moreno. He then went on to show his all-around game by defeating Kai Kara-France before losing to Hiromasa Ogikubo.
The Breakdown
Pantoja is incredibly talented and has a versatile skill-set that could cause most fighters trouble in the UFC. However, I wasn't impressed by his strategies, or awareness in TUF 24 as he would often try to out-strike opponents in which he had a significant grappling advantage. I question whether his mentality and approach can match against the crisp striker that is Eric Shelton. Shelton's determination is a major factor in this battle.
Update: Shelton went to market as the favourite and I'll still be picking him to win this one.
---
Tips Summary
Alessio Di Chirico vs. Eric Spicely
Eric Spicely to Win
Sunday 29th January, 01:00 GMT
Odds: 1.99Bet €100 to win €19999/100Bet £100 to win £199-101Bet $100 to win $1990.99Bet HK$100 to win HK$199-1.01Bet Rp100 to win Rp1990.9900Bet RM100 to win RM199 – Pinnacle
Marcos Rogerio de Lima vs. Jeremy Kimball
Marcos Rogerio de Lima to via Stoppage
Sunday 29th January, 01:00 GMT
Odds: 1.90Bet €100 to win €1909/10Bet £100 to win £190-111Bet $100 to win $1900.90Bet HK$100 to win HK$190-1.11Bet Rp100 to win Rp1900.9000Bet RM100 to win RM190 – Bet365
Eric Shelton vs. Alexandre Pantoja
Eric Shelton to Win
Sunday 29th January, 00:30 GMT
Odds: 1.80Bet €100 to win €1804/5Bet £100 to win £180-125Bet $100 to win $1800.80Bet HK$100 to win HK$180-1.25Bet Rp100 to win Rp1800.8000Bet RM100 to win RM180 – Pinnacle