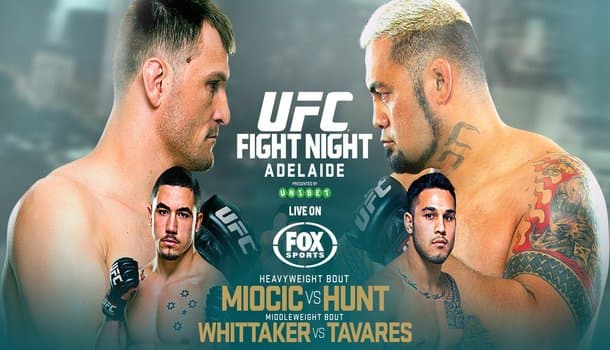 The UFC will be on a bit later than usual and that's because UFC Fight Night 65 will be hosted down under at the Adelaide Entertainment Centre in Adelaide, Australia.
Australians will need to get up early Sunday morning if they want to catch the prelims live. For most of us, the event is on Saturday, May 9th 2015 – with the prelims starting at 7:45pm ET.
UFC Fight Night 65 Main Card Preview
Stipe Miocic (-220 at BetOnline) is favored in the main event against Mark Hunt (+195 at GTBets), despite the fact that Hunt will have the entire city of Adelaide cheering him on fiercely.
Miocic is 12-2 after losing to Junior Dos Santos last time out, but I can't see the heavyweight not getting back into the win column. He has power (8 TKO/KO) and an 8'' reach advantage on Hunt.
Hunt is 10-9-1 and he has been on a rough stretch, although he has fought tough competition. The problem with Hunt is he has been stopped nine times. My best bet is Miocic to win by TKO/KO.
Brad Tavares (-150 at GTBets) fights Robert Whittaker (+140 at Bovada) in the co-main event and this time I'm betting on the underdog on the money line. Whittaker will have the crowd behind him.
This will be a close fight, but Whittaker has better striking and I believe this fight will be fought standing up. Whittaker has more power, averages way more strikes and has better defense.
Next up is Anthony Perosh (-145 at BetOnline) vs. Sean O'Connell (+130 at Bovada).
I'm surprised we're getting such a good line on Perosh. Perosh is 5-3 in the UFC, but his losses were all against tough fighters (Filipovic by TKO, Jimmo by KO and Bader by decision).
Perosh has 15 career wins and all of them have been by stoppage. O'Connell is 1-2 in the UFC with losses to Jimmo by KO and Villante by decision. He beat Van Buren, but that's nothing to brag about.
I'm betting on Perosh ML, plus Perosh to win inside the distance (ITD) at +135 odds.
Jake Matthews (-175 at GTBets) and James Vick (+158 at BetOnline) kick-off the main card fights. I like Matthews a lot, as I believe he'll be able to use his wrestling to take Vick to the mat.
Vick hasn't attempted a TD in the UFC in three fights and he has 50% TD defense. Matthews lands over a TD per round, plus he can hold his own in the striking department.
However, Vick is the better striker and will have a 4'' reach advantage. Matthews can win this fight if he works his takedowns to negate the reach advantage. I can see this fight going the distance.
UFC Fight Night 65 Prelims Preview
To be honest – the prelims look pretty dicey to me this weekend.
Hatsu Hioki (-285) is a huge favorite against Australian Daniel Hooker (+245), but can anyone trust Hioki at this point? He was just submitted for the first time in his career last time out.
He has also lost 4 of 5 fights. Hooker has no business fighting Hioki, but he has nothing to lose.
Kyle Noke (-115) is another struggling UFC fighter, as he has lost 3 of 4 fights. He'll be fighting Jonavin Webb (-105) who is making his UFC debut. I don't know too much about Webb.
There are also two fights between women on the prelims. Lisa Ellis (+145) fights Bec Rawlings (-170) and Kailin Curran (-215) fights Alex Chambers (+185).
Suggested Picks
Miocic by TKO/KO (Waiting on odds)
Perosh ML –145 (BetOnline)
Miocic + Perosh + Matthews Parlay +271 (GTBets)
UFC Fight Night 65 Betting Odds
These odds are from BetOnline and may differ slightly from the best odds available above.
Stipe Miocic (12-2) –225 vs. Mark Hunt (10-9-1) +190
Brad Tavares (13-3) –150 vs. Robert Whittaker (13-4) +130
Anthony Perosh (15-8) –145 vs. Sean O'Connell (16-6) +125
Jake Matthews (8-0) –183 vs. James Vick (7-0) +158
Hatsu Hioki (27-8-2) –285 vs. Daniel Hooker (11-5) +245
Kyle Noke (20-7-1) –115 vs. Jonavin Webb (8-0) –105
Sam Alvey (25-6) –385 vs. Daniel Kelly (9-0) +320
Bec Rawlings (5-4) –170 vs. Lisa Ellis (15-9) +145
Brad Scott (9-3) –115 vs. Dylan Andrews (17-6) –105
Kailin Curran (3-1) –215 vs. Alex Chambers (4-2) +185
Vik Grujic (6-4) –115 vs. Brendan O'Reilly (5-1) –105
Alptekin Ozkilic (9-3) –185 vs. Ben Nguyen (13-5) +160