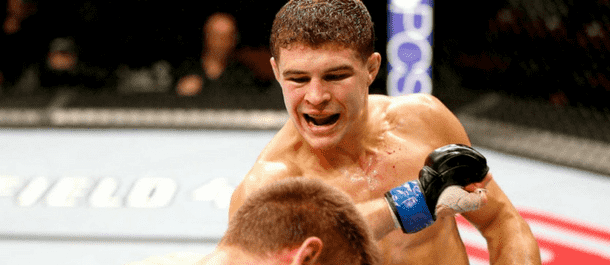 UFC Fight Night 108 is packed with exciting fights for both the casual and hardcore fans of MMA – read on for a detailed breakdown of each of the main card bouts.
Al Iaquinta vs. Diego Sanchez
Al Iaquinta believes he is "really in his prime" right now, which is an interesting statement from a fighter who has not competed in the last 24 months. Iaquinta took some time off to complete knee surgery and then, when he couldn't settle on an agreement with the UFC, decided to wait it out for the right opportunity to return to the octagon. Iaquinta is now booked in what could potentially be a full-on slugfest against Diego Sanchez.
Diego Sanchez has been through more wars, controversy and battles than most fighters in the promotion today, having first kicked off his career in the UFC back in 2005. Sanchez, through it all, will be looking to win back-to-back fights for the first time since 2011 when he defeated Martin Kampmann in what is regarded as one of the greatest fights of all time. He defeated Marcin Held back in November 2016 in what I consider to be one of his most well-rounded and complete performances inside the cage, dominating the talented newcomer to the UFC in his debut and managing to claim a big upset.
Prediction
Al Iaquinta should be able to pick Sanchez apart with effective striking from a distance and avoid entering a war with Sanchez. Well-timed striking could see this end early, but it's hard to bet against Sanchez not making the distance.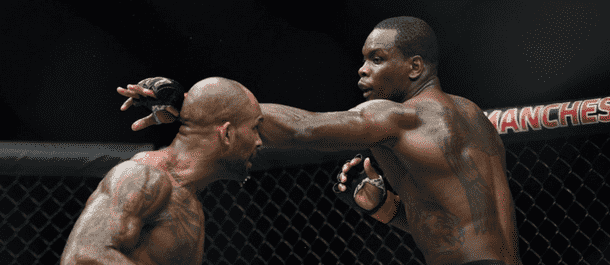 Ovince Saint Preux vs. Marcos Rogerio de Lima
Ovince Saint Preux vs. Marcos Rogerio de Lima is a battle between two fighters who are struggling to establish themselves in the UFC right now. OSP has crashed to new lows after suffering three consecutive defeats and losing four of his last five fights. What can be said in OSP's favour, however, is that three of his opponent's through this stretch are true top-tier contender's in the light heavyweight division in Jon Jones, Glover Teixeira and Jimi Manuwa. OSP had some great moments in his recent outing against Volkan Oezdemir, but in the end, it was Oezdemir who came away with a split decision victory on just two-weeks notice in his UFC debut.
Marcos Rogerio de Lima has bounced between wins and losses over the past 24 months and will be looking to score consecutive wins now after defeating Jeremy Kimball who made his debut on short notice at UFC on FOX 23 back in January. Kimball slipped two minutes into the bout, and de Lima made the most of this opportunity by leaping towards him and landing enough heavy blows that it required a referee stoppage.
Prediction
Marcos Rogerio de Lima recognises the chance to score a big victory over a known name in the sport and manages to stop OSP, who doesn't have the same level of determination as once before.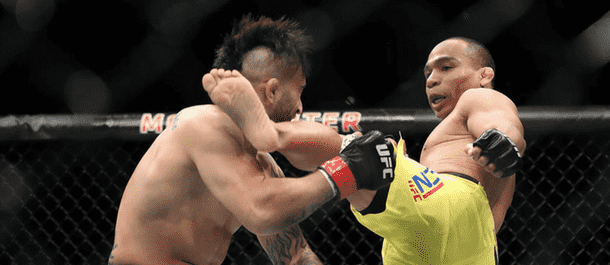 John Dodson vs. Eddie Wineland
John Dodson vs. Eddie Wineland is one of those sneaky good fights that can sometimes be lost in the middle of an action-packed card. John Dodson will return to the octagon this weekend after losing a split decision to John Lineker in October. It was a fight that would alter the trajectory of both fighters significantly and has boosted Lineker up into contender status while Dodson will have to re-work his path back to earn a title shot. Dodson fought well and managed to avoid the heavy-handed John Lineker for five rounds, but the judges appreciated Lineker's forward pressure.
Eddie Wineland has been ensuring that his opponent's leave the cage before the fifteen minutes are up after knocking out Takeya Mizugaki with a beautiful right hand in just three minutes and stopping Frankie Saenz in Round 3. Wineland has always been able to work his offense inside the octagon; it was always his defense that needed improving. His footwork and movement are high-level for the division and will parallel Dodson's agility inside the cage, as well.
Prediction
Dodson should be too much for Wineland to handle and out-strike him on the way to victory, but the odds aren't appealing. I think this one goes to the judges in one of the better fights of the night.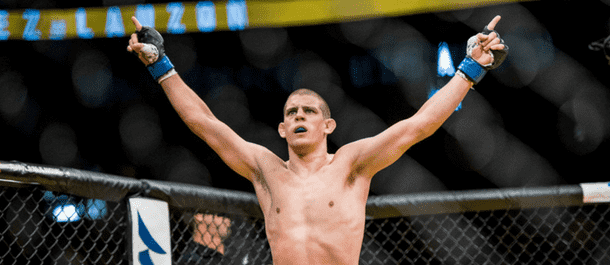 Joe Lauzon vs. Stevie Ray
Joe Lauzon, king of the post-fight bonus awards, will enter the cage against Stevie Ray this weekend at UFC Fight Night 108 in an intriguing battle between two dangerous lightweight fighters. It's been a fascinating last six months for Lauzon, who lost a split decision against Jim Miller that everyone thought he had clearly won and then winning a split decision against Marcin Held who even Joe Lauzon said that he thought Marcin Held had won. Regardless, he's proven to be very competitive against stiff competition inside the UFC over the past twelve months, registering a quick TKO victory over Diego Sanchez at UFC 200, as well.
Stevie Ray previous fight that left many fans and the media puzzled with the judge's decisions, as well, with two judges scoring his bout against Ross Pearson as 30-27 in his favour and one judge scoring it 30-27 to Ross Pearson. Ray managed to stick-and-move for the entire fifteen minutes and pick his strikes without having to engage in a serious scrap with Pearson. The strategy proved to be a success in the eyes of those two judges and moved Stevie Ray to a 4-1 record since joining the UFC in April 2015.
Prediction
I'm expecting Joe Lauzon to get it done against Stevie Ray in this one – but it's always hard to know which way it'll go because Lauzon can finish on the feet or via submission. He's excellent value here as the underdog, too.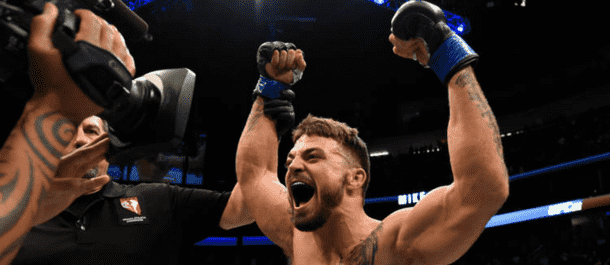 Jake Ellenberger vs. Mike Perry
Jake Ellenberger is on a crazy decline, having won just two of his last eight fights but the list of fighters he has lost to is quite incredible: Rory MacDonald, Robbie Lawler, Kelvin Gastelum, Stephen Thompson, Jorge Masvidal, and Tarec Saffiedine. Not one of these fights are easy, and they are all many miles above the level of Mike Perry right now. Adding to the effect, his recent loss against Jorge Masvidal, as you may remember, was the 'toe incident' in which Ellenberger's toe got caught in the cage, allowing Masvidal to start landing strikes on Ellenberger before Herb Dean had to intervene and stop the fight because his toe was stuck. The rules dictated that because Herb Dean had to step-in, Masvidal should be deemed the winner.
Mike 'Platinum' Perry was quickly ascending through the UFC and becoming a fan favourite (alongside the rise of UFC related memes) because of his knockout power and hilarity. 'Platinum' wasn't able to keep the streak alive against Alan Jouban in December when he lost a clear unanimous decision after being dominated by Jouban's disciplined and accurate striking.
Prediction
Perry showed that he isn't the overwhelming beast that he was made out to be and Ellenberger is a strong chance to stop Perry in his tracks if he can get him to the mat and avoid Perry's heavy hands. I think Ellenberger is a great bet here as the underdog because this reflects more of a 50/50 bout.
Tips Summary
Recommended Plays
Al Iaquinta vs. Diego Sanchez
Al Iaquinta to Win by Decision
Sunday 23rd April, 05:00 GMT
Odds: 2.25Bet €100 to win €2255/4Bet £100 to win £225+125Bet $100 to win $2251.25Bet HK$100 to win HK$2251.25Bet Rp100 to win Rp225-0.8000Bet RM100 to win RM225 – BetVictor
Ovince Saint Preux vs. Marcos Rogerio de Lima
Marcos Rogerio de Lima to Win
Sunday 23rd April, 04:30 GMT
Odds: 2.55Bet €100 to win €25531/20Bet £100 to win £255+155Bet $100 to win $2551.55Bet HK$100 to win HK$2551.55Bet Rp100 to win Rp255-0.6452Bet RM100 to win RM255 – Winner
John Dodson vs. Eddie Wineland
Total Rounds – Over 2.5 Rounds
Sunday 23rd April, 04:00 GMT
Odds: 2.20Bet €100 to win €2206/5Bet £100 to win £220+120Bet $100 to win $2201.20Bet HK$100 to win HK$2201.20Bet Rp100 to win Rp220-0.8333Bet RM100 to win RM220 – Winner
Joe Lauzon vs. Stevie Ray
Joe Lauzon to Win
Sunday 23rd April, 03:30 GMT
Odds: 2.75Bet €100 to win €2757/4Bet £100 to win £275+175Bet $100 to win $2751.75Bet HK$100 to win HK$2751.75Bet Rp100 to win Rp275-0.5714Bet RM100 to win RM275 – Betway
Jake Ellenberger vs. Mike Perry
Jake Ellenberger to Win
Sunday 23rd April, 03:00 GMT
Odds: 2.45Bet €100 to win €24529/20Bet £100 to win £245+145Bet $100 to win $2451.45Bet HK$100 to win HK$2451.45Bet Rp100 to win Rp245-0.6897Bet RM100 to win RM245 – Winner
Al Iaquinta
Diego Sanchez
MMA
UFC
UFC Fight Night 108