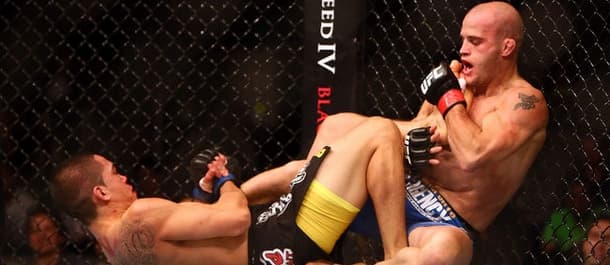 The UFC returns to Toronto this weekend for UFC 206! The card after UFC 205 was always going to lack star power, but it only got worse with the cancellation of the Daniel Cormier vs. Anthony Johnson main event and the teasing of a Georges St. Pierre return which never came to fruition!
Don't let that get you down, though, because there are still plenty of entertaining fights to enjoy and who isn't looking forward to watching Max Holloway and Anthony Pettis throw down?
Mitch Gagnon vs. Matthew Lopez
Let's kick things off with a very promising prelim bout between Mitch Gagnon and Matthew Lopez. Gagnon returns to the octagon for the first time since his loss to Renan Barão in December 2014 in which he entered the fight as a +625 underdog. This might set the alarm bells ringing, as we haven't seen him fight in 24 months and in these cases there's usually a lot to question – how motivated they are, being one of the focus points. However, Gagnon's layoff is completely injury related. It was revealed after the Barão fight that Gagnon had torn his ACL during the contest and therefore required surgery. After working through the recovery, he then suffered another setback after tearing his meniscus.
Gagnon's opponent, Matthew Lopez, lost his UFC debut against Rani Yahya in July on the McDonald vs. Lineker card. Lopez is a talented wrestler who sported an 8-0 record before his UFC debut, with six of these eight fights finishing in the first round. His lack of experience past the first round showed in his fight against Rani Yahya, as he looked to fatigue very quickly and easily gave up an arm triangle to Yahya late in the third round by dangling his arm out ready for Yahya to snatch it up. Apart from that, though, Lopez looked quite dangerous, and his wrestling will cause troubles for opponents as he becomes more experienced in the UFC.
On the topic of experience, though, I think that's where Gagnon prevails in this one. Gagnon has been here many times before and knows how to handle a wrestler like Lopez. Gagnon's striking is better and I think that his ground game is slightly better than Lopez's as well at the moment. I can't find any single way that Lopez wins this fight, and I believe that Gagnon finishes him in the second round. However, my recommended bet is to take the head-to-head odds as they are quite generous.
Tip
Mitch Gagnon to Win
Odds: -154 – Ladbrokes
Misha Cirkunov vs. Nikita Krylov
Misha Cirkunov enters this one as the favourite and is riding a wave of recognition from the public. Both of these guys are incredibly scary, and you can expect fireworks in this one.
Nikita 'The Miner' Krylov is one of the few Ukrainians in the UFC but represents the sheer size and power we have come to expect from European fighters. What's amazing about Krylov is that he has already had 25 professional fights at the young age of 24. Krylov's striking is superb from a distance and his kicks are probably his best asset – something that stems from his experience in Kyokushin karate. Krylov will need to be careful with his kicks in this fight against Misha Cirkunov, however, because kicks that are caught can lead to strong takedowns from Cirkunov and his heavy top game.
Misha Cirkunov has some heavy hands and will want to stand and trade in the pocket with Krylov. He managed to hit Ion Cutelaba with all of his best shots in Round 1 but Cutelaba somehow managed to stay standing. Cirkunov baits his opponents into walking forward slowly into his range and then unloads on his mighty left hand, which is always cocked back and ready to throw.
Krylov is an incredibly talented prospect with a promising future in the UFC, but styles make fights, and I feel as though Krylov won't be able to keep Cirkunov at kicking range for the entire fight. Once Cirkunov closes the distance and either lands heavy punches or finds a takedown, this fight will soon shape up in his favour. Once again, I can see a mid to late round stoppage here for Cirkunov, but I'll be taking the head-to-head odds as they are quite generous yet again.
Tip
Misha Cirkunov to Win
Odds: -117 – Betclic or Pinnacle
Tips Summary
Misha Cirkunov to Win
UFC 206 Saturday 10th Dec, 22:00 ET
(Sunday 11th Dec, 03:00 GMT)
Odds: -117
Mitch Gagnon to Win
UFC 206 Saturday 10th Dec, 22:00 ET
(Sunday 11th Dec, 03:00 GMT)
Odds: -154
Misha Cirkunov
Mitch Gagnon
MMA
UFC
UFC 206