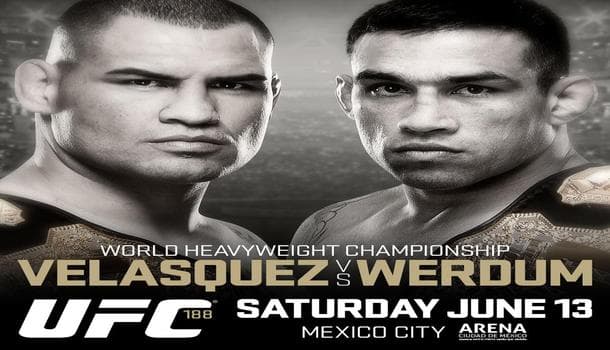 The UFC will be back on pay-per-view this Saturday, as UFC 188 will be hosted in Mexico City at the Arena Cuidad de Mexico. The prelims will be on FX and UFC Fight Pass prior to the main card.
UFC 188 Fight Previews
For once in a long while – the UFC 188 fight card hasn't been marred by injuries.
The main event is between Cain Velasquez (13-1) and Fabricio Werdum (19-5-1) for the heavyweight title. Velasquez is a -450 favorite at TopBet, while Werdum is +370 at BetOnline.
Velasquez is 4-0 since 2012 with two wins against Silva and JDS. Werdum has won five in a row with wins over Nelson, Browne and Hunt. However, Velasquez should have no problem winning.
He has the wrestling to dominate this fight from the first round and he also averages double the SLpM than Werdum. The title with stay with Velasquez and he's a great parlay banker.
Gilbert Melendez 22-4 (Best Odds: -170 at BetOnline) will fight Eddie Alvarez 25-4 (Best Odds: +145 at Bovada) in the co-main event. This fight is close on paper, but I love the value on Alvarez.
Alvarez averages over a TD per round and Melendez has been taken down plenty in the past. I'm a bit worried about Alvarez in the stand-up, as El Nino is has a 4" reach advantage.
Cerrone just beat Alvarez by decision with excellent striking and Alvarez is known to absorb to many strikes. However, I'm rolling with Alvarez, as I believe he'll get his first UFC win.
Another banker is Kelvin Gastelum (10-1) against Nate Marquardt (33-14-2).
Gastelum is -400 at TopBet, while you can get Marquardt priced at +330 with BetOnline.
Marquardt is 1-4 since 2013 with the only win coming against Te Huna. Gastelum lost his first career fight last time out against Woodley by split decision, but he has been great in the UFC.
Gastelum hasn't been wowing us with many stoppage victories, but he gets the job done and he's very technical in the cage. He has to stay off his back though, as Marquardt can pose issues on the ground.
Another underdog I like is Yair Rodriguez 4-1 (Best Odds: +190 at BetOnline) – Rodriguez is 1-0 in the UFC and will be fighting in his home country against Charles Rosa 10-1 (Best Odds: -220 at TopBet).
Rosa has a strong ground game and likes to attempt TD's, but I believe Rodriguez can keep this fight standing and if he can do that, he'll have a great chance to steal a win from Rosa.
Two women are also fighting on the UFC 188 main card.
Tecia Torres 5-0 (Best Odds: -300 at BetOnline) is undefeated and 1-0 in the UFC – she beat Magana in her UFC debut. Angela Hill 2-0 (Best Odds: +250 at Bovada) may be in above her head.
Hill is very inexperienced, although she did beat Kagan in her UFC debut. Both fighters have been very active strikers in limited action, but Torres gets the edge because she's better at defending.
Suggested Tips for UFC 188
Velasquez + Gastelum + Torres Parlay +104 (TopBet)
This isn't the best PPV fight card by any stretch and without the UFC Heavyweight Championship bout – this card would be terrible value. However, there's still money to be made in the markets.
I'll also likely parlay all five picks together just in case they all hit. If you do the same, bet a 1/4 or 1/2 unit on the bigger parlay only. The other three bets I'm flat betting for 1 unit each.