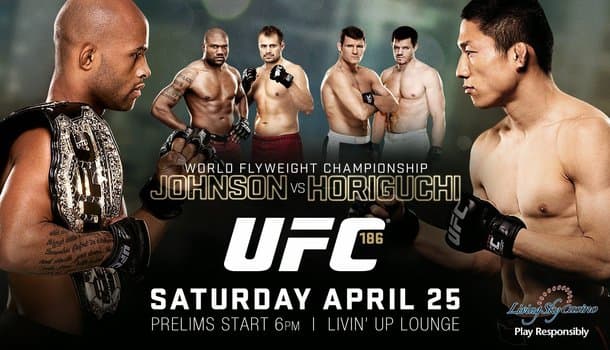 Date: Saturday, April 25th 2015
UFC 186 is on Saturday night at the Bell Centre in Montreal, Canada. The prelims will be available on Fox Sports 1 and UFC Fight Pass, while the main card will only be available on PPV.
This card could have been so much better if it weren't for injuries and suspensions.
T.J. Dillashaw was supposed to fight Renan Barao for the UFC Bantamweight Championship, but T.J. is injured and had to pull out. Rory MacDonald supposed to fight Hector Lombard at UFC 186 too.
However, Lombard failed his drug test at UFC 182, so this fight was scrapped.
We're now stuck with a lop-sided main event and several fights that shouldn't even be on a main card of a pay-per-view event. I'll still be at the bar watching the fights, but it's a weak fight card.
UFC 186 Fight Previews & Best Bets
Demetrious Johnson (21-2-1) will put his UFC Flyweight title on the line against Kyoji Horiguchi (15-1).
Johnson has speed and a balanced MMA game. He averages 3.54 SLpM and 3.24 TD's per 15 minutes in the UFC. Horiguchi is 4-0 in the UFC with wins over Pague, Montague, Reyes and Gaudinot.
He has done what has been asked of him, but is the prospect ready for Mighty Mouse?
Horiguchi only has 50% TD defense and Johnson should have little problem taking him down once he gets him up on the cage. My bet on this fight is Johnson to win by submission +250.
Johnson is a huge favorite to win (-900 at BetOnline), while Horiguchi is +600 to win.
The co-main event pits Michael Bisping (25-7) against C.B. Dollaway (15-6). Bisping opened up at –185, but has been bet down to –145 (Best odds at GTBets), while Dollaway is +125 at Bovada.
Bisping is a point machine and a great kickboxer, but he's out of his prime and hasn't looked 100% in his recent fights. Dollaway averages over a TD per round and I'm on the underdog to win.
Dollaway has improved his striking and may even finish Bisping, but a decision is more likely.
Bellator tried blocking Quinton Jackson (35-11) from fighting with the UFC again, but Rampage won an appeal and he'll be fighting Fabio Maldonado (22-7) on the main card at UFC 186.
Jackson was 3-0 with Bellator – with wins over Beltran (TKO), M'Pumbu (KO) and Lawal.
Maldonado is 4-1 in the UFC since 2013 – with his lone loss coming against Miocic. BetOnline has the best odds on this fight with Jackson priced at –275 and Maldonado priced at +235 to win.
My bet is on the under 2.5 rounds (+120) in this fight. Jackson and Maldonado are going to go at each other with power strikes and both fighters have been knocked out in the past.
The other two main card fights are John Makdessi (12-3) vs. Shane Campbell (11-2) and Thomas Almeida (17-0) vs. Yves Jabouin (20-9). Neither fight should be on the main card.
Almeida is undefeated and a –420 favorite against Jabouin, the Canadian is +350 to win.
I like Almeida to win, but at these odds I don't trust him and I'm not confident on predicting the method of victory for someone with little experience. Jabouin is no walkover either.
UFC 186 Betting Tips
Demetrious Johnson by Submission +200
Jackson vs. Maldonado U2.5 Rounds +120
UFC 186 Betting Odds
The betting lines below are all from BetOnline – they have the best odds on most fights.
Demetrious Johnson –900 vs. Kyoji Horiguchi +600
Michael Bisping –145 vs. C.B. Dollaway +125
Quinton Jackson –275 vs. Fabio Maldonado +235
John Makdessi –167 vs. Shane Campbell +147
Thomas Almeida –419 vs. Yves Jabouin +349
Patrick Cote –201 vs. Joe Riggs +171
Sarah Kaufman –207 vs. Alexis Davis +177
Chad Laprise –390 vs. Bryan Barberena +325
Olivier Aubin-Mercier –375 vs. David Michaud +310
Nordine Taleb –255 vs. Chris Clements +215
Valerie Letourneau –159 vs. Jessica Rakoczy +139
Randa Markos –280 vs. Aisling Daly +240