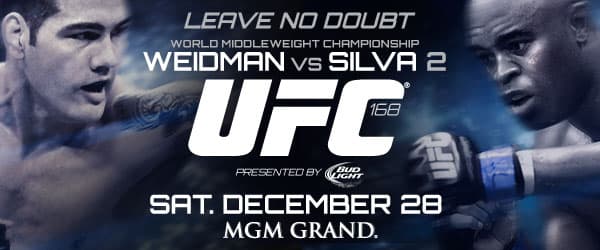 This card needs no introduction – the minute Weidman knocked out Silva at 162 this rematch was the most anticipated rematch for the year.
Rousey and Tate will also close of the latest season of TUF. Can they follow up a string of incredible WMMA fights?
Betting partners for UFC 168 are Bovada.lv. Sign up and deposit today and receive an instant 50% free bet up to $250.

Non US Residents Offer: BetVictor are offering a FREE BET up to $/€/£25 for new depositing customers.
Main Card
Welterweight Championship: Chris Weidman (c) vs Anderson Silva
A lot of people were delighted that Weidman took the belt off Anderson. His clowning antics were getting tiresome and the apparent GOAT owes the fans a better performance. Chris Weidman is easily the best fighter Anderson had faced, yet despite the win, few people actually believe Chris genuinely the better fighter. A huge factor in the belt changing hands is the fact that Silva clowns about, drops his hands, fakes injury etc. Once or twice is acceptable, but to continue to do it when Weidman was so aggressively willing to attack was stupid.
I think Weidman is capable of beating Silva, if (and it's a big IF) he can bring the fight to the ground and keep it there. He nees to do what Chael did, and do it better. Round 1 of the previous fight shows that he can do this, Silva might have laughed it off, but Weidman was pretty close with the heelhook/kneebar combo attempt.
I firmly believe that Silva is a proud man, so much so that he won't want to lose again; he certainly won't want to be beated by strikes, which is clearly his forte. I think he'll come back with an more aggression, focused, the Anderson the fans deserve. If Weidman tries to prove his win wasn't a fluke, and stands toe to toe again, he will lose the belt.
Silva by TKO Rd 2
Women's Bantamweight: Ronda Rousey (c) vs. Miesha Tate
The co-main event is also a rematch. Rousey and Tate original met back in march '12 where they headlined a Strikeforce card, and although it was a different promotion, that match was essentially where Rousey took the lineal women's championship from Tate. Their rivalry preceded that event with a bitter exchange of words on twitter, which climaxed in Rousey promising to take home Tate's arm. It was probably this promise that had Tate stubbornly refusing to tap to a very deep armbar, which allowed her to escape. Her determination to not tap was impressive, but also futile. After escaping the sub attempt, it was only a few minutes later that Rousey found herself with a hold on the same arm and this time she wasn't letting Tate get away. Ronda got herself the belt, and Tate got an arm injury. Ultimately, I see this fight going to same way. Tate's striking isn't good enough to do serious damage to Ronda as she seeks a body lock, she'll wade through a few stikes, secure head and arm control and unload a series of throws, once on the ground its gonna be the usual step by step play to her armbar win.
Rousey by submission
Heavyweight: Josh Barnett vs. Travis Browne
Travis Brown is a very likeable fighter. One of the better fighters in the division, but not really a top 3 fighter. But being the heavyweight division, all it takes in one strike to end the match. Most people would regard Overeem as a better striker, but one well timed kick and a follow up series of strikes saw Travis knock out Overeem to much applause.
Josh Barnett is genuinely a top 3 heavyweight. He has the power for striking, and also a high level grappling game, a trait missing from the arsenal of a lot of heavyweights. If he fights smart here, he'll take this one to the ground and pick up another submission win.
Barnett by submission
Lightweight: Jim Miller vs. Fabrício Camões
Miller is a favourite fighter of mine. At this stage a veteran of the lightweight division. He's been in top 5 spots is a very competitive division for sometime. He always seems to fall short of the last win needed to get the shot at the belt. But he dusts if off immediately and gets going again.
His opponent, Camões is currently on his second run after a short stint in the UFC in late 2009/early 2010. It's often noted that Camões in his second ever pro-fight at 18, lasted over 25 minutes in a bare knuckle match with a young Anderson Silva. His UFC debut was much awaited after a impressive run in Strikeforce and Brazil, but with a record of 0-1-1 he was cut. He built up momentum again and given another shot he picked up his first win. But followed it with a loss. I think its been proven that Camões is a good fighter, but not able to compete on the same level as the top 5 or so in the UFC, a level where Miller has firmly been a resident for years. Miller to pick up a win here for me.
Miller by TKO in Rd3
Featherweight: Dustin Poirier vs. Diego Brandao
Two of the top future prospects for the FW division. This is shaping to be a cracking fight. But already its been tainted. Brandao missed the 146lbs weight limit by 7 lbs (153lbs), he tried again 1 hour later but was only able to shave off 1.5lbs. He should be commended for putting in a genuine effort to realise and impossible task. But he was still unprofessional for missing it to begin with. I had Poirier as a small favourite, with some value. But this latest him shorten and Brandao side out as far as 2/1.
In the past Brandao's aggressive style has seen him burn up early, and missing weight the day before is not good for his gas take. I expect this fight will be one round a piece going into the third but then Brandao will fade away as Poirier picks him off. A decision win, or possibly a late stoppage for Dustin Poirier.
Dustin Poirior by decision
The card continues to deliver promising fights on the Fox Sports 1 undercard.
Preliminary card (Fox Sports 1)
Middleweight: Chris Leben vs. Uriah Hall
Uriah Hall is not a fighter. He has incredibly skill, speed and power. But he has shown that he is mentally weak. It might be hards, but he has lost fights for himself before he even got into the octagon.
Leben on the other hand is the polar opposite. He always lacked a bit in the skills department, but he has always been determined to go forward, often at great risk. Outside of the octagon, he has suffer other issues which affected what fighter turned up on fight night. Sadly, time and too many brawls has taken its toil on Leben, and at this stage I don't think he is a fighter anymore.
In my opinion anything could happen here. Uriah should comfortably win here if he has gotten over his issues. I'm not looking forward this one tbh. I won't be risking a bet either. The one positive is that the loser will probably be cut, about time I say.
Uriah Hall by unconvincing decision.
Lightweight: Gleison Tibau vs. Michael Johnson
This is one of the undercard highlights for me. Johnson has always been a bit 1-dimensional, but has been improving every time. Tibau will have a tough job getting through Johnson. Which bodes well for the fans. We are likely to see an exciting fight as Tibaus tried to outstrike Johnson, who'll relentlessly try to take him down.
Tibau by TKO
Featherweight: Dennis Siver vs. Manvel Gamburyan
Dennis Siver was painfully close to a shot at a lightweight title, before dropping to the FW division. A division where, realistically, the undersized lightweight is more suited. Manny Gamburyan was an impressive run in WEC which climaxed in his fighting Jose Aldo for the title. Since returning to the UFC, Manny hasn't had a mixed set of results. He has proven he is a legit 145 lb fighter, but hasn't convinced anyone that he is back in the top 5 yet. Siver hit the 145 lb division running with two dominating performances. He hit his first bump with a TKO lose to Cub Swanson, who is a legit top 3 fighter imo. All things considered I think Siver takes this one by decision. His array of kicks always appear to carry a lot of weight with the judges.
Siver by Decision