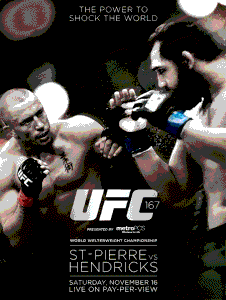 The welterweight championship on the line, and two very important welterweight match ups. UFC 167 should be an exciting card, and it could potential reshape the entire welterweight division.
Main Card: Welterweight Championship
Georges St-Pierre (c) vs Johny Hendricks
George St Pierre is an MMA marvel. He, paradoxically, makes the WW division both my favourite and least favourite division at the same time. My favourite because it's home to George St Pierre, who in my opinion personifies what it means to be a mixed martial artist. He has mastered all aspects of the fight game, and he uses every skill possible to put on a phenomenal display every time.
My least favourite because he is simply too good. He makes very good fighters look like journeymen. The skill gap is massive. Silva never looked unbeatable over 5 rounds, proof: Chael Sonnen. Jones doesn't either, case in point, Gustafsson. But I genuinely believe that, over 5 rounds, GSP is unbeatable. I don't believe anybody can dominate in 3 out of 5 round. I'd be surprised if all of his opponents, since he regained the title, had 3 rounds between them.
Of course, that doesn't mean that he will never be beaten. Hughes submitted him, and Sera knocked him out. He is still human. His grappling has improved further still since the loss to Hughes, so I think that, right now, the only way to beat him is a knock out.
For many people, Hendricks represents the only fighter with a chance of beating GSP. St. Pierre's dominance comes from the fact that he forces grappler's to stand and strike, and takes strikers down to the mat at will. Hendricks is a wrestler at heart of it all, however, he biggest offensive weapon of late has been his big overhand left. There's no question that he has the power to knock any welterweight out, GSP included. The only question is will he be able to connect on Saturday night. The answer is my opinion is a firm no. Don't get me wrong he has some chance, probably the best chance anyone has ever had. But the odds reflect this, GSP is availible at his highest price in years, 2/5 with most bookies. And in my opinion the inflated worth of Henrdricks has brought value in on GSP.
I expect he'll take Hendricks down when it matters and get the win on the judges' cards.
GSP by decision – Available at Bovada.lv
Light Heavyweight: Rashad Evans vs. Chael Sonnen
This is a bit of a strange fight. Sonnen somehow manages to keep himself relevant no matter which division he chooses to fight, Evans continues to make himself less relevant with every fight he fails to show up for. At this point I can't see either fighter making another run at a title, so this one comes down to one thing for me. Who wants to be relevant in the sport. Based on his last performance, Evans really has to come back into the light with his performance here.
Chael, somehow will end up in the same position win lose or draw. He'll put on a good show and earn some of the credit he has pretended he deserved for years. Latest reports suggest that he reluctantly took the fight. Rashad isn't an emotionally invested Brazilian that he can bait into the dirty games he wants. He knows Rashad is hungry. I don't think this will be a pretty fight, but I do think it is worth a bet. I think Rashad will approach this like he should and put in a winning performance over three rounds. I'm going to take a bet on him by decision.
Rashad Evans by decision – Available at Bovada.lv
Welterweight: Rory MacDonald vs Robbie Lawler
Robbie Lawler is riding his second wind after a return to both the UFC and welterweight. His time in Strikeforce and at middleweight was inconsistent at best, but when he was winning he showed unquestionable potential. His knockout powers were displayed against Manhoff (KO of the Year) and also when he put away the very though Amagov. And while he has a recent win over top welterweight Josh Koscheck, he simply hasn't consistently fought the level of opponent that MacDonald has, let alone won.
Rory on the other hand, has been going from strength to strength and looking better each time he steps foot into the cage. Its no secret that many people have picked him as the welterweight successor when GSP walks away. I think he'll beat Lawlor in GSP-style fashion, taking the fight where he wants it to go and where Lawlor is most uncomfortable. I don't think we'll see a finish.
Rory MacDonald by decision – Available at Bovada.lv
Welterweight: Josh Koscheck vs. Tyron Woodley
Another welterweight main card fight, and another whose purpose is give some sort of order to the rankings at 170lbs.
I doubt we'll ever see Koscheck fight for the title and to be honest, I don't want to. GSP made him look amateur and since then he hasn't had the fire nor the motivation needed to be a title contender. He's content to be a gatekeeper. And if he remains content there, he should expect to be following his good buddy Jon Fitch over to WSOF.
Woodley is a fighter with a lot of natural ability, people talk about his potential all day, but I don't think he ever lives up to it. His cardio is poor, and despite the fact that his problems stem from this, his issue is mental in my eyes. He knows he has bad cardio, and he lets it get to him, he over thinks it and holds back initially. He doesn't give it 100% and the result is a sub par performance all around. He'd do himself a lot more favours if he just fought his fight and let whatever happens, happen. Sure sometimes he'll fade in the third and risk a loss. But more often, he'll get the early stoppage or at least the first two rounds on the scorecards to lock up the 29-28 decision.
I want to give him the benefit of the doubt here, this is the big stage and if he is in good shape mentally I'd expect him to floor Koscheck in similar fashion to Lawlor. If Koscheck approaches this with that gatekeeper attitude then I'll expect the TKO for Woodley.
I've also considering Woodley for KO of the night at 11/1 available with PaddyPower for Non US bettors.
Tyron Woodley by TKO – Available with Bovada.lv.
Flyweight: Tim Elliott vs. Ali Bagautinov
This is a somewhat surprising main card slot for these two flyweights. The 125lb division was slow to get started. Hardly surprising given how few fighters were signed, but its slowly developing some strength in depth. It's claimed by many (read:Joe Rogan) that the flyweights are the fastest fighters. To be honest, that's probably true. By now there is some sort of top 10 hierarchy established. Elliott is currently ranked 7th. Bagautinov, with only a single UFC appearance, is yet to be ranked.
The down side to the flyweights is their stamina, 15 minutes fights are the norm and as such we don't see many finished. Bagautinov could be a fighter to break that trend. Like most Soviet MMA fighters he has a background in Sambo – which in my opinion is the most useful single discipline for MMA, its almost unfair calling it a single discipline given its use of strikes, joint locks, throws and in particular the suplex. If Ali can clasp Elliott's waist I expect to see an impressive suplex for the 125er. I finite stamina isn't going to help when you are dumped on your head.
Ali Bagautinov by TKO – Bovada.lv
Preliminary card (Fox Sports 1)
Lightweight: Donald Cerrone vs Evan Dunham
The bookies have this one as a total pickem, with evens available on both fighters. Though Dunham is a top ten fighter, he is unlikely to challenge for the title. He'll beat most guys in the UFC, but fail to beat the guys in the top 5. Cerrone on the other hand has genuine top 5 ability at times. He has the potential to challenge for the title. I don't think he'll win it, but he is good enough to get in there with the top 3. However his form hasn't been the best of late.
It's a pretty straight forward match up. Who do you go with, the guy who is top 10 standard, and performs consistently, or the top 5 guy, who can be hit ans miss. When both fighters are at their best, Cowboy wins, so I have to side with him. Usually after a bad patch, he takes some time and then gets straight back into the game. I hope that's what he has done here.
Donald Cerrone by TKO – With Bovada.lv
Middleweight: Ed Herman vs Thales Leites
Ed Herman is a good fighter with a solid submission game. He showed some really slick transitions and submissions in his last fight. He deserved the black belt from Marquart. Leites, also a black belt, is on another level. Leites will have the advantage on the mat, which means a significant aspect of Hermans game could be out of the picture here. By no means is his striking poor, but if Leites takes him down he might fall into the trap of being comfortable there and trying to sweep or pass and ending up in trouble. If Herman allows Leites to gain control on the mat, he won't. If he takes his back, I suspect he'll grind out a submission eventually.
Leites by submission – With Bovada.lv
Bantamweight: Will Campuzano vs. Sergio Pettis
Not much to say about this one. Pettis has great potential, I'm expecting him to put on a show and get a solid win. But the Pettis name and his big brother recent performances have ruined any modicum of value here. So much so that the line must have created value on Campuzano. Personally I won't be betting it, as regular readers will know I have an aversion to long odds underdogs, but anybody who likes to bet for the long run feel free. Debut jitters have affected better fighters than these men. Campuzano has enough in him to get the upset.
Pettis by TKO – With Bovada.lv