UFC 166 – Velasquez vrs Junior dos Santos III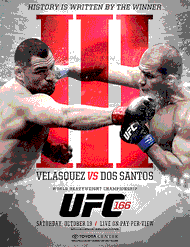 As much as I love the speed of the light divisions, or the athleticism of welterweight to light-heavyweight, the heavyweight belt has this amazing ability to suck me in. I don't really care much for the division as a whole, it's shallow, lacks any legitimate up and coming challengers and more often than not results in two fat blokes gassing. But there is something about a heavyweight title fight that is different. Ever since Brock won the belt at UFC 100, a new breed of heavyweight champion was born, the incredibility dangerous combination of enormous size with incredible athleticism.
Cain Velasquez and Junior Dos Santos are no exception to this form. The rubber match between these two is set to be one of the most memorable HW matches of all time.
To bet on any of these fights, go to www.bovada.lv if you're in the USA and www.bet365.com if you're outside the US.
Main Card
Heavyweight Title Championship Cain Velasquez (c) vs Junior dos Santos
A few minutes after Cain Velasquez was knocked out by JDS, I turned to a friend and said we've just seen the start of a massive trilogy – it's easy to claim that now of course, but that's exactly what I said. I knew that the anti-climactic minute we'd just seen was in no way a fair representation of these two guys, and that the rematch was inevitable. I was also sure that Cain wouldn't let that happen again and would dominate the rematch. The rubber match was always coming in my mind.
Cain is a 1/2 favorite this time, compare that with being a 2/1 underdog last time. I think everything that can be said about these two has already been said. I also think the bookies are tightening up the purse strings this time. Cain should be favorite, and I think he might get a TKO, but a 5 rounder is not unexpected. I don't see much value in a method of victory market either. There is a lot of potential for this bout to be fight of the night, but prices for that market still aren't up.
My pick – Cain Velasquez by TKO in the 2nd and if you can get a good price, it might be worth a bet on fight of the night.

Heavyweight Daniel Cormier vs. Roy Nelson
I'm not sure what to think about this fight. I like both guys, but I think they both need to get down to light heavyweight. Nelson because he is carrying far too much weight and could be a genuine contender at LHW if he can retain his power and resilience – his stamina can only improve. And Cormier because he is the smallest heavyweight, and is barely larger than most of the LHWs; he's not exactly shredded either, so his cut to a manageable 225lbs shouldn't be difficult. I appreciate his reservations about being in a division where he needs to cut weight after his Olympic scare, but he could be extra cautious and drop to 215, giving 5 to 10 lbs is a lot more favorable than giving up 20lbs + at HW.
As for the fight, Cormier is the better striker, he is pretty smart so I expect he'll put Nelson on his back and ground and pound like the mini Velasquez that he is. Nelson has severely underrated BJJ so I don't think he'll be submitted, but Cormier will opt to keep him ground rather than look for the sub. I'll not be surprised if Nelson granite chin hangs on for 3 rounds.
Daniel Cormier by Dec
Lightweight Gilbert Melendez vs. Diego Sanchez
I used to be a big fan of Sanchez, his fight with Guida was incredible and still remains in my top 5 whenever I'm asked by a new MMA fan which fights to check out. But what has happened to The Nightmare, sorry I mean The Dream since then. Sure he had a string of 3 consecutive fight of the night awards, and they were close exciting matches – however he wasn't exciting in them, if that makes sense. Since his brutal loss to BJ, he hasn't got that fire he once had.
Melandez, on the other hand, recently hit his career peak as Strikeforce champion, he is going from strength to strength with every win. Peaking in a title fight verses then LW champion Benson Henderson, he lost a very close decision, and this fight he decide how he deals with that loss.
Bases on potential, I give this one to Melendez all day, he out works Sanchez for 3 rounds. I think this one definitely goes to the judges' cards, Sanchez has never been knocked out or submitted, the only 'stoppage' on his record was the doctor stoppage for a nasty cut verses BJ Penn.
Gilbert Melendez by Decision
Heavyweight Gabriel Gonzaga vs. Shawn Jordan
I like this match up a lot. Neither of these two represents a challenge for the HW belt, but they are definitely solid mid tier heavyweights. Gonzaga is enjoying a late surge in his career, and while he might not be his best, opponents will want to remember his stunning head kick KO of Crocop – it only takes one perfect moment.
Shawn Jordan has had an impressive run since joining the UFC. His only loss coming at the hands of former heavyweight gatekeeper Cheick Kongo, an admittedly one sided affair. Gonzaga is by no means a push over Jordan, and I see this one as almost 50/50, giving Shawn a small edge, expecting him to get a finish. But I've no idea why the bookies have priced Gonzaga as 7/4, there's value in that price. I'll be betting against Jordans small edge.
Gabriel Gonzaga by TKO

Flyweight John Dodson vs. Darrell Montague
Flyweights – fast, furious, and no finish. Dodson should win easily here on route to a title rematch in what is admittedly a shallow division. The current best price for Dodson by decision is 11/8. I'm going to take a small piece of that. Montague isn't a poor fighter, Dodson is simply championship quality.
Dodson by Decision
If these aren't enough for you and you want more free MMA picks, you can click into my selections for the UFC 166 preliminaries.