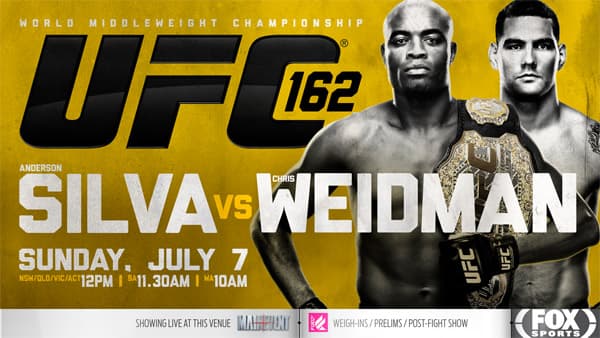 The widely regarded G.O.A.T in MMA, Anderson Silva takes on the latest, and in the eyes of many the last, challenger in Chris Weidman. There's a lot of hype around this one. Does Weidman have what it takes to unseat the spider. I'm not convinced.
Also on the card is the biggest heart in MMA Frankie Edgar. He'll be looking to get his hand raised for the first time since his 2011 title defence verses Gray Maynard.
Betting partners for UFC 162 are Bovada.lv. Sign up and deposit today and receive an instant 50% free bet up to $250.

Non US residents should check out BetVictor who are offering a MONEY BACK special on all first round knockout fights. If you place a Match Winner bet on any UFC fight on the main card at UFC 162 and if your selection is knocked out in the first round, BetVictor will refund your bet as a FREE BET up to $/€/£25!

Middleweight Championship: Anderson Silva (c) vs Chris Weidman
Chis Weidman is easily the best wrestler in the middleweight division. He's NCAA All-American collegiate wrestler, who has honed his ground game for MMA with the introduction of a solid BJJ submission game. With only one year of formal BJJ training he qualified for ASCC finals. To say he is a bigger, better more dangerous version of Chael Sonnen is an understatement.
Anderson Silva is, well, Anderson Silva. Sure it's been show (against Chael Sonnen x 2 and Dan Henderson) that a strong wrestler can neutralise his dynamic attacks for the round – note: Silva still got the KO or sub finish in each of them fights. And Weidman is definitely capable of out wrestling him. But there are two glaring problems with this theory. Firstly, MMA championships are contested over five 5-minuite rounds. And secondly, standing opposite Anderson Silva is the most dangerous place in the world. Even if Weidman can take Silva down, and keep him there, he'll inevitably have to let him up and start again. And at any given time on their feet, Silva is only seconds away from a KO victory. He only needs to knockout Weidman once. Weidman needs to do a lot more. I actually expect Weidman to get a takedown in the first, but watch out for that "fool me once…" look (from the 2008 fight with Henderson) on Silva's face when the round ends.
I do think Weidman is the best challenger we've had in years. And he deserves some of the momentum behind him. But I think the hype has upped his stock a little too much. His fights with Vitor Belfort and Dan Henderson were the only times only his odds have been higher than this. And look how they turned out. I'll be making a sizeable bet on Anderson, either to win outright or by TKO.
My Pick: Silva by KO in the 2nd Round
Featherweight: Frankie Edgar vs. Charles Oliveira
In the interest of full disclosure, I'm a huge Frankie Edgar fan. Ever since the four BJ and Maynard title fights, his skill and huge heart are unquestionable. The comeback from that opening round verses Maynard II was unbelievable. I genuinely thought he won the first fight with Henderson, but I know it was close enough to go either way. But I'm convinced he was robbed in the second fight. We also saw the closest anyone has come to taking the 145 title away from Aldo. So although he is 0-3 over his last few fights, I don't think it's any reflection on his current form, or his stock within the UFC.
This match isn't a easy fight to get 'company man' Frankie back into the W column. Oliveira is by no means being fed to Edgar, however he isn't a top 10 featherweight. Frankie is going to show everyone that losing to Henderson and Aldo means nothing in relation to the overall division. Edgar starts slow and finishes strong, this is his first non 5 round fight since 2009, I think he'll easily adjust gears to pace for 3 rounds, but I think we'll see three strong rounds rather than a power finish in the first.
My Pick: Edgar by decision
Middleweight Tim Kennedy vs. Roger Gracie
Tim Kennedy is probably the more rounded fighter here. And compared to the MW division as a whole, I'd rank him above Roger Gracie. But, a huge amount of Kennedy's success comes in the form of grapple, pound, submit. I don't think it needs to be pointed out why that plan will fail verses Gracie. Kennedy is the better striker without a doubt. But I think having to switch his grappling from offense to defence will disrupt the comfortable flow of his strikes.
Kennedy deserves to be favourite, but only just. I like Gracie to pull off the upset here. 7/2 to win by submission is tempting.
My Pick: Gracie by submission
Middleweight: Mark Muñoz vs. Tim Boetsch
At one point there was talk of Mark Munoz making a challenge for the middleweight title, granted most of it was coming out the his own mouth in a very ill timed call-out, but at this stage his momentum has halted. Sidelined for over a year, a big question to be answered is the effect of ring rust.
Tim Boetsch has a pretty solid record. Wins over Yushin Okami and the much hyped Hector Lombard being his most impressive. When I say impressive, I'm referring to the scalps, the fights themselves were anything but impressive. Boring, drawn out, un-engaging. Had this fight happen 12 months ago, I'd have pick Munoz without much thought. His strong wrestling base would allow him to dictate the pace of the game and probably close out a finish early. However, I can't put much confidence in him now that he's been out of action. The one saving grace is the fact that he looks like he's in the best shape of his life. While sidelined, his weight ballooned completely. But he's appears to have been working hard and is now back in better shape than ever. Most likely, his return was delayed as he wanted to ensure his was ready. I like a small bet on Munoz to win.
My Pick: Munoz by TKO
Featherweight: Cub Swanson vs. Dennis Siver
This is an interesting match up. Cub Swanson is top drawer fighter, already had a title shot verses Aldo, and its one he would like to forget – an 8 second knockout by flying double knee.
Denis Siver was making waves in the lightweight division. At one point he was closing in on a title fight. In my opinion he gave up on lightweight on too early after a single loss to Donald Cerone. With that said, since dropping to featherweight he's been on good form going 2-0. Should he win here, he'll be firmly in the top 5 at 145 lbs. This is his biggest fight since Cerone. On raw ability I think Swanson is the better fighter. But those spinning back kicks of Siver are unreal – he could turn the whole fight on its head at any point and as such I think his price is too long at 2/1. Cub Swanson, deserves the shorter price, but I think the fan favourite element has driven his price too short.
My Pick:Denis Siver by TKO
Preliminary card (FX) Middleweight:Chris Leben vs. Andrew Craig
This is a fight I have no interest in. Andrew Craig isn't going anywhere in the division. Neither is Chris Leben. In the build up to this fight, expect Leben to talk about how he's turned it around, he's got it back on track and he he 100% focused. Then 3 minutes into the first round, expect to see a red faced Leben panting and and swinging for the fences. I've no interest in Andrew Craig, I don't think he'll go anywhere in the division but I really hope he wins just so that Leben takes the opportunity to retire.
To be honest, even if he refuses to retire, he'll probably get cut. I think Dana has a lot of time for Leben, but I also think this is his last chance.
Verdict: Craig by decision
Lightweight: Norman Parke vs. Kazuki Tokudome
After taking out TUF: The Smashes, Norman Parke makes his return to the Octagon. The first Irishman to be signed to the UFC since Tm Egan at UFC 93 in Dublin, his momentum has been quelled by the long layoff since winning and also by the hype of Conor McGregor being the Irish standout this year. We haven't seen much of Tokudome in the UFC, having fought most of his career under the Pancrase banner in Japan, but his style is very similar to Parke's. Both will use their judo base to control the fight standing and on the ground and use this positional control to upload strikes. Realistically, Tokudome should be fighting at 145, Parke is a bigger more powerful fighter, I'm expecting his will to be much more imposing.
Verdict: Parke by decision
Heavyweight Gabriel Gonzaga vs. Dave Herman
It's been 6 years since Gabriel Gonzaga knocked out CroCop with a kick to the head. That looked likely to be his career highlight when record started to turn south. However, he appeared to turn it around in 2011 going 3 wins in a row before an early finish verses Travis Brown. He's proved he is still a dangerous fighter in all areas.
Dave Herman's biggest achievement to date is not being cut after losing three straight fights and topping it off with failing his post fight screen for marijuana. The most note worthy loss of late is his most recent verses Antonio Rodrigo Nogueira before the fight Herman famous claimed that Jiu Jitsu is just a trick and doesn't work when you know about it, specifically it doesn't work on him. Obviously Big Nog tapped him after a ridiculous statement like that. He hasn't embarrassed himself by saying anything stupid before this one. But Gonzago's last three wins have been by submission. Brazilians like to prove a point. I wonder is there is a market on Dave Herman being cut?!
Verdict: Gonzago by submission (Armbar)
Lightweight Edson Barboza vs. Rafaello Oliveira
I find Edson Barboza fascinating to watch. His movement is just crazy. That wheel kick KO over Terry Etim will remain in the top 10 knock outs for a long time (just as long as Uriah Hall's equivalent KO). Rafaello Oliveira is no slouch on the feet either. This one has all the ingredients to be a great opener to the FX card. Expect fireworks and a highlight reel knock out. At 12/1 I consider this to be a decent bet for Fight of the Night. If I can get the market, I'll also take Barboza by TKO.