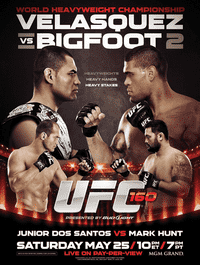 The heavyweight title is back on the line. Historically, 205lbs has been the most competitive weight division while the likes of 170 and 185 have given us the most talented fighters; in spite of this the heavyweight title always gets the most attention. It is, in all senses of the word, the big one.
In this encounter, Cain Velasquez faces off against Bigfoot Silva – the man he demolished last year on his way to reclaim the title, and also one of the most dangerous fighters out there.
We're betting on all these matches at the number one sportsbook for UFC www.bovada.lv. For SBO readers outside of the US, we recommend www.bet365.com.
Main Card
Heavyweight Title – Cain Velasquez vs. Antonio 'Bigfoot' Silva
Anybody following these previews will know I've championed Velasquez ever since he lost the belt. After that flash KO, everyone forgot how dangerous he was. They forgot what he did to Nogueira, what he did to Lesnar. Even his domination of Bigfoot on his way to reclaim the title was forgotten, he was still an underdog. But after he dismantled JDS for 5 rounds, people suddenly remembered Cain Velasquez. They also remembered a bloody Bigfoot rolling about the Canvas eating elbows. So as expected, Cain is very short odds to win here: -500 (1/5) if you are lucky.
This may appear to underestimate Silva, given his impressive KO of Overeem. But in my opinion, it's correct. Cain is the closest anyone has ever come to being a completely rounded HW fighter. Don't get me wrong, Bigfoot absolutely has KO power, he's beaten some of the top heavyweights ever and he has solid BJJ. But Cain wrote the blueprint to defeat him. Wrestle and vicious ground and pound. Cain is best wrestler in the HW division, trains with Cormier (who also beat Silva) the next best wrestler. It doesn't matter how tall you are when you're on your back. I don't for a second think that Cain will approach this one as an easy fight given their last encounter was a walkover – but i do think he'll approach this one exactly the same way. I can't see this lasting 5 rounds.
Cain Velasquez by TKO
Heavyweight Junior Dos Santos vs. Mark Hunt
The co-main event on heavyweight title cards is often another heavyweight matchup. And it's not uncommon for that match to serve as the number one contender match – something that looks to be the case here. JDS hasn't fought since previously losing his title to Velasquez, so it might appear premature to discuss a rematch already. But realistically other than our headliner Bigfoot, nobody has emerged from the heavyweight ranks with enough momentum to be considered for a title shot, nobody that is, except for Mark Hunt. Currently in the midst of an incredible turnaround, should Mark Hunt win on Saturday night, he'll deservedly be given the next title shot. Should JDS win, the division near grinds to a halt. And that's the most likely outcome.
Mark Hunt is a lovable underdog, after suffering 6 straight losses, he has turned it around and gone 4 wins in a row verses some top opponents. He put the rise of Skyscraper on hold, and (along with Roy Nelson) played a part in the farewell of Kongo. He isn't the rounded athlete like the overdue new breed of HW fighters, but he is an excellent striker with power to back it up. He finds slight openings and unloads. His KO of Struve produced one of the best fight photos I've ever seen.
JDS is considered by many to be the best boxer in the HW division. He probably is, but this is one fight where I think he shouldn't look to stand up trading strikes. Hunt is a great counter striker with a solid chin. If JDS throws some aggressive power shots and fails to drop Hunt, he could very well he on the receiving end of a nasty counter shot. JDS has no reason to strike when he has such an advantage on the ground. A BJJ black belt, he should be looking to take hunt to the mat and out of his comfort zone. I'm expecting to see a finish on the mat around the midway point.
Junior dos Santos by submission in Rd2
Light Heavyweight Glover Teixeira vs. James Te Huna
Both of these guys are floating mid-tier in the LHW division. Glover is probably ranked slightly higher than Te-Huna based off some higher profile scalps and a longer run of success. Glover is riding an 18 fight streak, a run that mostly consisted of finishes. Te Huna's record is impressive on paper also. His sole loss in his last 9 fights came at the hands of Gustaffson – who many are now linking to a potential title shot.
Both are big guys, and heavy hitters. I'm expecting a back and forth war, trading big shots. And in that regard I think Teixeira is that bit more accurate and dangerous. In terms of grappling, he has a wrestling advantage too, he should use that to keep the fight standing rather than taking it to the ground. There's obviously the risk of getting caught by a big shot from Te Huna, but more likely he'll emerge on top of the war, and hand out more damage of the two.
Glover Teixeira by Decision
Lightweight Gray Maynard vs. TJ Grant
This marks TJ Grant's 11th trip into the Octagon. Initially, he didn't amount to much. He'd win, then lose and repeat. This went on for 6 fights until he decided to drop to lightweight, which has turned out to be a good career move as since dropping down he's had 4 straight wins, including an excellent fight with Evan Dunham. And now he has found himself in a title eliminator fight, the only thing standing in his way of a title shot is Gray Maynard; a pretty big obstacle.
Gray has been flying a bit under the radar lately, but people have to remember that he won all ten of his fights not involving Frankie Edgar. Although Frankie emerged from the trilogy with the belt and Gray is probably remembered as the loser, the results were a win, a draw and a loss each. Had Gray edged either of the two title fights – which he wasn't far from doing – nobody would give TJ Grant a shot here. If anything, the Edgar trilogy only improved Maynard as a fighter. So I can't look past Maynard who I think the bookmakers are under estimating. He is short, but I still think he represents value.
Gray Maynard by Submission
Lightweight Donald Cerrone vs. K.J. Noons
Cerrone is another lightweight fighter looking to claw his way back into contention at 155. He is a solid top 10 fighter. But, he always seems to fall just short of title fight consideration. He gets a string of wins together and gets some momentum going, but loses when he comes up against a top 3 contender. His only losses since the WEC merger have been to Nate Diaz, who went on to fight Henderson for the title, and Pettis, who got tired of 155 rematches and dropped to face Aldo. TJ Nooms is not a top 3 contender however. He has lost 4 out of his last 5. Most recently to Ryan Couture – who is still finding his feet. This is the fight for Cerrone to get back on top of things. I can't see anything other than Cerrone out striking him, and probably getting a TKO. I'll be placing a bet on this one, at least on a Cowboy win, but maybe by TKO, depending the price when that market opens later in the week.
Donald Cerrone by TKO
Preliminary card (FX)
Welterweight Mike Pyle vs. Rick Story
I like a bet on Rick Story here. Pyle is a good test for Story but I think he can take him. Probably going to be a decision, and a contender for fight of the night (although its on the undercard so its not a bet i'll be making).
Rick Story by Decision
Featherweight Dennis Bermudez vs. Max Holloway
Bermudez outclasses Holloway here in most areas. But he'll probably be very cautious coming off a split decision win. Expect a lot of time on the mat. Grinding a decision. Not an exciting fight.
Dennis Bermudez by Decision
Welterweight Colton Smith vs. Robert Whittaker
Last years Ultimate Fighters winners, from each the main series and the smashes, squaring off. Colton is the bookies favourite here. Probably rightfully so. He'll look to take this to the ground and smother Whittaker for the round. That said, they'll start each round standing on opposite sides of the Octagon. Whittaker hit hard, and each round he'll get a chance to land that big overhand punch. If you are considering a bet on Whittaker, you might as well put the extra money on a TKO/KO win it's his only way to win.
Colton Smith by decision
Remember to bet on these and all other US sports at the leading legal US sportsbook – www.bovada.lv