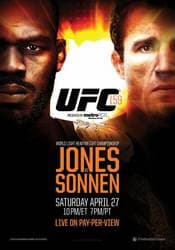 This is the real finale to the 17th season of the Ultimate Fighter. And it's also a fight that nobody wants to see. This is the last UFC event for a while and closes off 4 events in a 4 week period. We had another good week last week with our tip of Brown v Mein for Fight of the Night at 7-1 came in. Hopefully we can do more of the same again this week.
We're betting on all these fights at www.topbet.eu. For our readers outside the US, you can get the best odds at www.bet365.com
Light Heavyweight Title Championship – Jon Jones vs. Chael Sonnen
Sonnen v Silva I was amazing, simply because Anderson has only ever lost 1 round in the octagon, and Sonnen handed on 4 and ¾ rounds of Hurt to the 185lbs king. Sonnen v Silva II didn't live up to the hype. So what is going to happen for Sonnen v Silva III Jones? More of the same I feel.
Jones continues to look amazing at the top of the 205 food chain. Amazing, but not unstoppable. Machida proved that he can be out struck, briefly. Belfort proved that he can be submitted, maybe. The problem is that Chael has neither Machida's striking nor Belforts BJJ. Chael's weapon of choice is wrestling. And here he'll attempt to recreate the initial success he enjoyed against Silva. He needs to take Jones down and neutralise him for 5 minutes, get up and do it again 5 times. 5 times, not 3. Normally to win a title match you only need to take 3 out of 5 rounds. Chael will need 5 out of 5 rounds or very close to it, as if he fails to take Jones down for any round, be it the first, or the fifth. Jones will end this fight.
Statistically speaking, Jones has the best takedown defence in the UFC at 100%. Getting him down once is a huge ask, and that's only half the battle. Jones knows he can beat Chael everywhere except perhaps in a hold down match. Jones knows that is Chael's only offense here, so you can guarantee that Jones has spent alot of his 6 month preparation time working on submission off his back.
Chael Sonnen's Achilles' heel has been the triangle; Jones has long gangly triangle ready legs. But I think, if Sonnen gets this down, he'll be doing his best to avoid it. Instead, he'll be facing a kimura from those orang-utan arms. I think Jones submits him, via any of the many options he'll have.
Jones by Submission
Middleweight – Michael Bisping vs. Alan Belcher
I'm really not sure where Bisping ranks in the MW division. He has twice been within a single win of a title shout, and twice a knockout loss took that away. TBH I think his loss verses Belfort was tainted due to the circus posing as an athletic commission in Brazil, so I don't think he has drifted too far from the top 3 spots. If Belfort continues to chase a LHW title shot, Bisping may be back in title contention sooner rather than later. He has repeatedly proved to be one of the better fighters in the MW division, but he never looks like he'll bulldoze anyone. I feel the same going into this one.
Bisping is better than people give him credit for. He's not a knockout artist, but he has a pretty high work rate. High volume of strikes and constantly pressing forward wins rounds on score cards.
Alan Belcher is a great grappler; he proved that verses Palhares. But he never really uses his grappling to his full advantage. Belcher will out grapple Bisping here if it goes to the mat, but in my opinion, the judges won't like it. Belcher doesn't put on a display of total domination like GSP or Cain. He just does enough. Over 15 minutes, I can see Bisping's volume speaking far louder. I'll be making a play on that if I can get my money on above +125 (5/4).
Bisping by Decision

Heavyweight – Roy Nelson vs. Cheick Kongo
Roy has a solid chin, incredible KO power and a really under-utilized BJJ game. He repeatedly walks through attacks and lands the big right hands. A part of me would love to see his ground game on show a bit more. A lot of people aren't aware of his BJJ credentials and it would one hell of a wtf moment if he took him down mounted him and slapped on a gogoplata.
This is a bad match up for Kongo. He beats lower tier fighters by grinding out decisions. But Nelson isn't going to settle into that sort of pace. He'll be looking to close fast. So much so that I think both Nelson in rd 1 @ 23/10 and Nelson by TKO @ 7/5 both represent value.
Nelson by TKO in Rd1
Light Heavyweight – Phil Davis vs. Vinny Magalhaes
Phil Davis is a solid second tier fighter at 205. He has excellent wrestling but his striking leaves a lot to be desired. Which is a shame, as he possesses that rare natural athleticism found in the like of Jon Jones and other genetic freaks. Davis is a four time Division 1 NCAA All-American wrestler; his wrestling skills have been used to dominate many 205ers. He pressures, and pressures and pressures until they either crack and give up a submission, or hold on for a decision loss. There was talk of a title run, but its been pretty stale since his loss to Rashad Evans.
Maghalhaes is BJJ elite. Three time ADCC medal winner, including heavyweight gold in 2011. He has submission wins over Dean Lister, Chris Weidman, Gunnar Nelson and Fabricio Werdum. He is clearly one of the best submission fighters in the light heavyweight division. However, like Davis, his striking is not good enough. He also suffers another major flaw. He gases badly later in fights and given the very real chance that both of these guys neutralise each other on the ground, I think that will prove critical.
The first round will be close, but as Vinny tires, Davis will dominate; if this goes to the score cards – Davis takes this decision. However, Davis is far too short a price both for the win and by decision. So no bet for me there unless the line moves considerably. Given there has been some back and forth between the two of them in the media. Davis said he could sub him, and Vinny said he is insane if he believes that. It's obviously not going to happen early on, but in the closing minutes, after being out-wrestled for 10 minutes, a tired Malgalhaes might leave an opening – and Davis will jump on it to prove a point. A long short, but odds are long also at 6-1.
I'm gonna have a small bet on Davis by Decision.
Lightweight – Jim Miller vs. Pat Healy
Jim Miller should win this one. On the feet he is a faster, stronger and all round a better fighter. When his strikes flow together, he looks great on his feet. His wrestling is good, and he uses his ground and pound very effectively; when a sub opens up he jumps on it.
Pat Healy is a grinder, and he has made improvements lately. His striking is likely behind Millers – straight up on the feet he loses this almost all the time. On the ground, Healy is more comfortable. If he can get it down, he might squeak by to the judge's cards, which might be the path to a win for him.
Miller is clearly better, and I think he'll win, likely by an early TKO. However he is inconsistent, and in later rounds he often fades. At current sportsbook prices I can't lay money on him. If Healy can take this one to the third round, he might just sneak a win.
Miller by TKO

Bet on all these fights now at www.topbet.eu