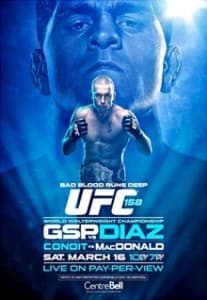 UFC 158: George St Pierre vs Nick Diaz March 16th February 23, 2013 – The Bell Centre, Montreal Canada
So, Nick Diaz finally gets the shot at the welterweight belt he's been crying about for forever. The long drawn out process, as well as the fact that Diaz is coming off a loss, has removed a lot of the momentum behind this one. This should of happened at UFC 137 back in 2011, but Diaz screwed that up by missing multiple media appearances – and very nearly messed this one up in similar fashion.
However, we are here now, with Diaz somehow getting a title shot coming off of a loss. While I'm always excited for championship fights, the three top billing welterweight matches represent huge fights that could have a massive effect on the welterweight division. GSP, Diaz, Conduit, Hendricks, Ellenberger and Marquardt represent the top 4 welterweights with 2 other guys knocking on the doors of the top 5 (along with Rory MacDonald and Damien Maia). Who wins, and in what fashion, will have an immediate knockon effect on the WW division. I'd welcome more cards like this in other divisions in future.
Welterweight Championship George St Pierre (c) vs. Nick Diaz
With 22 wins, 2 losses, currently 10 straight wins and virtually untouchable at welterweight. George St Pierre is the undisputed champion and king of 170 lbs. He gets a lot of abuse for his fighting style, he doesn't win via rebounding knees, or uppercut elbows knockouts – but he also doesn't get beaten up for 5 rounds to win with a hail‐mary submission. In fact he rarely loses a round at all. In his last 10 fights, he has probably given up only 3 rounds – that's 3 out of 44 total rounds.
GSP is a true all rounder, his fight IQ and game planning is perfect. If you are a wrestler, he'll force you to stand and strike, if you're a striker, you'll get taken down and pounded. Without fail he'll dictate that the fight happens where you are weakest. His style can only be described as clinical.
Diaz, on the other hand is a brawler. A high level BJJ black belt under Cesar Gracie, he has recently been praised for his boxing. Praise I'm not so sure he deserves, at least not in a technical sense. He has a tippy tap style and relies on volume. His punches aren't hard and they aren't accurate. If Diaz deserves praise for anything it's his cardio. His endless gas tank is what let's him keep up the relentless pace, to throw constant punches, to undertake a war of attrition and emerge on top.
But I don't think that cardio will be enough to trouble GSP, as he lands a lot of strikes and doesn't get hit often. His wrestling is good enough that if he chooses to, he can take down Diaz, hold him in sidecontrol and not let him utilize his guard. If Diaz comes out with his hands down shouting at GSP, he'll eat a lot of punches and might be stopped, but I don't think even he is that reckless. Instead, I imagine GSP will control the whole fight and take a 50‐45 decision.
George St Pierre by Decision
To bet on any of these fights we recommend www.betonline.ag as they are the site with the best lines overall, as well as the most betting options.

Carlos Condit vs. Johny Hendricks
Conduit was the interim champion while George had an injury layoff, a title he earned by beating Nick Diaz. Interim champion is basically a linear title for the No.1 contender. Since GSP has now
"unified" the titles, many people see Johny 'Big Rig' Hendricks as the deserving No.1 contender. And they're probably right. But apparently old scores need settling. And in a very tough ask, Hendricks must get past Conduit in order to keep his hopes of a title shot alive.
Conduit is a very dynamic striker, who has great movement and uses both of these attributes together well. He has showcased his knockout power verses Dan Hardy and Kim‐Dong, and his evasive movement played a huge role in his success over Diaz.
Hendricks is a very different fighter. His punches are less a display of dynamic striking, and more so the showcasining of raw explosive power. Bursting through a fighters defense, his left hand has claimed a few scalps in recent fights. Even though he has made headlines for KO wins lately, Hendricks is a collegiate wrestling champion at heart. He needs to use that wrestling to control
Conduit and keep him where he wants him. Get inside, dirty box and hopefully catch him with a power hook.
Conduit is the better striker, he is more likely to out strike Hendricks over 3 rounds, but Hendricks is more likely to land the one shot KO punch. Conduit could take a Decision if Hendricks doesn't stop him in time. This is a close fight, but I'm siding with Hendricks by KO at 3/1 for value.
Johny Hendricks by KO
Jake Ellenberger vs. Nate Marquardt
This is an interesting fight. Both fighters are hovering just outside the top 5. Both have shown great potential in the past, but recent losses have halted progresses. Additionally in Nate's case, he was unceremoniously cut, after messing around the UFC and the Athletic Commission with excessive TRT use.
They are both very similar fighters, and in a way, Jake represents a younger fitter Marquardt. Based on recent performances I'd be giving the edge to Ellenberger all day. In his time away from
the UFC, Marquardt had some long layoffs, and lost his most recent fight for the Strikeforce title. However, I also know how much being in the UFC means to Nate 'The Great', so I'm expecting him to be well prepared going into this one.
There's also the TRT issue; he has apparently since stopped TRT treatment, so at the moment his physical condition is a grey area for me. I'm going to hold off on this one until the weigh‐ins. If a less than peak Marquardt steps on to the scales I'll place a bet on Ellenberger, but if he looks to be in good shape, the right condition, it'll be a pass for me.
Jake Ellenberger by Decision
Chris Camozzi vs. Nick Ring
Chris Camozzi is a Muay Thai fighter with a purple belt in BJJ. His record has yo‐yod a bit, but currently he is on a nice little win streak. Nick Ring is also a Muay Thai and Brazilian Jiu Jitsu fighter. However he is a brown belt in BJJ and his Muay thai is at least as good if not better than Camozzi.
The odds for these guys open pretty even, but a lot of action on Camozzi has seen his price drop, and Ring's go up — which is ridiculous! Ring is the far better fighter and that price is going to swing back the other way pretty soon. I expect Ring to be a decent favourite by fight time, if you can get him at evens or not too far shorter I'd take it. If you are quick enough you might get him at plus money.
I don't think we'll see anything too violent here, Ring will either control him and grind out a decision, or take the RNC when it opens up.
Nick Ring by Submission

Mike Ricci vs. Colin Fletcher
These two both finished up second on them most recent series of the ultimate fighter. But that's where the similarities end. Ricci was an undersized welterweight, and Colin an inconceivably long
lightweight. Training in Tristar with the likes of GSP and Rory McDonald, Ricci has a solid team behind him. "Freakshow" Fletcher might present a very unusual sized opponent but Ricci will have spent a lot of time running through a gameplan to beat him.
Irish prospect Norman Park showed us the blueprint to deal with Freakshow's awkwardness, I'm expecting a similar wrestling based approach from Ricci here. Freakshow's long limbs are capable of locking up submissions from unorthodox positions, which represents his only chance of winning in my opinion.
Mike Ricci by decision
Patrick Côté vs. Bobby Voelker
This content sees a UFC Veteran versus Strikeforce crossover. Cote has been around the block a few times. He spent some time away from the UFC and is now in the middle of his second run in the big leagues. His most "recent" win was in reality a loss; he got the W thanks to some sloppy striking from Sakara and 8 shots to the back of the head.
Voelker is probably being given his one shot here. I don't particularly rate Cote, but I think he's the better fighter. He should win, and he'll want to put in a good performance after his last two. Most likely this is, to use some WWE parlance, a loser leaves town match.
Cote by Decision
Dan Miller Vs. Jordan Mein
Dan Miller, older (and bigger) brother of Jim meets Canadian Jordan Mein. I like Dan as a fighter, he's tough, good in a lot of areas, but outstanding in none. After some losses at 185 he's dropped to welterweight – this will be his second fight at 170lbs. I think he's looked good in most fights, he just wasn't a top 10 middleweight. He's not a title challenger at WW yet, but he should be more comfortable there.
Jordan is only 23 years old but has already managed to have racked up some 34 fights, mostly on the Canadian regional scene before a brief three fight run in Strikeforce. His debut was a loss verses Rory MacDonald when they were both just 16 years old. While his regional fights were mostly against unknown opponents, he has Strikeforce wins over Cyborg and a close loss to a then undefeated Tyron Woodley.
I give Jordan a slight edge in this fight, he's the bookies favourite – but I think they've gone too short on him and opened up some value on Miller. Miller is available as high as 27/11 ($+245) I think that's worth taking. They're might not be any "method of victory" markets, but Miller should be around 7/2 for a submission win if you can find it – worth a small bet.
Dan Miller by Submission
T.J. Dillashaw vs. Issei Tamura
Dillashaw was runner up to John Dodson on a recent TUF season. Like many similar fighters, he wrestled his way through high school and college building a pretty good record. He has shown he is a
decent fighter on TUF, he simply was unlucky that he featured alongside the lightening quick Dodson.
To be completely honest I know little about Tamura outside of the fact that he was brought in as a local fighter for last year's Japanese card, and followed that win with a loss last summer. He has a wrestling style, and I think that he simply won't be able to keep up with the better wrestler in Dillashaw. I'm not expecting much excitement, 3 rounds of lay and pray.
Dillashaw by Decision