"Women will 'NEVER' fight in the UFC" – Dana White (Jan 2011)
Some people will look at the upcoming main event as the latest progression in MMA as a sport, Women's MMA is up there with the big boys. Others will look at it as Dana White and the UFC trying to simply cash in on Rousey. And I disagree with both. On one hand I know plenty of Women who train in the sport and for their own recognition, the inclusion of a women's UFC title is great. But I don't think the standard of WMMA is high enough yet that there is room for a complete womens' division. It's simply not up there yet. And sure Ronda's popularity and value right now was a catalyst to thus move from the UFC. They are completely justified in limiting this to the Womens championship matches only. This is the inaugural women's title fights, was this really the most competitive fight possible. Looking at the odds, the fight might as well be over.
Highlights of Ronda Rousey's fights to date via YouTube.
Anyway, on to the fights…
Women's Bantamweight Championship
Ronda Rousey (c) vs. Liz Carmouche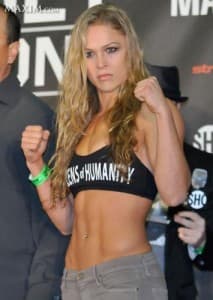 Unless you have no interest in MMA outside of the UFC (plus avoid all MMA news and media) you heard the hype around Ronda Rousey (pictured right). And in her defence, she has lived up it to thus far. 6 professional fights, 6 wins, all by armbar, all in the first round (in addition to those, she also has 3 amateur fights which she won, unsurprisingly, by first round armbar). In fact, only one of her opponents so far has escaped the first minute. Miesha Tate stubbornly refused to tap to the customary first minute armbar and hung in until last minute of the first round before she tapped.
Her opponent this time is Liz Caramouche. Former Marine and former Strikeforce 135lb title challenger. She lost her title challenge for the Bantamweight title two years ago (the same title that shortly afterwards Rousey won and retired) but has since then her two consecutive wins have earned her a title shot. With her share of TKO wins she could potentially finish Rousey. But she would have to remain standing and maintain control of her own body to do so – a big ask.
Some people are saying Ronda is a one trick pony. Which is unfair and quite frankly ridiculous. This isn't a party trick she does after a few beers, she's an Olympic level judoka who throws her opponent around and tries to detach arms, not because it's the only thing she knows how to do but because something that her opponents don't know how to stop. I think this fight will go just like all Ronda other fights, first round armbar. But I won't consider placing a bet on it. The odds are far too short to be worth dodging other methods of victory or a lucky punch.
Ronda Rousy via submission, Rd1, Armbar

Light Heavyweight
Lyoto Machida vs. Dan Henderson
While the women's affair is the main event as a result of being a title fight. The light heavyweight battle Machida and Henderson will realistically be centre stage for many fans on Saturday. For many people both Machida and Henderson represent the only fighters with any sort of chance of unsettling undisputed 205lb King Jon Jones. Machida with his elusive counter attack style, and Henderson with his big overhand "H-Bomb". In a way, I'm not happy with this match up, mainly because I'd like to see them both get a crack at Jones.
Henderson planted himself firmly in the UFC bad books when he kept an injury quiet, starting a chain of events that climax in UFC being cancelled. It's almost as if this is his punishment, as stylistically Machida is a bad match up for Dan, he's too fast and he'll just stay out of Henderson's reach until the midway mark. At which point the Brazilian will attack as Henderson tires, landing point scoring strikes at will. Henderson will be very lucky to emerge the victor, and even luckier to work his back up to one should he lose. Henderson has never been knocked out, I don't think he'll start now nor do I think Machida will get pound away from the inside and force a stoppage.
Lyoto Machida, Decision
Bantamweight
Urijah Faber vs. Ivan Menjivar
Two Featherweight/Bantamweight veterans going at it in this one. This is actually a rematch of a 2006 fight that ended in disqualification after Menjivar threw a kick to the head of a downed Faber. I say "threw", as in the replay that I seen it was unclear of the kick landed or not. Maybe Ivan is holding on to some resentment over their "unfinished business", but realistically after that fight Faber went on to be the poster-boy of the WEC's 145 lb division and a dominant champion until Jose Aldo came along. There's no doubt in my mind who the better fighter is. Faber will out point Menjivar for three rounds and take the decision. He'll never be champion again, but Uriah Faber is still a dominant fighter.
Uriah Faber by Decision
Welterweight
Court McGee vs. Josh Neer
Both of these fighters are on a two fight losing streak. In normal circumstances I'd expect Court to grind out a boring decision win here. But given both are likely to be cut, I hope they'll leave it all in the octagon and give us an interesting 15 minutes. Prices aren't out yet but I'll put some action on McGee if his price isn't too far below even money. Neer's best chance is to swing for the fences and hope to catch him with a KO.
Court McGee by Decision
Welterweight
Josh Koscheck vs. Robbie Lawler
Robbie Lawlor making his first return to the octagon since UFC 50 in 2004 – his 19 fights since then have taken him through many organisation, his career highlight being a unsuccessful challange at the Strikeforce Middle title. His record is checkered at best, featuring mostly recently, and I'm firmly of the opinion that fights outside the Octagon are not worth nearly as much to a fighters stock as those within.
Josh Koschek is not without his losses either, 6-3 from his last 9. The difference is who he has lost to. GSP, Jonny Hendricks, Thiago Alves. Koschek won't ever make a run at a title again and is becoming a gatekeeper to the welterweight top 10. For me, this is a fight to keep him in that spot, a dominant wrestling won't advance him up the WW ranks – it simply proves he can still do it. He'll either out wrestle him to a decision or ground and pound this one forcing a stoppage.
Josh Koschek by TKO
Preliminary Card:

Heavyweight
Brendan Schaub vs. Lavar Johnson
Even though it means little in terms of the heavyweight ladder, I'm looking forward to this one. Neither of these guys will be a top 5 prospect at 265lbs, but they both come to fight and put on a good show. Schaub was a runner up on the HW season of The Ultimate Fighter, suffering to KO loss to Roy Nelson, but he turned that around with a 4 fight win streak including notable victories over CroCop and Gabriel Gonzaga. However since then he has lost back to back fights. He'll be looking for a highlight reel finish here.
Lavar Johnson is also coming off a loss, and while his record is a less than stellar 5-3 in recent years, it doesn't do him justice. Lavar is a brawler who looks to finish at every opportunity and he rarely leaves the first round. Excluding his debut, his five losses have come from submissions verses fighters who had a grappling advantage, when fighters try to go toe to toe with him, they get knocked out. While Schaub has some BJJ experience, it's not a style he favours, and I think he'll make the mistake of keeping this one standing. Lavar hit harder, and is very long limbed, he'll have a 3" reach advantage going into this one. Both have KO power, and either could potentially win, but I feel the bookies have under priced Lavar as the underdog at 13/10. I think this fight will pick up Knock Out of the Night if Henderson and Machida go the distance. Keep an eye on the opening prices there.
Lavar Johnson KO round 1
Lightweight
Michael Chiesa vs. Anton Kuivanen
Both of these guys are relatively new additions to the UFC roster. This will be Kuivanen's third outing in the octagon, and to date he hasn't been particularly impressive. Chiesa enters the UFC via the "The Ultimate Fighter:Live", where he emerged as the eventful winner. This is only his first Octagon appearance since the finale, but going by his fights on the show, he has potential and certainly makes it count when necessary.
Chiesa by TKO
Featherweight
Dennis Bermudez vs. Matt Grice
Bermudez is a deserving favourite, and will likely remind everyone how he almost became an Ultimate Fighter winner. No disrespect to Grice, I simply don't think he's at the same level as Bermudez. However, the bookies appear to be thinking along the same lines, so based on current prices I won't be going near this one. Not much else to say about that one.
Bermudez by TKO
Lightweight
Sam Stout vs. Caros Fodor
UFC veteran Sam Stout is making his 15th UFC appearance here against Caros Fodor, who enters the Octagon via the recent Strikeforce merger. Stout is an exciting fighter, who always puts on a show and I believe he is still a test for most fighters in the LW division. Fodor has the more consistent record on paper and he is the bookies favourite. But I feel he hasn't fought on the same level that Sam Stout has. It's a very close fight, but in terms of value picking, I have to go with the on Stout who is currently 8/9 with Sporting Bet – the only bookie with a price released at the minute.