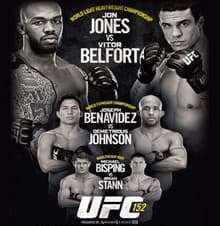 The wait is over – UFC returns after a 6 week hiatus. After the utterly disappointing events surrounding UFC 151, this event has a lot to make up for. With two titles on the line UFC 152 looks promising.
The increasingly unpopular Jon Jones defends his LHW title for the 4th time, verses veteran Vitor Belfort. Jones was originally scheduled to face Dan Henderson 3 weeks previous at UFC 151, the whole card was cancelled when Jones refused to face Chael Sonnen on short notice. In the backlash that followed, Jones was cast as the bad guy. There's a lot of people expecting to see him lose.
In the co-main event, Joseph Benavidez and Demetrious Johnson will face off to crown the first ever flyweight champion in the UFC. I find the lighter weight classes very exciting to watch, and I don't think these guys will let us down.
Main Card
Light Heavyweight Championship: Jon Jones vs Vitor Belfort
This is Jones' 4th title defence in a year, and with each of those victories, the once stack 205lb division gets shallower and shallower – so much so that Vitor Belfort has returned to LHW to face Jones. There are a lot of people talking about Vitor's power and counter punch style, touting it as the best way to take the belt from the champ. But I'm not falling for it. Nobody even mentioned Belfort in the same sentence as Jones until this fight was announced, this would never of happen if the UFC were stuck with an empty title fight and Machida unwilling to fill it on short notice.
The build-up will make a big deal about Vitor's wins at LHW. We'll be bombarded with repeat viewings of his UFC 12 win as a 19 year old. Don't get me wrong, it was impressive, he had huge potential and he was deserved to be called "The Phenom". But that was over 15 years go. Vitor still has the power to KO Jones. But Jones isn't walking in here to get caught. He'll never take anyone lightly. He'll be cautious in the first, deal some damage in the second and finish a tired Belfort on the ground in the third. The odds for Jones are understandably very short – best price appears to be -900 (1/8 in fractional format) with a few sportsbooks. While there's obviously not a huge amount of value here, I'm happy to use it to bump up an accumulator.
Jones by TKO
Note: If you live in the USA, then you can bet on all the UFC matches at www.topbet.eu, the leading sportsbook servicing the USA.
Flyweight Championship: Joseph Benavidez vs Demetrious Johnson
One guarantee for Saturday night is that a new a champion will be crowned. The inaugural flyweight tournament that started in Sydney Australia finally ends. Both of these guys are top class fighters, with a combined record of 31 wins and 4 losses (1 draw) that was for the most part forged at 135lbs. These two were regularly included as top 5 bantamweights. 3 of their 4 combined losses were at the hands of 135lb champion Dominic Cruz. The 125lb division was made with these guys in mind. Both have the ability to push the pace into the championship rounds, so I'm expecting a 5 round war here and I'm giving the edge to Benavidez. This one is my pick for fight of the night.
www.paddypower.com are offering that market at 2/1.
Benavidez by Decision
Michael Bisping vs Brian Stann
Loud mouth Brit versus the American War hero. This one promotes itself. Generally, everyone loves to hate Bisping and until recently he didn't really get the credit he deserved at 185. Stann is an incredibly likeable guy and has shown great potential at middleweight. His only loss at 185 was at the hands of Sonnen – considered by many to be the 2nd best MW in the world, who interestingly followed up that match with a win over Bisping.
Bisping surprised a lot of people in that one, he earned more respect for that loss than any previous win. Stann is a tough wrestler, and has shown some dangerous ground and pound – this is where he should look to take the fight. Bisping doesn't have the KO power of other MW strikers, but he consistently lands clean strikes over three rounds. That's how I see this one going, a decision for Bisping based on volume of strikes. The bookies favourite, I'll be betting on Bisping.
Bisping by decision.

Matt Hamill vs Roger Hollett
After two losses in a row, Hamill hung up the gloves. He was never going to challenge for the 205, but people generally like him. Hollett is making his debut crossing over from Belator. His record is pretty on paper but he hasn't fought at a level remotely similar to the UFC. The only reason he is on the main card is to give Matt a path back to the UFC. Ring rust is a concern for Hamill here so there is no guarantee that he'll run straight through Hollett, we've no way of knowing what sort of mental and physical shape maintained during his retirement. So I wouldn't advise a bet here even though I think he should win without too much difficulty.
Hamill by TKO.
Cub Swanson vs Charles Oliveira
Cub Swanson's record might say that most of his wins come from submission, but in reality some of those were submissions due to strikes, the rest were rear naked or guillotine chokes. Oliveira on the other hand is one of the top submission fighters at 145lbs. He's capable of striking with the best of them, but once he gets his hooks in, a sub of the night finish shortly follows. That's pretty much what I'm expecting here. There are no method of victory markets available yet, but when they open closer to the weekend I'll be placing a bet on Oliveira by sub.
Igor Pokrajac vs Vinny Magalhães
After a rocky start, Igor Pokrajac has shown some powerful striking and an iron chin. He has the KO power to stop most fighters, however he is reliant on power over technique. Vinny Magalhães makes his return to the UFC. TUF season 8 cast member, he was cut after two consecutive losses upon exiting the house. At the time I thought it was a harsh decision. Since then he's built up a 7-1 record outside the UFC as well as multiple medals at the ADCC to establish himself as one of the best grapplers in the world. He doesn't even need it to go to the ground, even from the clinch or against the can he's incredibly dangerous.
Vinny Magalhães by submission.
TJ Grant vs Evan Dunham
Normally, I'd give TJ Grant the advantage in a lightweight fight on the undercard. He's a well rounded fighter who possesses solid striking as well as a good submission game. Unfortunately for TJ, Evan Dunham, is a more experienced version of the same fighter. It's very close in all areas, but in my opinion Evan just about has the edge in them all.
Evan Dunham by decision.
Sean Pierson vs Lance Benoist
Benoist has some potential but he is not as experienced as Pierson. This might stand against him coming off his first loss. Pierson is the better striker and given the chance he'll finish the fight with strikes.
Pierson by TKO
Jimy Hettes vs Marcus Brimage
On a recent season of TUF, Marcus Brimage appeared to not take his fights seriously. He'll need to be careful not to make that mistake with undefeated Hettes. Hettes has won 9 out of 10 fights by submission so Brimage will try to avoid going to the ground – but being overly cautious he'll risk losing it on the scorecards. I like Hettes by decision.
Seth Baczynski vs Simeon Thoresen
With a clear striking advantage, Baczynski will look to keep his standing. As long as he can avoid takedowns he'll get the stoppage inside 3 rounds.
Baczynskiby TKO
Mitch Gagnon vs Walel Watson
With both fighters coming off losses, both will be looking for a win to stay on the roster. Hopefully we get an exciting fight where both guys leave everything in the cage. Otherwise, I think it
may be Watson's last fight in the octagon.
Gagnon by decision.
Kyle Noke vs Charlie Brenneman
Heavily promoted in Australia, Noke has been a let down lately. Brenneman is inconsistent at best. But he's the rightful favourite. That said, if the price was good enough on Noke, I'd consider betting on him. A fighter in danger of getting cut is always dangerous.
So that's my breakdown of this weekends UFC 152 fights. I think Fight of the Night will be the flyweight championship between Joseph Benavidez vs Demetrious Johnson. For "Sub of the Night" will be Vinny Magalhães. Bovada.lv have some early MMA prop bets for the main card – 2 KO/TKOs, 2 decisions and 1 sub.
Now that you know who to bet on, it's simply a question of finding where to bet. The best sites for players in the USA are www.topbet.eu for the best bonuses and free bet promotions and www.5dimes.eu who offer more than 300 props on fight night.
For bettors outside of the USA, then look no further than www.paddypower.com and www.betfred.com