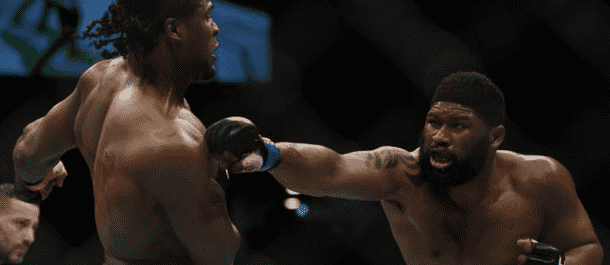 Extended betting markets aren't available at the moment, so check back in soon for additional tips! There is still loads of value on total rounds betting right now, though!
Adam Milstead vs. Curtis Blaydes
In a battle of two athletic heavyweights, Adam Milstead gets a chance to back up his UFC debut win with a shot against Curtis Blaydes. Adam 'The Prototype' Milstead stopped Chris De La Rocha back in May 2016 when the referee jumped in to ensure De La Rocha wouldn't endure any more punishment than necessary. Milstead had busted him wide open and continued to land power shots, but De La Rocha just wouldn't go down. Milstead moved to an 8-1 pro record with six knockouts and two submission victories. Five of these wins came in the first round.
Curtis 'Razor' Blaydes is another super athletic heavyweight with excellent takedowns and explosiveness. Blaydes is yet another of the heavyweights which have previously lost to Francis N'Gannou who is running through the division currently. He bounced back from defeat with an impressive victory over Cody East, finishing him with strong elbows from back side control and the combination of both volume and damage warranted a stoppage. Blaydes now has a 6-1 record, with his only loss coming to N'Gannou.
The Breakdown
Both of these guys possess extreme power, and from first glance, it seems as though someone won't make it out of the first round, however, Curtis Blaydes employs smart fighting strategies into his game and often wins rounds because of his wrestling. Milstead, on the other hand, throws short and heavy hooks and will get busted up by an opponent who likes to use straight punches and effectively keep Milstead out of range. Blaydes had success with long and straight punches against East, so that's how I see this one playing out with Blaydes being too smart on the feet and also dominating the wrestling aspect.
Tip
Total Rounds – Over 1.5
---
Chas Skelly vs. Chris Gruetzemacher
Chris Gruetzemacher entered the UFC after his stint on The Ultimate Fighter Season 22 back in 2015. Gruetzemacher was a controversial character on the show and discussed how he often felt as though he wanted to leave the show during his time there. He must be glad he didn't leave now because his 13-1 record and UFC debut win has earned him another shot in the UFC, this time against Chas Skelly.
Chas Skelly is appropriately named 'The Scrapper' and his incredibly wild, but at the same time, absolutely beautiful, start to the fight at UFC Fight Night 94 resulted in a d'arce choke in just 19 seconds! He rushed towards Maximo Blanco with a flying kick and then grabbed the neck, brought him to the mat, and locked in a tight submission that put Blanco to sleep – nobody saw that coming! Skelly is now 16-2 as a professional and 5-2 in the UFC.
The Breakdown
This card is seemingly full of fights that I can see a clear advantage to one of the fighters and Skelly is no exception. I don't want to bet against Chas Skelly in this one and instead will be looking to cash in on the total rounds betting which seems a little off.
Tip
Total Rounds – Over 1.5
---
Ricardo Ramos vs. Michinori Tanaka
Michinori Tanaka is a smooth operator inside the octagon, using his fancy footwork to create opportunities and evade threats. Unfortunately for Tanaka, he was forced into a grappling contest with Rani Yahya from Constrictor Team who was able to control Tanaka on the ground. A memorable moment during this fight was when Tanaka somehow survived some deep chokes from Yahya. Tanaka is now 2-2 in the UFC with victories against Joe Soto and Roland Delorme.
Ricardo Ramos makes his UFC debut this weekend after being featured on Dana White's "Lookin' for a Fight" reality show. I've gone back and watched some tape of Ricardo Ramos to get an understanding of what he brings to the cage. Similarly to Tanaka, he has excellent movement and flow. His transitions on the ground are quite impressive.
The Breakdown
What these two fighters lack in strength and size, they make up for in technique and speed. On the eye, both of these fighters look similarly matched – but it's hard to bet against Tanaka's experience in the UFC and his number of pathways to victory. However, he's a little too short for my liking as well. Alternatively, I'd look for value on the fight to go the distance as I'm expecting these fighters to battle out a decision.
Tip
Total Rounds – 1.5
---
Tips Summary
Adam Milstead vs. Curtis Blaydes
Total Rounds – Over 1.5
Sunday 29th January, 02:00 GMT
Odds: 1.80Bet €100 to win €1804/5Bet £100 to win £180-125Bet $100 to win $1800.80Bet HK$100 to win HK$180-1.25Bet Rp100 to win Rp1800.8000Bet RM100 to win RM180 – Bet365
Chas Skelly vs. Chris Gruetzemacher
Total Rounds – Over 1.5
Sunday 29th January, 01:30 GMT
Odds: 1.70Bet €100 to win €1707/10Bet £100 to win £170-143Bet $100 to win $1700.70Bet HK$100 to win HK$170-1.43Bet Rp100 to win Rp1700.7000Bet RM100 to win RM170 – Bet365
Ricardo Ramos vs. Michinori Tanaka
Total Rounds – Over 1.5
Sunday 29th January, 01:00 GMT
Odds: 1.65Bet €100 to win €16513/20Bet £100 to win £165-154Bet $100 to win $1650.65Bet HK$100 to win HK$165-1.54Bet Rp100 to win Rp1650.6500Bet RM100 to win RM165 – Bwin
Chas Skelly
Curtis Blades
FIght Night 104
MMA
UFC