Derrick Lewis vs. Travis Browne
Derrick Lewis vs. Travis Browne is now the headline event of UFC Fight Night 105 after being moved from last weekend's UFC 208. The original plan was to set Junior Dos Santos and Stefan Struve against each other before Struve suffered an injury and the fight was cancelled. Now, Lewis gets the matchup he wants in front of a Halifax crowd this weekend.
After defeating Shamil Abdurakhimov at UFC Fight Night 102, Derrick Lewis immediately called out Travis Browne, although he also felt like his performance at the time would maybe result in his plea falling on deaf ears. The Lewis vs. Abruakhimov main event was an ugly one, but 'The Black Beast' got the job done by scoring his fifth win in a row and the fourth via the way of KO/TKO.
Derrick Lewis is an incredibly interesting character in and out of the cage. Inside the cage, he plods forward slowly with next to no footwork skill and slowly walks his opponent around before waiting to counter-strike with heavy punches. He's a relatively weak chin as well, being dropped and finished in two fights between 2014 and 2015 by Matt Mitrione and Shawn Jordan.
Travis Browne has so much to prove after a disappointing 2015 and 2016. He's now lost three of his past four fights, although his losses are against top-tier competition in Fabricio Werdum, Cain Velasquez and Andrei Arlovski. The Werdum fight at UFC 203 was a fascinating one because, in my mind, Browne looked sharp before dislocating his finger a few minutes into the first round. After that, he was disengaged and seemed to lose all interest in the fight, instead hoping to get through.
Browne's footwork, counter-punching and speed are three attributes that aren't usually possessed by fighters in the heavyweight division. He is much smaller than Derrick Lewis, and many will view this as a disadvantage; however, I see it as an opportunity for Browne to work some magic.
Preview and Prediction
Firstly, Derrick Lewis just isn't active enough. He'll sit back, waiting, and then sometimes eventually open up with a wild head kick when he feels like he has to strike. Unfortunately for Lewis, his kicks are telegraphed and aren't fast by any means, which means that the defensively superb Travis Browne, who has a tendency to catch kicks, could likely grab one of these kicks and set up counter-strikes or trips.
Lewis is also not renowned for spectacular defence, leaving his hands low and not being fast enough on the feet to evade strikes. Browne, on the other hand, is lightning fast for the heavyweight division and could cause trouble for Derrick Lewis when he steps into range.
Lewis, who typically strikes fear into his opponents with his sheer strength, size and power may have his hands full against Travis Browne who is profoundly underrated by many due to a cognitive recency bias. I've got Browne winning this one, and as a bonus, he's the underdog – perfect!
Tip: Travis Browne to Win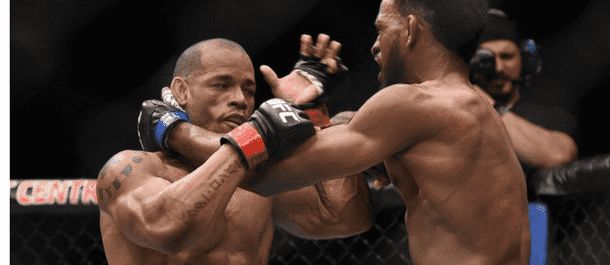 Hector Lombard vs. Johny Hendricks
No one was necessarily screaming out for this fight between two guys with a combined 0-5 record in their past five fights. The last victory by either of these fighters came back in March 2015 when Hendricks defeated Matt Brown. Since then, Hendricks has fought the likes of Stephen Thompson, Kelvin Gastelum, and Neil Magny, who are all extremely tough matches. Hendricks entered two of these fights (Gastelum and Thompson) as a favourite but didn't look anything like it on fight night.
Hendricks stepped up and looked better in his most recent fight against Neil Magny, dominating the wrestling throughout the fight, but Magny was more active off of his back as he attempted to trap Hendricks with triangle chokes. The main outtake of this fight was Hendricks' inability to make weight, and he has now moved to middleweight as a result.
Hector Lombard is another fighter who has struggled to stay at welterweight and instead opted to move back up to middleweight. Lombard has mentioned that he feels much better at middleweight being a lot faster and stronger. Lombard is a judo expert and represented Cuba at the Olympics and also has one of the stockiest frames in the UFC.
Preview and Prediction
If Hendricks wants to return to the winning column, he needs to rely on his wrestling (much like the Magny bout), but also land with 'impact' through the different stages of the fight as well. Upon review, I think that this fight will cause troubles for Hendricks for a number of reasons.
Lombard keeps his hands low, and while this exposes him to an opponent's striking, it also helps enable high-level takedown defence which will be especially useful against Hendricks. Regardless of hand position, Lombard's judo background makes the takedown game a dangerous proposition for Hendricks.
Secondly, Lombard packs an incredibly powerful punch, and if/when Hendricks attempts a takedown, Lombard is going to be there ready to land his heavy hands all up on his chin.
Tip: Hector Lombard to Win
Tips Summary
Derrick Lewis vs. Travis Browne
Travis Browne to Win
Monday 20th February, 04:00 GMT
Odds: 1.80Bet €100 to win €1804/5Bet £100 to win £180-125Bet $100 to win $1800.80Bet HK$100 to win HK$180-1.25Bet Rp100 to win Rp1800.8000Bet RM100 to win RM180 – Ladbrokes
Hector Lombard vs. Johny Hendricks
Hector Lombard to Win
Monday 20th February, 03:30 GMT
Odds: 2.20Bet €100 to win €2206/5Bet £100 to win £220+120Bet $100 to win $2201.20Bet HK$100 to win HK$2201.20Bet Rp100 to win Rp220-0.8333Bet RM100 to win RM220 – Ladbrokes
Derrick Lewis
MMA
Travis Browne
UFC
UFC FIght Night 105