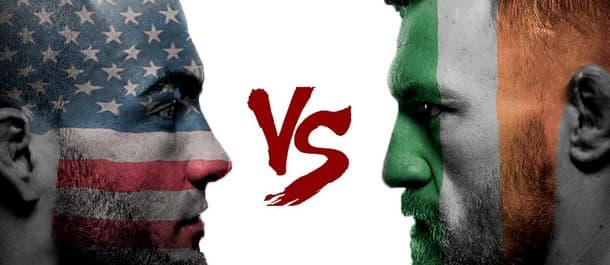 November is an absolute monster month for fight freaks, with some of the biggest and best events of 2016 falling in the penultimate month of the year. We have already had the return of Manny Pacquaio, and now the focus turns to Mixed Martial Arts with a huge event in New York. Why is it a huge event?…well for a number of reasons. First off, Conor McGregor is fighting. Secondly, the UFC has been sanctioned for the first time in the state of New York, and thirdly, the rest of the card is unbelievable. Here we are going to take a look at some of the main fights and offer our selections.
Eddie Alvarez v Conor McGregor
Conor McGregor is the face of the UFC, of that there is no question. However, within each division from Featherweight to Welterweight, there are contenders who feel that McGregor is not in the top five of their particular weight, let alone number one. Prior to the Nate Diaz fights, McGregor had been killing himself to make 145 pounds, but the juice seemed to be worth the squeeze, as he was bigger, stronger and evidently hit harder than all of the competition he faced. Stepping up in weight to 170 to fight Nate Diaz on short notice was a bad idea (easy to say in hindsight), as Conor simply does not have the frame to carry the extra weight naturally. After a strong first round against Diaz, he completely gassed and was submitted via rear naked choke. A serious and specific preparation for the second fight enabled the more skilled McGregor to even the scores, but only by the narrowest of margins. Now he drops to 155lbs, which in reality is his natural weight. Here, we should see the best of McGregor.
The fight with Eddie Alvarez is a pure wrestler/brawler v striker match up. Many are concerned with the potential that Alvarez can take McGregor down at will, and there is a possibility that could happen. On the feet, the Irishman has a significant advantage. He hold a significant reach advantage, has better technique and while both have very good power, McGregor has laser like accuracy. Alvarez can definitely be shaken, and he has been hurt in several fights, but has shown good powers of recovery.
This fight could be a tale of two halves. If it goes early, it is likely to be McGregor, and if late, then Alvarez could see his hand raised. The UFC brass will definitely be pushing for another victory for the man from Dublin, but the fight looks a real toss up on paper.
Recommended bets:
0.5 points Conor McGregor KO/TKO/DQ Round 1 at 3.75Bet €100 to win €37511/4Bet £100 to win £375+275Bet $100 to win $3752.75Bet HK$100 to win HK$3752.75Bet Rp100 to win Rp375-0.3636Bet RM100 to win RM375 with Paddy Power and Bet365
0.5 points Conor McGregor KO/TKO/DQ Round 2 at 7.00Bet €100 to win €7006/1Bet £100 to win £700+600Bet $100 to win $7006.00Bet HK$100 to win HK$7006.00Bet Rp100 to win Rp700-0.1667Bet RM100 to win RM700 with Bet365
0.5 points Eddie Alvarez KO/TKO/DQ Round 4 at 26.00Bet €100 to win €260025/1Bet £100 to win £2600+2500Bet $100 to win $260025.00Bet HK$100 to win HK$260025.00Bet Rp100 to win Rp2600-0.0400Bet RM100 to win RM2600 with BetVictor and Bet365
0.5 points Eddie Alvarez KO/TKO/DQ Round 5 at 34.00Bet €100 to win €340033/1Bet £100 to win £3400+3300Bet $100 to win $340033.00Bet HK$100 to win HK$340033.00Bet Rp100 to win Rp3400-0.0303Bet RM100 to win RM3400 with Bet365 and BetVictor
Chris Weidman v Yoel Romero
Chris Weidman against Yoel Romero is a particularly intuiting fight and could easily top the bill on any other card. Weidman gained notoriety for bringing the long standing reign of middleweight hall of famer Anderson Silva to a juddering holt, and he was considered by many to have the potential to reign supreme for a number of years like his Brazilian predecessor. However, when coming up against the Californian stud Luke Rockhold, Weidman came unstuck after throwing a number of sloppy strikes, and he was eventually finished. The New York native took a significant amount of punishment in that battle and it remains to be seen how he has recovered from that loss, both mentally and physically.
A stand out wrestler with a vicious ground game, Weidman on top form is a handful for anyone – however the same can most certainly be said about his opponent Yoel Romero. The Cuban native is a behemoth, and how he makes the 185lb limit is beyond comprehension. Unrivalled strength and power have seen him get past the likes of Tim Kennedy, Lyoto Machida and Ronaldo Souza in his last three fights. There has been a common theme in Romero's fights however – he does tire in the later rounds (no surprise given the amount of muscle mass he has to carry). An extremely explosive wrestler and striker in the early going, Romero may be susceptible late on if Weidman can weather the early storm.
Again, it looks like one fighter early, or one later. We cannot see this going the distance. Weidman needs to be intelligent and hit and move early. His striking is not phenomenal, but it was solid enough to knock out Anderson Silva (albeit the then champion did seem to get a little complacent). Romero will be looking to bulldoze he way through the New Yorker and will hope he can land something early. As long as Weidman keeps sensible though, then he can weather that early storm and use his own exceptional wrestling to keep out of trouble, and finish a gassed Romero in the late rounds.
Recommended bets:
1 point win Chris Weidman KO/TKO/DQ Round 2 at 9.00Bet €100 to win €9008/1Bet £100 to win £900+800Bet $100 to win $9008.00Bet HK$100 to win HK$9008.00Bet Rp100 to win Rp900-0.1250Bet RM100 to win RM900 with BetVictor
1 point win Chris Weidman KO/TKO/DQ Round 3 at 15.00Bet €100 to win €150014/1Bet £100 to win £1500+1400Bet $100 to win $150014.00Bet HK$100 to win HK$150014.00Bet Rp100 to win Rp1500-0.0714Bet RM100 to win RM1500 with BetVictor
Tips Summary
Alvarez v McGregor
UFC 205, Saturday 12th November
Conor McGregor KO/TKO/DQ Round 1 at 3.75Bet €100 to win €37511/4Bet £100 to win £375+275Bet $100 to win $3752.75Bet HK$100 to win HK$3752.75Bet Rp100 to win Rp375-0.3636Bet RM100 to win RM375
Conor McGregor KO/TKO/DQ Round 2 at 7.00Bet €100 to win €7006/1Bet £100 to win £700+600Bet $100 to win $7006.00Bet HK$100 to win HK$7006.00Bet Rp100 to win Rp700-0.1667Bet RM100 to win RM700
Eddie Alvarez KO/TKO/DQ Round 4 at 26.00Bet €100 to win €260025/1Bet £100 to win £2600+2500Bet $100 to win $260025.00Bet HK$100 to win HK$260025.00Bet Rp100 to win Rp2600-0.0400Bet RM100 to win RM2600
Eddie Alvarez KO/TKO/DQ Round 5 at 34.00Bet €100 to win €340033/1Bet £100 to win £3400+3300Bet $100 to win $340033.00Bet HK$100 to win HK$340033.00Bet Rp100 to win Rp3400-0.0303Bet RM100 to win RM3400
Wiedman v Romero
UFC 205, Saturday 12th November
Chris Weidman KO/TKO/DQ Round 2 at 9.00Bet €100 to win €9008/1Bet £100 to win £900+800Bet $100 to win $9008.00Bet HK$100 to win HK$9008.00Bet Rp100 to win Rp900-0.1250Bet RM100 to win RM900
Chris Weidman KO/TKO/DQ Round 3 at 15.00Bet €100 to win €150014/1Bet £100 to win £1500+1400Bet $100 to win $150014.00Bet HK$100 to win HK$150014.00Bet Rp100 to win Rp1500-0.0714Bet RM100 to win RM1500
Conor McGregor
Eddie Alvarez
MMA
UFC 205