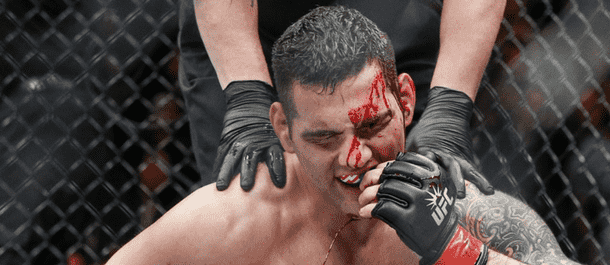 Chris Weidman vs. Gegard Mousasi
UFC 210 Co-Main Event – Middleweight Bout
Two fighters with contrasting trajectories collide in the co-main event at UFC 210 when Gegard Mousasi battles Chris Weidman in a highly anticipated middleweight bout. In a division where there is a high-level of uncertainty, mainly stemming from Michael Bisping being crowned champion after defeating Luke Rockhold at UFC 199, this is one of the fights that made the most sense in the eyes of the fans and the organisation.
Chris Weidman is currently on the first losing streak of his professional career as a mixed martial artist after losing consecutively to Luke Rockhold and Yoel Romero. Before this, Weidman looked to be an unstoppable force inside the octagon; scoring wins over Anderson Silva and Lyoto Machida. It can be argued, though, that Weidman's two losses were on the back of temporary lapses in awareness or attention as a simple mistake ensured that he paid the price immediately in these two fights.
The first mistake was attempting a strange spinning back kick against the elite force on the ground that is Luke Rockhold. The second was shooting towards the back leg of Yoel Romero, who immediately exploded upwards and connected his knee brutally on the face of Weidman. 'The All-American' gets his chance to redeem himself now and bounce straight back into contender status if he can defeat Gegard Mousasi, the man who called him out.
Now, two brutal losses typically would lead you down the path of a lowly experienced fighter that could potentially get a disrupted career back on track. However, Weidman instead has to face one of the toughest opponents in the division and a fighter who is arguably riding the hottest streak in mixed martial arts right now – Gegard Mousasi. Mousasi managed a 4-0 record in 2016 and was regarded as having one of the better years in the sport across all organisations and all weight classes. This streak isn't unexpected, Mousasi is a dangerous fighter with elite talent and is worthy of a title-shot if he can defeat Chris Weidman at UFC 210.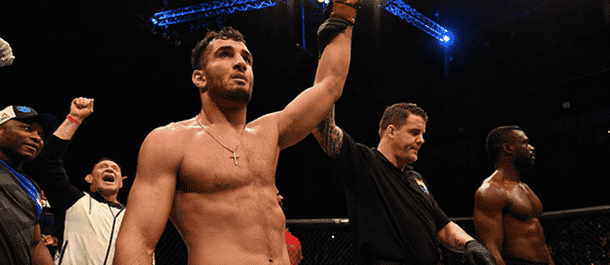 The Breakdown
Gegard Mousasi has been systematically breaking down opponents with extreme patience, comfortability and accuracy. That description probably leads you to believe that he has been scoring decision victories over opponents. However, it's more the case of waiting for the right opportunity to strike as he has KO'd three consecutive opponents, two of these in the first round.
Mousasi is well-known for his excellent jab, a tool that is often underutilised in MMA. He sits behind his jab and stalks forward towards opponents, subconsciously controlling their every movement in the cage. Mousasi is happy to wait patiently for an opponent to make a mistake and when they do – he pounces.
Weidman has found success in his last two fights by pressuring his opponents with forward movement and a high quantity of strikes. He mixed it up well against Yoel Romero with punches and kicks, and it didn't allow Yoel Romero to establish his power as he was always tracking backwards and wasn't able to plant his feet.
As for Weidman's strategy for success, Mousasi claims to already know it:
"I know Chris is going to come forward; he's going to try and put the pressure on me, work on the cardio, do some wrestling, do some striking. But at the end of the day, I'm prepared, I know exactly what he's going to do, so I'm more than prepared. I got my skills, and I'm going to show it on 8th April."
Prediction
"It's definitely going to be a little extra motivation to show he called out the wrong guy." – Chris Weidman
I'm going against the bookmakers in this one and will be backing in Weidman to come out on top against the force that is Gegard Mousasi. Mousasi's composure is what gets him over the line in most fights, but Weidman can match that, staying calm and strategic and out-striking Gegard on the basis of a little more action. Mousasi may land the more damaging shots, but Weidman's activity thrown in with a sprinkle of dominance on the ground will see him get over the line 29-28.
Tips Summary
Recommended Play
Chris Weidman vs. Gegard Mousasi
Chris Weidman to win
Sunday 9th April, 04:30 GMT
Odds: 2.15Bet €100 to win €21523/20Bet £100 to win £215+115Bet $100 to win $2151.15Bet HK$100 to win HK$2151.15Bet Rp100 to win Rp215-0.8696Bet RM100 to win RM215 – Ladbrokes
Extra Play
Chris Weidman vs. Gegard Mousasi
Chris Weidman to win by Decision
Sunday 9th April, 04:30 GMT
Odds: 3.40Bet €100 to win €34012/5Bet £100 to win £340+240Bet $100 to win $3402.40Bet HK$100 to win HK$3402.40Bet Rp100 to win Rp340-0.4167Bet RM100 to win RM340 – Bet365
Chris Weidman
Gegard Mousasi
MMA
UFC
UFC 210