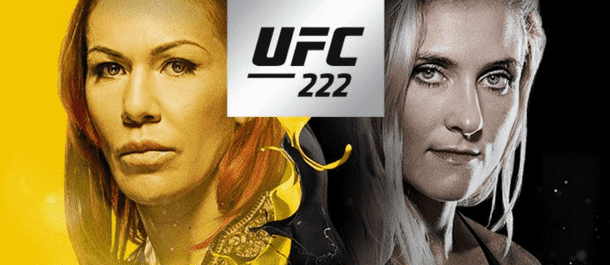 Las Vegas, Nevada – Saturday, March 3 – 11:50 pm (ET) / 4:50am (GMT)
When Max Holloway withdrew from the event due to an injury, it meant that the scheduled UFC Featherweight Championship had to be removed from the upcoming pay-per-view. The UFC desperately attempted to resolve the issue by calling up their list of stars and asking one to fill the void in the main event – only Cris Cyborg did.
Cris Cyborg (19-1) is most dominant female in all of mixed martial arts today. Not just that, but she is quickly becoming increasingly popular because of her exciting fighting style and 'no-care' attitude. When other champions refused to help the UFC out with this main event, Cyborg put her hand forward immediately and jumped at the chance.
For Cyborg, this will be her first appearance after she outscored Holly Holm in December last year. Holm was arguably her toughest test for a very long time and took Cyborg to the scorecards for the first time since 2008. But don't let that take anything away from Cyborg's dominant display. Her unmatched aggression and power punching proved too difficult for Holly Holm over the course of five rounds. Now, she will look to defend her title yet again at UFC 222.
Yana Kunitskaya (10-3) is a 28-year-old Russian mixed martial artist who will be making her UFC debut on one of the biggest stages and against one of the toughest opponents. Thrown straight into the spotlight of a UFC pay-per-view main event, Kunitskaya will be attempting to take the UFC Women's Featherweight Championship from the seemingly unstoppable Cris Cyborg. Kunitskaya recently won the Invicta FC Bantamweight Championship but is clearly making a significant step up in competition when she faces Cyborg at UFC 222.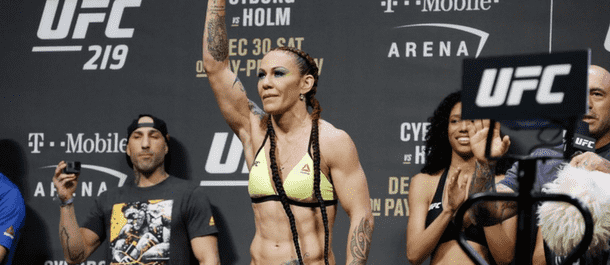 Fight Breakdown
Quite simply, Holly Holm presented the most legitimate threat to Cris Cyborg to date. Her style was the correct way to overcome Cyborg's powerful hands and score with punches of her own. She did this at times, but it was mostly just Cyborg controlling the pace of the fight and pressuring Holm with no real resistance. She did all of this to Holm, who is a world-class striker and one of the very best female kickboxers in the UFC.
If Kunitskaya wants to defeat Cyborg, it's going to take a similar approach.
The only problem is, however, that Kunitskaya isn't on the same level as Holm. So in effect, we're getting a lower quality opponent going up against Cyborg who might even try to fight her in the same way.
It shouldn't end well.
Cris Cyborg is strong in all aspects of the game. Her top pressure and ground and pound is downright nasty. She marches forward with calculated aggression and poses a difficult task for her opponent.
Kunitskaya does have great kicking ability because of her Muay Thai and Taekwondo experience, but it just isn't going to be enough to trouble the champion in this contest. Overall, Kunitskaya could end up as a top-ranked fighter in the women's bantamweight division, but for now she's just going to be fed to the animal that is Cris Cyborg.
It's more than likely that Cyborg will win inside the distance. It's also more than likely that she will win this fight by KO/TKO. However, Kunitskaya has dropped two fights recently via way of submission and Cyborg is an excellent submission artist, could this be her time to showcase her Brazilian Jiu-Jitsu?
Prediction: Cris Cyborg by submission – round one
Betting Market
If my fight breakdown seemed as though this fight is completely one-sided, it's because it is.
The bookmakers agree and the odds were released for Cris Cyborg at 1.09Bet €100 to win €1099/100Bet £100 to win £109-1111Bet $100 to win $1090.09Bet HK$100 to win HK$109-11.11Bet Rp100 to win Rp1090.0900Bet RM100 to win RM109. Now, it is difficult to find her for better odds than 1.07Bet €100 to win €1077/100Bet £100 to win £107-1429Bet $100 to win $1070.07Bet HK$100 to win HK$107-14.29Bet Rp100 to win Rp1070.0700Bet RM100 to win RM107.
If you're looking to bet on Kunitskaya, you can find her for odds of 12.00Bet €100 to win €120011/1Bet £100 to win £1200+1100Bet $100 to win $120011.00Bet HK$100 to win HK$120011.00Bet Rp100 to win Rp1200-0.0909Bet RM100 to win RM1200 or more at most sites.
Betting Play
Betting on Cris Cyborg in this contest just doesn't really make sense.
Instead, look for value in other markets. When the extended markets are released, definitely take the chance on betting on Cris Cyborg to win in round one, or even consider placing a bet on Cyborg to win via submission. These two markets will have excellent value and are well worth betting on.
For prop markets like these, we suggest betting with BetOnline, BetVictor, or Bovada, as each of these platforms are generally fast to get their prop markets up and have great odds.
https://www.youtube.com/watch?v=rJB34wXyUqI
Cris Cyborg
UFC 222
Yana Kunitskaya