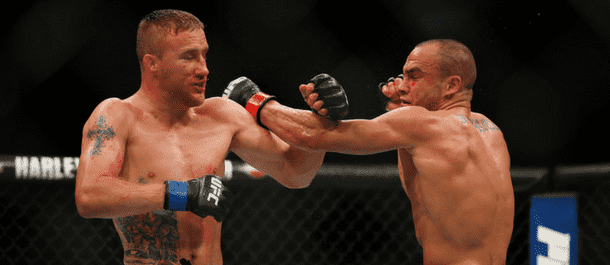 Glendale, Arizona – Saturday, April 14 – 9:30 pm (ET) / 1:30am (GMT)
Headlining the UFC's return to FOX is a brilliant lightweight fight between Dustin Poirier and Justin Gaethje. These two are renowned for their never-say-die and always-forward attitudes inside the UFC's Octagon and it's going to be a spectacular main event.
Dustin Poirier is making some big strides lately. Poirier has always been a dangerous contender in the UFC's 155 lbs division but after picking up a big win over Anthony Pettis in his most recent contest, he's now making even more waves.
The win marked a continuation of good form for Pettis, who fought a back-and-forth war with Eddie Alvarez before it was called a no contest. In fact, Poirier has only lost once in his last eight outings. He lost to Michael Johnson in devastating fashion at UFC Fight Night 94 and that was his first defeat since losing to Conor McGregor in 2014.
Justin Gaethje is a hardcore fan-favorite in the UFC. He's got this unparalleled type of aggression that sees him march forward and bring the pressure non-stop. To go with his excellent offensive wrestling (which he barely uses), he has excellent boxing ability and powerful leg kicks to go with it all.
Gaethje debuted in the UFC in a big way when he crushed Michael Johnson in two rounds in July last year. His undefeated career record came to an end in December, though, when he couldn't hang in there with the extra-durable Eddie Alvarez.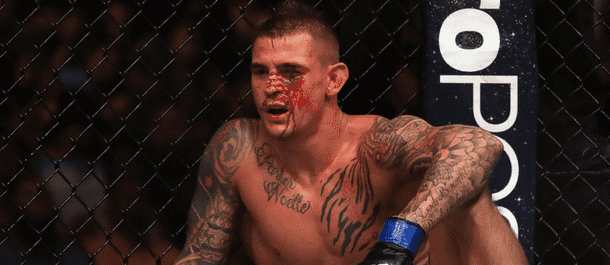 Fight Breakdown
Expect violence.
Poirier and Gaethje are going to meet in the middle of the Octagon and slug it out until one man goes down and can't come back up. That's not a prediction, that's more like a known fact.
Let's break down what we know and understand about these two fighters.
Recently, Poirier's boxing has been a major reason for his success in the cage. He's moving forward and side-to-side and applying pressure with his movement and hands. Against Pettis, Poirier was controlling the action while standing up but mostly controlled the fight on the ground after shooting in and successfully taking Pettis down.
Is that something that will work against one of the very best wrestlers to enter the UFC in recent times? Probably not.
More than anything, though, Justin Gaethje is going to put his chin on the line against Poirier and attempt to outlast him. Before the Alvarez fight, we all thought that this was a strategy that could work against any of the top contenders in the division – no one had badly hurt Gaethje previously. They had tagged him, sure, but he never showed any weakness.
Gaethje is actually very difficult to strike clean. He holds his hands up high and blocks all incoming shots with his forearms. The problem with that strategy, however, is that it leaves his body vulnerable to all kinds of shots. Alvarez realized this after just three minutes of time inside the cage with Gaethje and began to feint upstairs before ripping in a number of heavy punches to the body. His work to the body was an investment of sorts and slowed Gaethje down immediately.
Has Gaetjhe improved his guard since the last time we saw him? Is Poirier capable of working the body in the same manner that Alvarez did? If he does, will Gaethje hammer home some leg kicks in return?
We'll find out this weekend.
Betting Market
Dustin Poirier is the favored man in this matchup and currently sits at 1.77Bet €100 to win €17777/100Bet £100 to win £177-130Bet $100 to win $1770.77Bet HK$100 to win HK$177-1.30Bet Rp100 to win Rp1770.7700Bet RM100 to win RM177.
If you're betting on Gaethje this weekend you can expect odds of 2.17Bet €100 to win €217117/100Bet £100 to win £217+117Bet $100 to win $2171.17Bet HK$100 to win HK$2171.17Bet Rp100 to win Rp217-0.8547Bet RM100 to win RM217 at BetOnline.
Betting Play
There's just something to love about Justin Gaethje in this matchup. Poirier walks forward and might find himself managing a badly damaged leg if Gaethje connects with a couple of his renowned leg kicks. Also, Gaethje isn't the best 'boxer' by any means, but packs a punch. He couldn't find a home for his hands against Alvarez, but Poirier doesn't have the same ability to slip punches as "The Underground King." I'm leaning Gaethje inside the distance.
Best Bet: Justin Gaethje to win 2.17Bet €100 to win €217117/100Bet £100 to win £217+117Bet $100 to win $2171.17Bet HK$100 to win HK$2171.17Bet Rp100 to win Rp217-0.8547Bet RM100 to win RM217 at BetOnline.
Dustin Poirier
Justin Gaethje
UFC on FOX 29