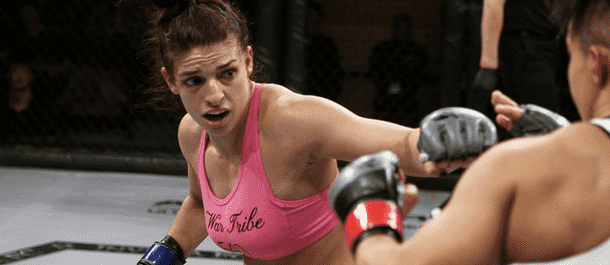 Mackenzie Dern vs. Amanda Cooper
Saturday, May 12 – 11:00 am (ET) / 3:00am (GMT)
Mackenzie Dern returns not long after her UFC debut to keep the momentum going against Amanda Cooper in this exciting female clash at UFC 224.
Mackenzie Dern is a world-class Brazilian Jiu-Jitsu athlete. She competed at the highest level and defeated many of the best names in the sport. Since moving to MMA, she is now undefeated after six fights. Dern made her UFC debut earlier this year and picked up a narrow split decision victory against Ashley Yoder. It wasn't the mind-blowing performance that many were expecting from Dern, but we did see a glimpse of her true potential. In the third and final round, Dern finally managed a takedown and she easily controlled Yoder while on the mat.
Dern will be up against Amanda Cooper, who has put together a 4-3 record as a professional. Cooper isn't a revolutionary athlete by any means and she rightfully sits near the bottom of the division here in the UFC. Cooper has won two of her last three bouts, yet these wins were against Angela Magana and Anna Elmose – nothing spectacular. However, she did dominate Magana before picking up a second-round stoppage.
Betting Market and Prediction
Unsurprisingly, Mackenzie Dern is a significant betting favorite in this contest. She can be found at odds of 1.46Bet €100 to win €14623/50Bet £100 to win £146-217Bet $100 to win $1460.46Bet HK$100 to win HK$146-2.17Bet Rp100 to win Rp1460.4600Bet RM100 to win RM146, and that means there is still some value to be had by betting on her. Cooper's odds are shifting, but you can bet on her at close to 3.00Bet €100 to win €3002/1Bet £100 to win £300+200Bet $100 to win $3002.00Bet HK$100 to win HK$3002.00Bet Rp100 to win Rp300-0.5000Bet RM100 to win RM300.
The Total Rounds market has been set at 2.5 for this fight.
Prediction: If we have learned one thing about Mackenzie Dern it's that she isn't always capable of getting the fight to the mat. So, as good as her technique might be while on the ground, she is lacking the ability to get down there in the first place. Cooper might be able to defend the takedowns early, but eventually Dern will secure one.
Mackenzie Dern by Submission – Round 3
Bet: Mackenzie Dern to win at BetOnline – 1.46Bet €100 to win €14623/50Bet £100 to win £146-217Bet $100 to win $1460.46Bet HK$100 to win HK$146-2.17Bet Rp100 to win Rp1460.4600Bet RM100 to win RM146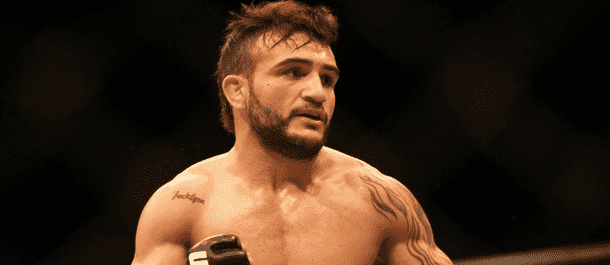 John Lineker vs. Brian Kelleher
Saturday, May 12 – 10:30 am (ET) / 2:30am (GMT)
This certainly isn't a battle of the best bantamweights in the division, but John Lineker vs. Brian Kelleher will be an action-packed between two guys who are looking to join that group.
John Lineker's moniker is "Hands of Stone." As you can probably imagine, the power that he packs into his punches is up there with the best of the division. Lineker walks his opponent down before launching a vicious assault of punches that includes hooks to the body and the head. He is sometimes regarded as one-dimensional, but it has proven to work for him. He's won seven of his last eight fights and his only loss is to the current champion, TJ Dillashaw. Most recently, he returned to form with a win over Marlon Vera over the course of three rounds. It wasn't the knockout we were expecting, but it was still a good performance overall.
Brian Kelleher is one of the biggest mysteries in the division. He's good; he's proven that now against Renan Barao and Iuri Alcantara since arriving in the UFC. But, just how good is he? Kelleher has a nasty guillotine choke up his sleeve that he can use to submit anyone who puts their head in the wrong position. When standing, he's a little tricky. He uses some awkward movements and strikes to outstrike his opponent when it matters. He'll need to bring his very best footwork to avoid being pinned against the cage by John Lineker, however.
Betting Market and Prediction
John Lineker is a deserving favorite and can be found at odds of 1.43Bet €100 to win €14343/100Bet £100 to win £143-233Bet $100 to win $1430.43Bet HK$100 to win HK$143-2.33Bet Rp100 to win Rp1430.4300Bet RM100 to win RM143 as of right now. Kelleher is a moderate underdog and sits at 3.10Bet €100 to win €31021/10Bet £100 to win £310+210Bet $100 to win $3102.10Bet HK$100 to win HK$3102.10Bet Rp100 to win Rp310-0.4762Bet RM100 to win RM310 for those looking to take his side. The Total Rounds market is at 2.5, but Vegas is expecting the fight to make it the distance because the Over 2.5 Rounds selection is at 1.45Bet €100 to win €1459/20Bet £100 to win £145-222Bet $100 to win $1450.45Bet HK$100 to win HK$145-2.22Bet Rp100 to win Rp1450.4500Bet RM100 to win RM145.
Prediction: Although Lineker didn't finish Marlon Vera, he's always on the lookout for his finishing shots. He packs tremendous power and if his hooks clip the chin of an opponent, it's game over. Can Kelleher avoid the strikes? Let's not forget that Kelleher has that sweet guillotine choke, as well, so Lineker will need to be careful when engaging.
I think Kelleher can avoid Lineker for a while, but Lineker is going to clip him eventually.
John Lineker by KO/TKO – Round 2
Bet: Total Rounds – Under 2.5 at BetOnline – 2.92Bet €100 to win €29248/25Bet £100 to win £292+192Bet $100 to win $2921.92Bet HK$100 to win HK$2921.92Bet Rp100 to win Rp292-0.5208Bet RM100 to win RM292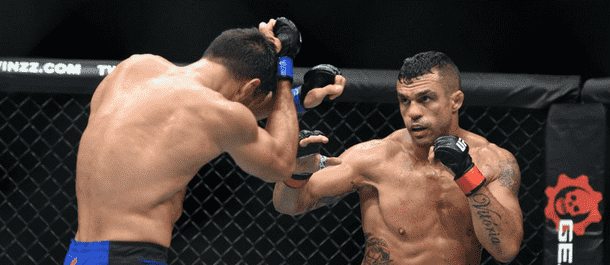 Vitor Belfort vs. Lyoto Machida
Saturday, May 12 – 10:00 am (ET) / 2:00am (GMT)
Well, what do we have here? A battle between two well-known and highly regarded veterans will take place as the opening bout of the main card when Vitor Belfort steps into the cage with Lyoto Machida.
Vitor Belfort was once a champion; he's now a shadow of the past. He's been crushed in recent fights but managed to pick up a win against Nate Marquardt the last time he was in Brazil. The decision was somewhat controversial, but it was exactly what Belfort needed to start regaining some momentum. The victory was necessary to secure this intense Brazil vs. Brazil matchup where with Lyoto Machida.
Like Belfort, Lyoto Machida is a former champion and one of the legends of our sport. He pathed the way for karate in the UFC and used his terrifyingly powerful and accurate kicks to knock out many. After a string of bad performances, Machida returned to the feeling of victory when he scored a split decision win over the prospect that is Eryk Anders in a main event here in Brazil. Like Belfort's last performance, it was a closely contested fight.
Betting Market and Prediction
The odds aren't exactly what I was expecting for this fight. See, Machida is entering the cage as a moderate betting favorite at close to 1.39Bet €100 to win €13939/100Bet £100 to win £139-256Bet $100 to win $1390.39Bet HK$100 to win HK$139-2.56Bet Rp100 to win Rp1390.3900Bet RM100 to win RM139 while Belfort is sitting at juicy odds of 3.30Bet €100 to win €33023/10Bet £100 to win £330+230Bet $100 to win $3302.30Bet HK$100 to win HK$3302.30Bet Rp100 to win Rp330-0.4348Bet RM100 to win RM330.
It's hard to write-off Belfort just yet, expecially in a matchup against another fading veteran. However, Machida does have one thing going for him in this matchup – distance.
Machida is an expert at controlling and managing the pace and range of the fight. He showed this against Eryk Anders. Belfort might have a very difficult time tracking down Machida and landing his powerful hands, especially if Machida uses a selection of long punches and kicks to keep Belfort away.
I could see Belfort tagging Machida and maybe stunning him, but it's easier to see Machida picking apart Belfort for three rounds.
Lyoto Machida by unanimous decision
Bet: Lyoto Machida to win at BetOnline – 1.39Bet €100 to win €13939/100Bet £100 to win £139-256Bet $100 to win $1390.39Bet HK$100 to win HK$139-2.56Bet Rp100 to win Rp1390.3900Bet RM100 to win RM139
Betting Plays
Best Bets:
Mackenzie Dern to win at BetOnline – 1.46Bet €100 to win €14623/50Bet £100 to win £146-217Bet $100 to win $1460.46Bet HK$100 to win HK$146-2.17Bet Rp100 to win Rp1460.4600Bet RM100 to win RM146
John Lineker vs. Brian Kelleher – Total Rounds – Under 2.5 at BetOnline – 2.92Bet €100 to win €29248/25Bet £100 to win £292+192Bet $100 to win $2921.92Bet HK$100 to win HK$2921.92Bet Rp100 to win Rp292-0.5208Bet RM100 to win RM292
Lyoto Machida to win at BetOnline – 1.39Bet €100 to win €13939/100Bet £100 to win £139-256Bet $100 to win $1390.39Bet HK$100 to win HK$139-2.56Bet Rp100 to win Rp1390.3900Bet RM100 to win RM139
John Lineker
Mackenzie Dern
UFC 224