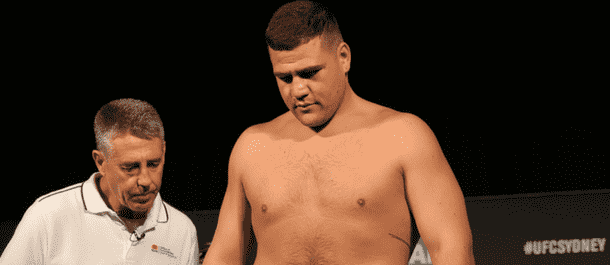 Tai Tuivasa vs. Cyril Asker
Saturday, February 10 – 11:00 pm ET / 4:00 am GMT
In yet another heavyweight battle that features on the UFC 221 main card, Tai Tuivasa will step into the cage with Cyril Asker.
Tai Tuivasa is a terrifying fighter – it's just that simple. He's now 8-0 and successfully debuted in the organization with an outstanding first-round knockout of Rashad Coulter in November last year. Tuivasa dropped Coulter with a heavy leg kick before launching a powerful knee into the chin of Coulter and folding him up. Now, he looks to impress in front of his Australian fans in Perth at UFC 221.
Cyril Asker is the exact definition of a middle-of-the-road heavyweight in the UFC right now. Since joining the UFC in April 2014, Asker has traded wins and losses and now sits at 2-2 in the promotion and an overall record of 9-3. His two wins have been impressive – he finished Dmitry Smolyakov and Yaozong Hu, but dropped fights to Walt Harris and Jared Cannonier.
Betting Market and Prediction
As expected, Tai Tuivasa opens up as a significant betting favorite in this contest with Cyril Asker. The odds haven't fluctuated all that much and Tai Tuivasa remains as a 1.36Bet €100 to win €1369/25Bet £100 to win £136-278Bet $100 to win $1360.36Bet HK$100 to win HK$136-2.78Bet Rp100 to win Rp1360.3600Bet RM100 to win RM136 favorite while Asker sits at 3.55Bet €100 to win €35551/20Bet £100 to win £355+255Bet $100 to win $3552.55Bet HK$100 to win HK$3552.55Bet Rp100 to win Rp355-0.3922Bet RM100 to win RM355.
Tuivasa isn't ready to take on the big guns in the division just yet, but he's well on the way. A matchup with Asker makes plenty of sense from the UFC's perspective, who are looking to grow this rising talent slowly but surely. Asker is probably one of the easiest fights in the entire division and Tuivasa should put him away with ease.
You can find generous odds of 1.36Bet €100 to win €1369/25Bet £100 to win £136-278Bet $100 to win $1360.36Bet HK$100 to win HK$136-2.78Bet Rp100 to win Rp1360.3600Bet RM100 to win RM136 for Tuivasa to defeat Asker this weekend at BetOnline.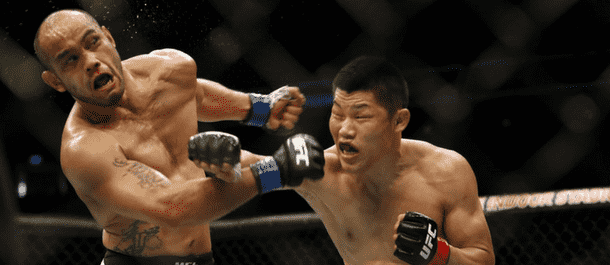 Jake Matthews vs. Li Jingliang
Saturday, February 10 – 10:30 pm ET / 3:30 am GMT
Local favorite Jake Matthews will look to stop the rise of the Chinese Jingliang Li when they meet in a welterweight bout at UFC 221.
Jake Matthews was once one of the best up-and-coming fighters in the lightweight division. He won four of his first five bouts, dropping one to the talented James Vick. Another loss to Kevin Lee is no drama, considering that Lee is also an excellent fighter in the division. But after that, he dropped a strange split decision to Andrew Holbrook at UFC Fight Night 101. However, he did bounce back against Bojan Velickovic and score a victory, but it wasn't impressive by any means.
Li Jingliang is riding a four-fight winning streak as we approach UFC 221. It's not just any old streak, though, it's been filled with exciting moments and back-and-forth fights with a couple of talented fighters. His fight with Frank Camacho was a slugfest and eventually won "Fight of the Night" at UFC Fight Night 111. Just after that, "The Leech" defeated Zak Ottow in the first round and showcased his punching power.
Betting Market and Prediction
The local star is the underdog in this scenario. Matthews opened up at 2.67Bet €100 to win €267167/100Bet £100 to win £267+167Bet $100 to win $2671.67Bet HK$100 to win HK$2671.67Bet Rp100 to win Rp267-0.5988Bet RM100 to win RM267 but has since moved into 2.60Bet €100 to win €2608/5Bet £100 to win £260+160Bet $100 to win $2601.60Bet HK$100 to win HK$2601.60Bet Rp100 to win Rp260-0.6250Bet RM100 to win RM260 over the last couple of days. Jingliang Li can be found at 1.54Bet €100 to win €15427/50Bet £100 to win £154-185Bet $100 to win $1540.54Bet HK$100 to win HK$154-1.85Bet Rp100 to win Rp1540.5400Bet RM100 to win RM154, which takes away some of the value of betting on him in Perth this weekend.
While "The Leech" is likely to score the victory over Matthews, he does put his chin on the line at times. Li is an all-guns-blazing type of fighter and although Matthews can generally slow the pace of a fight down, it remains to be seen whether he can handle the power of the Chinese fighter.
There is excellent value for betting that this fight doesn't make the distance this weekend and you can find odds of 2.75Bet €100 to win €2757/4Bet £100 to win £275+175Bet $100 to win $2751.75Bet HK$100 to win HK$2751.75Bet Rp100 to win Rp275-0.5714Bet RM100 to win RM275 for Total Rounds – Under 2.5 at BetOnline.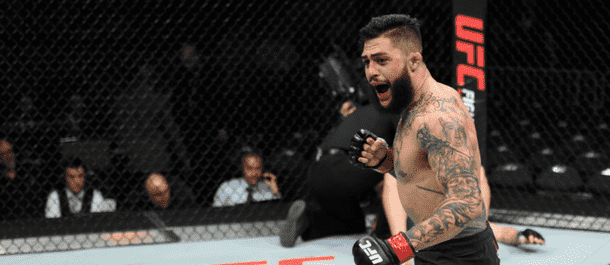 Tyson Pedro vs. Saparbek Safarov
Saturday, February 10 – 10:00 pm ET / 3:00 am GMT
A local star will get the main card started when Tyson Pedro attempts to put on a show for the Australian fans against Saparbek Safarov.
Tyson Pedro started to rise through the light heavyweight division after picking up big wins over Khalil Rountree and Paul Craig. These two wins extended his first-round finishing streak to six fights. But it all went downhill against Ilir Latifi at UFC 215. Pedro had plenty of trouble with Latifi's experience and ability to slow the fight down.
Saparbek Safarov joined the UFC with an 8-0 record but suffered his first-ever defeat when he faced Gian Villante in his debut matchup with the organization. Safarov was scheduled to fight with Marcos Rogerio de Lima in September last year, but the fight fell through due to de Lima's issues with USADA. Now, after close to 15 months out of the cage, Safarov will return.
Betting Market and Prediction
The betting market is extremely strange for this matchup because it seems to be playing in opposite directions.
Safarov, a Sambo and grappling-based fighter will likely rely on takedowns and grinding out the fight if he wants to win. In fact, his win condition is probably outworking Pedro for a decision victory. On the other hand, if Pedro can stop the takedown attempts and keep the fight standing, he should be able to use his explosive striking to finish the fight in the first or second round.
Where things get strange is that Pedro is an overwhelming betting favorite, but the odds for this fight lasting over/under 1.5 rounds are almost even.
I'll be backing Pedro to get the job done early, but by way of taking the Total Rounds – Under 1.5 market at odds of 1.85Bet €100 to win €18517/20Bet £100 to win £185-118Bet $100 to win $1850.85Bet HK$100 to win HK$185-1.18Bet Rp100 to win Rp1850.8500Bet RM100 to win RM185 at BetOnline.
Betting Plays
Best Bets:
Tai Tuivasa vs. Cyril Asker
Tai Tuivasa to win: 1.36Bet €100 to win €1369/25Bet £100 to win £136-278Bet $100 to win $1360.36Bet HK$100 to win HK$136-2.78Bet Rp100 to win Rp1360.3600Bet RM100 to win RM136 at BetOnline
Jake Matthews vs. Li Jingliang
Total Rounds – Under 2.5: 2.75Bet €100 to win €2757/4Bet £100 to win £275+175Bet $100 to win $2751.75Bet HK$100 to win HK$2751.75Bet Rp100 to win Rp275-0.5714Bet RM100 to win RM275 at BetOnline
Tyson Pedro vs. Saparbek Safarov
Total Rounds – Under 1.5: 1.85Bet €100 to win €18517/20Bet £100 to win £185-118Bet $100 to win $1850.85Bet HK$100 to win HK$185-1.18Bet Rp100 to win Rp1850.8500Bet RM100 to win RM185 at BetOnline