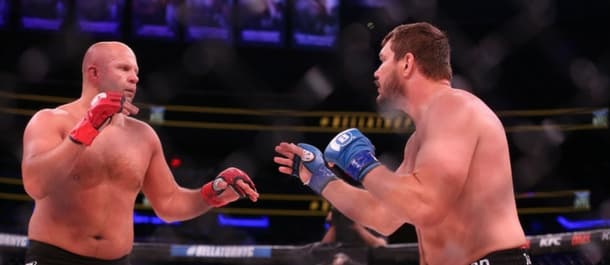 It's finally time for the third installment of the Bellator Heavyweight Grand Prix. After Chael Sonnen progressed to the semi-finals, it's about time we found out who will be facing him.
In this first-round matchup of the tournament, Fedor Emelianenko will be facing Frank Mir in a clash that will headline Bellator 198 at the Allstate Arena in Rosemont, Illinois on Saturday, April 28.
Fedor Emelianenko is an all-time great. He's probably even more than that. In fact, he's arguably the best heavyweight the sport has ever seen and one of the very best competitors among any weight class.
However, he certainly didn't look like it in his Bellator debut against Matt Mitrione. Well, he was barely given a chance. Mitrione crushed Fedor with a punch just one minute into the contest, yet Fedor connected with a blow of his own at the exact same time. They both went crashing down to the mat. However, it was Mitrione that got back to his feet the fastest and he ended up finishing the fight after what was a chaotic 74 seconds.
Emelianenko surely still has it. We are assuming, but it seems like a safe assumption. He will certainly have a speed and power advantage over Frank Mir on the feet in this contest, and he will be looking to use that early and often.
Frank Mir has also been hanging around the heavyweight division for a very long time. He hasn't done as much as Fedor, of course, but he is a well-regarded competitor and someone that many of started watching as we began to understand the sport.
However, the Mir that we have seen lately is a shade of the past, much like Fedor. Mir was brutally knocked out by Mark Hunt the last time we saw him inside the UFC's Octagon early in 2016. Since then, he hasn't competed. He also looks terribly out of shape right now. Is he fit enough to compete in a three-round matchup? Who knows. All we know is that Mir will cause Fedor troubles if this fight gets to the mat.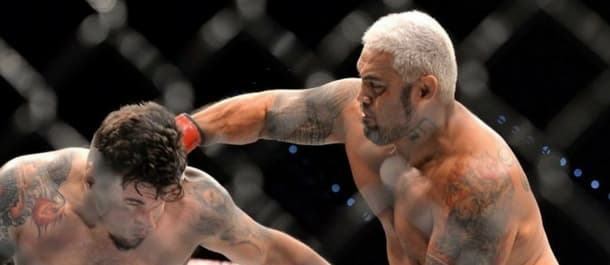 Fight Breakdown
Well, it's about time we break this one down.
There's not a lot to it, really. Simply, Fedor will be looking to stamp his authority on the contest while this remains standing. He will likely employ a patient approach and look to land how powerful hands and send Mir into a dream-state. He'll need to be careful to avoid a Mir takedown, however, and this might slow down the pace even more.
I struggle to see a scenario in which Fedor does not land flush with his knockout power. You'd think that'd be the end of this breakdown, then, right? Not so fast.
There's a real problem that lies in this matchup. If Fedor drops Mir and goes to the canvas with him, bettors on Fedor's side will be furious. Mir is exceptionally dangerous on the mat and Fedor would be making a huge mistake by following him down there (remember Werdum vs. Emelianenko?).
Betting Market
I was surprised to see Fedor Emelianenko as a betting underdog in this one. So surprised, in fact, that I checked multiple sources just to confirm. Fedor is currently 2.22Bet €100 to win €22261/50Bet £100 to win £222+122Bet $100 to win $2221.22Bet HK$100 to win HK$2221.22Bet Rp100 to win Rp222-0.8197Bet RM100 to win RM222 at BetOnline. Frank Mir is –135.00Bet €100 to win €13500134/1Bet £100 to win £13500+13400Bet $100 to win $13500134.00Bet HK$100 to win HK$13500134.00Bet Rp100 to win Rp13500-0.0075Bet RM100 to win RM13500 and a slight betting favorite here.
Prediction and Best Bet
The prediction here is Fedor Emelianenko by first round KO/TKO. He can get it done, and surprise many it seems. We also get some excellent value to go with this selection, so we'll run with that one straight.
Best Bet: Fedor Emelianenko to win – 2.22Bet €100 to win €22261/50Bet £100 to win £222+122Bet $100 to win $2221.22Bet HK$100 to win HK$2221.22Bet Rp100 to win Rp222-0.8197Bet RM100 to win RM222 at BetOnline.
Bellator 198
Fedor Emelianenko
Frank Mir