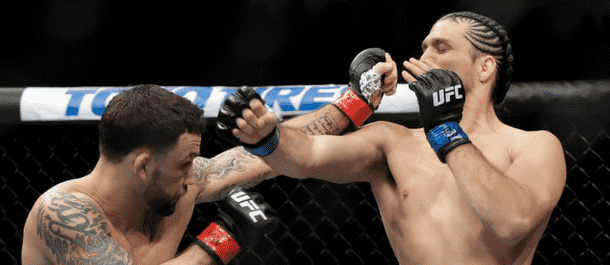 Frankie Edgar vs. Cub Swanson
Sunday, April 25 – 12:00 am (ET) / 4:00am (GMT)
Believe it or not, the illustrious couple of Frankie Edgar and Cub Swanson have gone from being top contenders in the UFC's featherweight division to now two veterans who have been demolished by the rising star in Brian Ortega.
Frankie Edgar was the last victim of Brian Ortega. Surprisingly, he was beaten up by Ortega in a matchup that was fought entirely on the feet. It was a shock loss for Edgar, who was originally scheduled to fight with Max Holloway for the UFC Featherweight Championship. Instead, he took a tough fight with Ortega and paid the price. Our thoughts of Edgar haven't changed, however. He's still a dangerous wrestler and has an excellent ability to apply pressure when necessary.
Cub Swanson was inching closer to a title shot of his own before he ran into Ortega. He had picked up four consecutive wins and was moving up the rankings swiftly but a loss to Ortega bounced him back down the running. Now, a win over Edgar here could prove to be a vital matchup for the 34-year-old.
Betting Market and Prediction
The bookmakers are clearly liking Frankie Edgar's track record of dominance here and he enters this one as a huge favorite over Cub Swanson. Let's not forget that Swanson has been tearing it up in his own right lately and makes for an interesting bet here in the co-main event.
Prediction: Cub Swanson by split decision
We'll be betting on Swanson to win at the great odds over at BetOnline.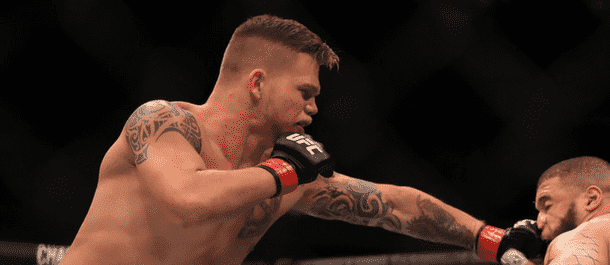 Justin Willis vs. Chase Sherman
Saturday, April 24 – 11:30 pm (ET) / 3:30am (GMT)
Two heavyweights will go to war when Justin Willis meets Chase Sherman inside the UFC's Octagon in Atlantic City.
Despite not carrying much name-value, Justin Willis is undefeated in his last six fights and hasn't tasted defeat in the UFC after two outings. Willis defeated James Mulheron and Allen Crowder in 2017 and now looks to make it three in a row against Chase Sherman.
Chase Sherman, the "Vanilla Gorilla," started to get things going in the UFC when he broke his two-fight losing skid and picked up two big wins of his own in 2017. Unfortunately for the 28-year-old, his form came to an end when he clashed with Shamil Abdurakhimov in Shanghai, China, in November. Now, the Twitter-famous UFC star will hope to score another knockout here in Atlantic City.
Betting Market and Prediction
Justin Willis is superb and it's going to be tough for Chase Sherman to hang in there for too long with his heavy hands. This one should end early. The bookmakers agree.
Prediction: Justin Willis by KO/TKO – Round 1
We'll be betting on Justin Willis to win at BetVictor.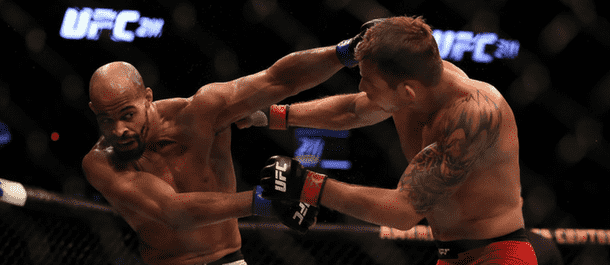 David Branch vs. Thiago Santos
Saturday, April 24 – 11:00 pm (ET) / 3:00am (GMT)
David Branch might have missed out on a fight with Yoel Romero, but he picks up another tough challenger in Thiago Santos at UFC Fight Night 118.
David Branch might have missed his opportunity to rise through the middleweight rankings when his battle with Yoel Romero was canceled. After losing to Luke Rockhold at UFC Fight Night 116, Branch was then slated to face Romero in Orlando. However, an injury to Robert Whittaker sent Romero to Australia to challenge Rockhold and left Branch without an opponent. Now, Branch scores a matchup with Thiago Santos, which is certainly more winnable (to say the least).
Thiago Santos is streaking through the middleweight division again now that he has picked up four consecutive KO/TKO victories. Santos's run as a ranked contender came to a sudden end in 2016 when he lost to UFC debutant Eric Spicely. He was forced to take the long road back to the top #15 and has since defeated Jack Marshman, Gerald Meerschaert, Jack Hermansson, and then Anthony Smith. None of these are easy opponents, yet Santos made short work of all of them.
Betting Market and Prediction
Of course, David Branch is underrated here yet again. He enters this as an underdog against Thiago Santos. It's a difficult matchup to bet, but there's definitely value to be had here on Branch at these odds.
Prediction: David Branch by unanimous decision
Bet on Branch to win and hope that he comes through with great odds over at BetVictor.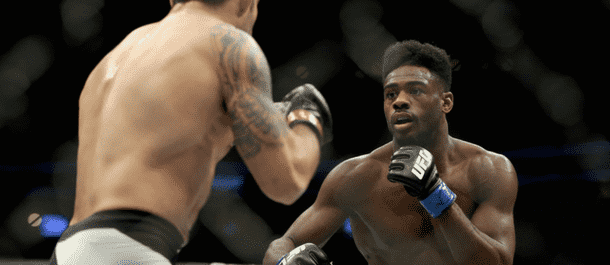 Aljamain Sterling vs. Brett Johns
Saturday, April 24 – 10:30 pm (ET) / 2:30am (GMT)
Aljamain Sterling and Brett Johns are down for what should be an incredible bantamweight fight between two very underrated mixed martial artists.
Aljamain Sterling has long been a rising star in the division. The problem for Sterling, however, is that he falls short against those guys who sit near the top. Sterling lost split decisions to Caraway and Assuncao a while back but then recovered with victories against Augusto Mendes and Renan Barao. It all came crashing down again for Sterling, though, when he was knocked out by Marlon Moraes at UFC Fight Night 123.
Brett Johns gets his chance to prove that he is the next big thing in the UFC's bantamweight division. "The Pikey" is undefeated through 15 fights in his career and has now torn apart three opponents inside the UFC's Octagon since arriving in November 2016. With wins over Kwan Ho Kwak, Albert Morales, and then Joe Soto (a brilliant calf slicer), Johns has now found himself in the most important matchup of his career so far.
Betting Market and Prediction
The bookmakers see this as an even affair and there is barely any separation between these two bantamweight fighters right now. Sterling is truly talented on the ground and has a way of working into fights on the feet lately, as well. Can he do it against Brett Johns, though?
Prediction: Aljamain Sterling by split decision
It's going to be close, but we'll definitely lean on the side of Aljamain Sterling here who has been in there with some very high-quality opposition to date. The best odds for Sterling are at BetOnline.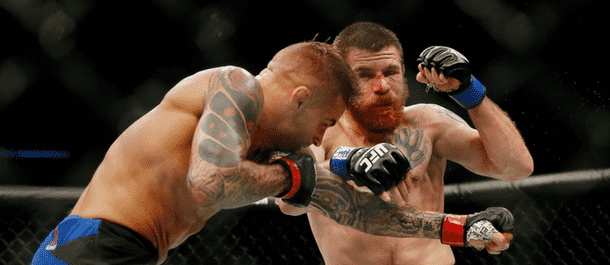 Jim Miller vs. Dan Hooker
Saturday, April 24 – 10:00 pm (ET) / 2:00am (GMT)
After a big win over Mark Diakiese, Dan Hooker has scored a matchup with veteran Jim Miller as he looks to continue his rise.
Jim Miller's record doesn't tell the true story, especially in his last three fights. Miller fell short against Dustin Poirier in a majority decision, before then dropping unanimous decisions to Anthony Pettis and Francisco Trinaldo. Each of these three are extremely challenging tasks in the lightweight division, but Miller held his own in all three contests. He finds himself now in a winnable matchup here against Dan Hooker.
Dan Hooker had alternated wins and losses in his first six fights with the UFC and looked to be nothing more than a 'middle of the road' fighter. Now, however, Hooker has moved up to lightweight and is looking especially dangerous. In his first appearance in the 155lbs division, Hooker crushed Ross Pearson with a knee in the second round. Then, he made his way past Marc Diakiese with a brilliant choke in the third round. He's looking superb in his new home at lightweight and it will be interesting to see how he performs against Jim Miller.
Betting Market and Prediction
This line is very surprising. Dan Hooker is good and is coming into his own lately, but he is a huge favorite over Jim Miller in this contest. Miller is savvy and has experience to go with it. He certainly hasn't lost it, yet.
Prediction: Jim Miller by unanimous decision
Bet on the one of the biggest underdogs of the night here in Jim Miller with BetOnline.
Betting Plays
Best Bets:
Cub Swanson to win: 2.85Bet €100 to win €28537/20Bet £100 to win £285+185Bet $100 to win $2851.85Bet HK$100 to win HK$2851.85Bet Rp100 to win Rp285-0.5405Bet RM100 to win RM285 at BetOnline
Justin Willis to win: 1.28Bet €100 to win €1287/25Bet £100 to win £128-357Bet $100 to win $1280.28Bet HK$100 to win HK$128-3.57Bet Rp100 to win Rp1280.2800Bet RM100 to win RM128 at BetVictor
David Branch to win: 2.75Bet €100 to win €2757/4Bet £100 to win £275+175Bet $100 to win $2751.75Bet HK$100 to win HK$2751.75Bet Rp100 to win Rp275-0.5714Bet RM100 to win RM275 at BetVictor
Aljamain Sterling to win: 1.91Bet €100 to win €19191/100Bet £100 to win £191-110Bet $100 to win $1910.91Bet HK$100 to win HK$191-1.10Bet Rp100 to win Rp1910.9100Bet RM100 to win RM191 at BetOnline
Jim Miller to win: 3.90Bet €100 to win €39029/10Bet £100 to win £390+290Bet $100 to win $3902.90Bet HK$100 to win HK$3902.90Bet Rp100 to win Rp390-0.3448Bet RM100 to win RM390 at BetOnline
Cub Swanson
Frankie Edgar
UFC Fight Night 128