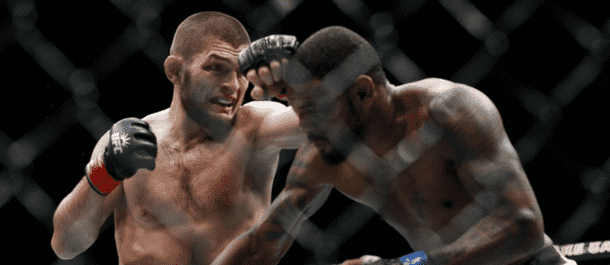 Khabib Nurmagomedov vs. Edson Barboza
Khabib Nurmagomedov vs. Edson Barboza is sure to be one of the most interesting and remembered fights of 2017.
Nurmagomedov, the powerful sambo grappler with an undefeated 24-0 record, will come up against Barboza, who possesses some of the most ferocious kicks in all of mixed martial arts. In some ways, this is the pinnacle of a grappler vs. striker matchup.
Khabib Nurmagomedov steps into the cage for the third time in 45 months this weekend. Well, that's if he even makes the weight. His last outing was a spectacular showdown with Michael Johnson at UFC 205 in which he scored a third-round submission victory after threatening to break Johnson's arm with a kimura.
Barboza enters the cage after a similarly impressive victory. After falling behind against Beneil Dariush, Barboza crashed a powerful knee into the face of his opponent and perfectly intercepted a takedown attempt.
Breakdown
This fight is incredibly fun to break down.
Nurmagomedov's desires are simple. He will want to take Barboza down to the mat in order to use his intense top pressure and ground and pound to break the will of his opponent. Because Nurmagomedov has easily taken down all of his opponents, many think that he will be able to take Barboza down with ease, also.
Not so fast, though.
Barboza, despite primarily being regarded as a stand-up martial artist, has great takedown defense. It might not be your traditional way of stuffing takedowns by throwing your hips back, but Barboza uses his athleticism and power to rise back to his feet with incredible speed. Effectively, Barboza's ability to scramble away from near-grappling exchanges with Khabib could keep him standing up in this contest.
And for every second that Barboza remains standing, Khabib Nurmagomedov's chances will dwindle. See, Nurmagomedov is a below average striker. He has some power in his hands, of course, but he is often hesitant to strike and sometimes stands right in the pocket despite being unable to effectively defend the strikes of an opponent. Barboza's many weapons, including his precise punches and kicks down the middle, will be the keys to victory against Nurmagomedov.
But, even in saying this, if Nurmagomedov secures just one takedown, it could be enough to win at UFC 219. Khabib's pressure will surely give him enough chances to lock Barboza up and start beating him up on the mat.
Prediction and Betting Guide
The safe play is expecting Khabib Nurmagomedov to overwhelm Barboza with his relentless pursuit of takedowns. While fearing the small chance that Barboza can keep this standing just long enough to damage Nurmagomedov, we'll be confidently backing Nurmagomedov's pressure to get the job done at UFC 219.
Prediction: Khabib Nurmagomedov by KO/TKO – Round 2
There is excellent value in betting this one to finish inside the distance at BetOnline.
You can find the best odds for Total Rounds – Under 2.5 at BetOnline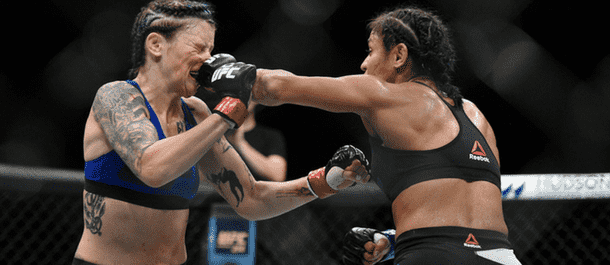 Cynthia Calvillo vs. Carla Esparza
Because the UFC 219 is filled with a bunch of extraordinary contests, Cynthia Calvillo vs. Carla Esparza isn't getting the attention it deserves.
Cynthia Calvillo enters this contest with plenty of hype. After an already tremendous 2017 campaign that saw the Team Alpha Male fighter go 4-0, Calvillo looks to close out a perfect year with an incredible five straight wins. After submitting both Amanda Cooper and Pearl Gonzalez, Cynthia Calvillo underwhelmingly won a unanimous decision against Joanne Calderwood at UFC Fight Night 113.
Calvillo is up against Carla Esparza, who is mistakenly viewed as being on a bit of a 'downslide'. After losing her UFC Women's Strawweight Championship to Joanna Jedrzejczyk at UFC 185, Esparza bounced back with an impressive win over Juliana Lima. But then, at UFC Fight Night 105, Esparza lost a split decision against Randa Markos which seemingly should have gone in her favour. She then returned to form with a win over Maryna Moroz at UFC Fight Night 112.
Breakdown
At first glance, Cynthia Calvillo represents a better version of Carla Esparza. They have many similarities, but it just seems as though Calvillo's trajectory is pointing upward right now while Esparza fought out a close battle with Markos.
But, Esparza has many ways to win this contest. Firstly, her takedown timing is exceptional. It remains to be seen if she will want to battle with Calvillo on the mat in this contest, and I expect the first minute of grappling between the two will set the tone of the fight. If she does, she is able to get the fight there. She is also very capable of landing significant punches to the head of Calvillo by mixing up her takedown threats with level changes.
Calvillo, on the other hand, seemed to just grind out the Calderwood victory. Calderwood was having plenty of success during the fight, but Calvillo changed the pace and stalled on the mat.
Prediction and Betting Guide
Cynthia Calvillo is very good and might one day challenge with the top contenders of the division, but Esparza is already a top contender in the division. She has the experience and ability to grind out a unanimous decision victory against Calvillo at UFC 219.
Prediction: Carla Esparza to win via unanimous decision
You can find the best odds for a Carla Esparza win at BetOnline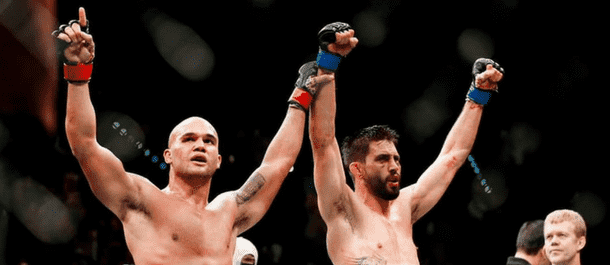 Carlos Condit vs. Neil Magny

Ladies and gentlemen, Carlos Condit is returning to the UFC's Octagon.
After being absolutely dominated by Demian Maia in August last year, it seemed as though Carlos Condit might have stepped foot inside the cage for the very last time. However, he is set to return against Neil Magny on the main card of UFC 219.
Condit, who arguably defeated Robbie Lawler when they met in a UFC Welterweight Championship bout early last year, will be looking to make his mark against Magny and climb the rankings again.
Neil Magny stands in Condit's way after dropping a highly anticipated matchup with Rafael dos Anjos at UFC 215 not long ago. The defeat ruined any of the momentum that Magny had gained from defeating Johny Hendricks at UFC 207.
Breakdown
Neil Magny will need to find a way to hang in there with Carlos Condit's high volume of strikes and general intensity inside the Octagon. For real; because Condit is explosive, violent, and extremely unpredictable and if Magny is expecting any sort of technical striking contest from the outside, he won't be getting it. Condit uses all kinds of spinning back-fists, elbows, knees, and any other lethal part of his body to damage his opponent.
Magny, on the other hand, has a tendency to be able to survive. He survived against Hector Lombard and came back to score a victory, but most recently he was unable to survive the submission onslaught from Rafael dos Anjos.
Prediction and Betting Guide
Carlos Condit will win this one via an overwhelming volume of strikes. Magny should be able to survive long enough to see the end of the third and final round.
Prediction: Carlos Condit via unanimous decision
You can find the best odds for a Carlos Condit win at Bovada
Best Bets
Khabib Nurmagomedov vs. Edson Barboza
Total Rounds – Under 2.5
Saturday, December 30 – 11:00 pm (ET) / 4:00am (GMT)
Odds: 1.91Bet €100 to win €19191/100Bet £100 to win £191-110Bet $100 to win $1910.91Bet HK$100 to win HK$191-1.10Bet Rp100 to win Rp1910.9100Bet RM100 to win RM191 – BetOnline
Cynthia Calvillo vs. Carla Esparza
Carla Esparza to win
Saturday, December 30 – 10:30 pm (ET) / 3:30am (GMT)
Odds: 3.10Bet €100 to win €31021/10Bet £100 to win £310+210Bet $100 to win $3102.10Bet HK$100 to win HK$3102.10Bet Rp100 to win Rp310-0.4762Bet RM100 to win RM310 – BetOnline
Carlos Condit vs. Neil Magny
Carlos Condit to win
Saturday, December 30 – 10:00 pm (ET) / 3:00am (GMT)
Odds: 1.61Bet €100 to win €16161/100Bet £100 to win £161-164Bet $100 to win $1610.61Bet HK$100 to win HK$161-1.64Bet Rp100 to win Rp1610.6100Bet RM100 to win RM161 – Bovada
Khabib Nurmagomedov
UFC 219